Exploring Mexican Electronic Music With Toy Selectah at Ceremonia
Watching Erick Rincon, Clubz, and the future of Mexican dance music
A word of advice: Don't miss the bus to Ceremonia. The Mexican music festival isn't the easiest place to get to, though it might have the most gorgeous backdrop of any we've been to. Tucked away in the mountains outside of Toluca, about an hour west of Mexico City, the festival is something of a boutique showcase of local music and the American indie and pop whose influences have seeped below the border. "It's an interesting way to curate," says performing artist Toy Hernández before his set. The trippy jazz-house of Flying Lotus and graceful groove of Jacques Greene battle on separate stages in the background. "Having a festival somewhere like this is still rugged and trashy in a good way. The young people, the experimentation; it gives a very strong, inspiring feeling."
Better known by his stage-name Toy Selectah, Hernández is one of the most easily recognizable and loved performers scheduled to take the stage tonight, where his mix-format set of hip-hop, cumbia, reggaeton, and even rock hooks will be woven into a modern-day representation of pop-influenced, locally grown sounds. "Mexicans are interested by U.S. music but also worldwide music and their own local, traditional music," he says backstage, pushing his long knot of dreads tighter into his ponytail. "It's more fun to play a festival like this where there's more of a mixture than there might be at U.S. or European festival."
He would know. In the '90s Hernández was part of Monterrey hip-hop collective Control Machete, whose cover of José José's "Amnesia" brought the group to the Latin American charts and "Sí Senõr" brought the group mainstream attention after it was used in a Superbowl commercial. Hernández went on to serve as A&R for Machete Music, Universal Music Group's Latin sub-label in the mid-'00s, which influenced the global boom of reggaeton and was directly responsible for 80-percent of the music that appeared on Billboard's Latin Rhythm charts. He talks about Ceremonia's understanding of mixing the old with the new. "Part of my job, or a show like this, is to connect generations of people that have seen craziness of trends," he says. "And to let them know that trap or new-school hip-hop or house has been around forever. We are now in an era where people can mix them all without judgment. Now house can be rasta!"
Wandering across the festival's three stages, it was easy to see a bubbling of synths had washed over the whole thing. New Wave influenced pop outfit Clubz brought their moody guitars and ticking drum machines to their early set, channeling the haunting ballads of the Cure and tongue-in-cheek electro pop of Chromeo. Teen Flirt (David Oranday) took the stage in a long black cloak and glittering face mask, playing a set of gorgeous experimental bass wherein the rumbling drums were chopped with low moaning R&B. His biggest track, "Promises," likened his set to the sort of slow-burning romps of his fellow festival performers Jacques Greene and How To Dress Well.
Elsewhere US acts tried to hat-tip their visitor status. A$AP Ferg was resilient through a brewing thunderstorm that finally broke over the festival. The audience was more than happy to put in work; they trudged through the mud to rap along with him. Tyler the Creator doubled as comedic hype-man, urging his crowd to "get motherfucking loco" after a fan from the audience threw a tamale up on stage in honor of his song by the same name. The audience cheered as Tyler caught his breath. (And then they got motherfucking loco.) We missed Julian Casablancas' performance but Hawaiian Gremlins' dreamy surf-pop gave us all the reverb-laden guitars we needed anyways.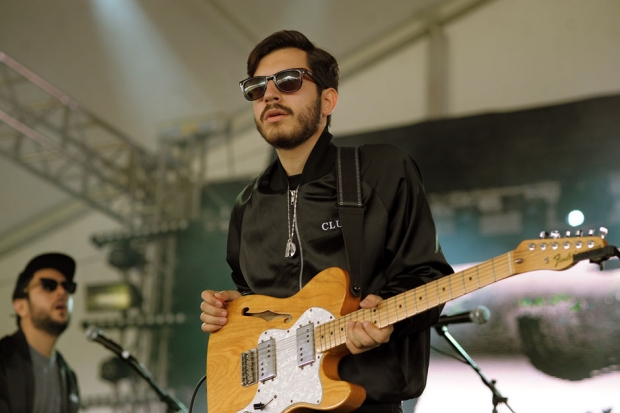 Ultimately, the acts that made a raucous dance floor out of the grounds were the local DJs. "I believe that here we have an understanding that you can play a rock song and a techno song next to a Latin remix," says Hernández. "That's the army that we compile for these shows, that's our weapon." He mentions tracks by Partysquad, Schlachthofbronx, and Major Lazer as examples that are hits no matter the audience he plays for. Tonight Sanfuentes played a hard set of sinister house (one that featured remixes by Harvard Bass). Erick Rincon of Monterrey pop trio 3Ball MTY stole the night with a flawless mix tribal beats painted over frenetic drums; a blend electro-cumbia, moombahton, and house drew the largest and most passionate crowd that we saw.
"He may call me the godfather but the youth here today are part of the future," says Hernández on Rincon and his peers. "I think the way to approach this festival is seeing the magic. Seeing the energy, the vibration, and the sounds that all together grab your attention." He goes on to explain his own live set, one that changes depending on where he is in the world. Tonight he'll play the classic Latin-fusion mix he's known for and experiment with the new; 90 BPM Zouk and Samba. "I know these crowds well and they know me," he says laughing. "I enjoy playing to them in this setting, it feels special. Today we're here with 10,000 people, in five years it will be 100,000."