The Coup's frontman and occasional Tom Morello collaborator Boots Riley is known for being something of a political firebrand, but, as Cleveland Scene points out, a local Fox affiliate seems to have been blissfully unaware of that fact. The Oakland outfit was set to appear at LKWD Festival in the city on Saturday and festival organizer Kelly Flamos brought him along for an interview during one of the station's daytime shows. Things did not go quite as Fox planned.
When asked to describe the Coup, Riley outlined his long-running musical project as "a punk-funk Communist revolution band," which drew a puzzled response from the reporter on hand. That alone might have been enough to upset the Fox honchos, but he continued saying that his goals are to "make everyone dance while we're telling them about how we need to get rid of the system" and that "exploitation is the primary contradiction in capitalism."
It all seems like relatively innocent stuff, delivered in an exceedingly calm and matter-of-fact manner, but Flamos later posted an email she received from the station saying that Riley's "rant" (a loaded word and bald-faced exaggeration) had "not only hurt our station's credibility, but also the festival's." Right. At least it went a little more smoothly than Talib Kweli's recent CNN appearance.
Fox 8 didn't post the video on their website, naturally, but you can watch it above thanks to The Lakewood Citizen. Read the full text of the email below, along with a screenshot from Flamos. Riley also responded to the strange interview on Twitter, which you can see below.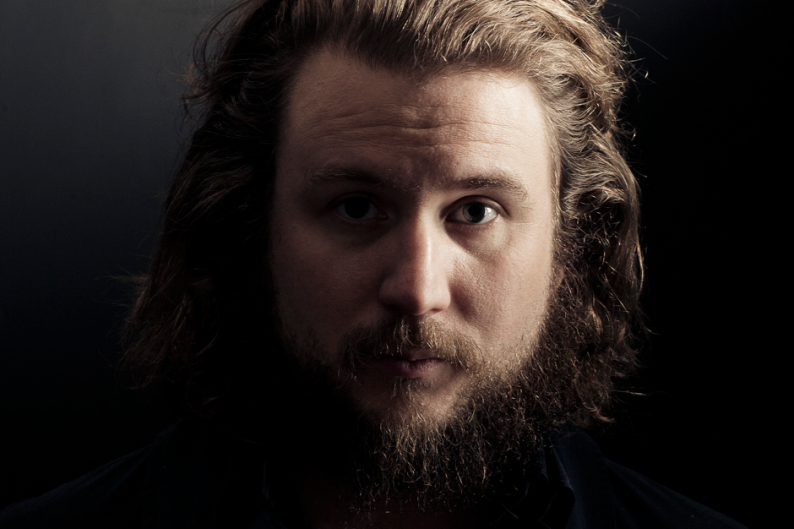 "Kelly,
I wanted to talk to you about this morning. We set the interview times because have to (sic) hit specific times with live television. I had to get rid of the interview when you guys did not show on time, and now I regret putting it back in.
FOX 8 was not the time or opportunity for Boots to go on his political rant. With his statements he not only hurt our station's credibility, but also the festival's. I was looking to do a fun interview and it turned into something entirely different. We will not be reaching out for any interviews in the future."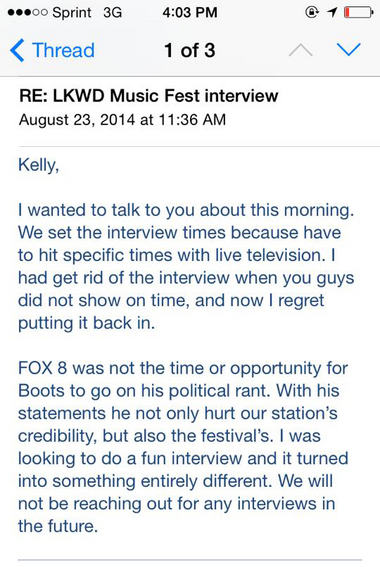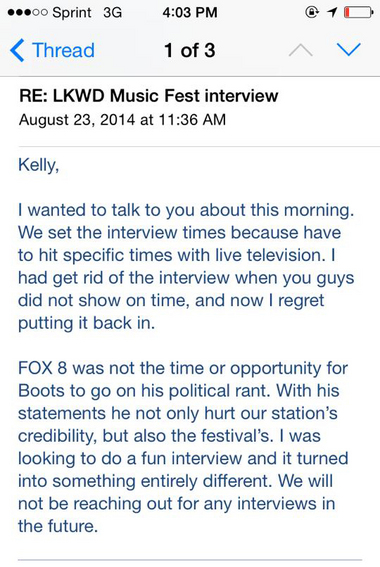 The Fox News anchor had no idea whow we were, so I explained that "The Coup is a Funk/punk/hip-hop/CommunistRevolution band". "…oh."

— Boots Riley (@BootsRiley) August 23, 2014
Somebody has to find a clip of that. I wanna see the look on the anchorwoman's face one more time.

— Boots Riley (@BootsRiley) August 23, 2014