When "Bang Bang" was released in late July, it immediately landed in the Billboard Hot 100's Top 10 while debuting at #1 on iTunes' digital download chart, falling just behind Ariana Grande's "Problem" in sales. The song has since become a powerhouse of a summer anthem with UK's Jessie J, America's sweetheart Ariana Grande, and anaconda-appeaser Nicki Minaj's brassy, bubblegum belts garnering comparisons to "Lady Marmalade," another diva-fronted collab that became a hit almost exactly ten years before. The Max Martin produced single is Jessie J's first massive stateside success since 2011's "Domino," and with a new album in the works and an officially confirmed performance at the VMAs alongside her "Bang Bang" costars next Sunday, Jessie J has launched herself back into the U.S. limelight. We caught up with the singer as she wrapped up a New York photo shoot and jumped into a limo to catch a flight back to London. Here's what we learned:
She enjoys staring out the window:
I'm on my way to the airport in New York. The view of the statue of Liberty is just amazing. Anytime I'm happy to sit in traffic is when there's a view like that. The clouds look like the Simpsons out here, I wish you could see it.
She's not perfect:
I've learned that there's no such thing as perfection. You can always change something. And perfection can change as time goes on. But of course I get moments of anxiety when I'm releasing something, an album or single, or shooting for a video, you go "Oh should I have worn those shoes?" but there's no point in worrying about it.
Making a song is like buying a present:
It's exciting, it's so weird because you make something and it's almost like buying someone a present, you don't know if they're going to like it or not. "I love this, this is the best thing I've ever heard" or "Hm… I don't love this" or "I wasn't in the mood for this" and you never really know.
Al Roker loves "Bang Bang":
I feel like I needed this song. The reaction we're getting – I saw a video online of that guy – what's that weather guy's name? Al Rocker? Yeah! I saw Al Roker dancing to it and that was crazy.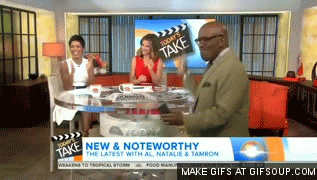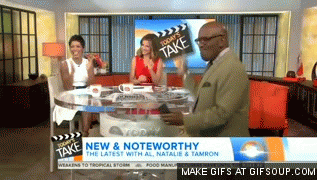 She requests "Lady Marmalade" at the club:
The first time I met Ariana and Nicki properly was at the video shoot, which was amazing as "Bang Bang" was number 1 on iTunes at the time. They were both so sweet and so funny and they looked amazing! I have heard the "Lady Marmalade" [comparison] and I am so happy with that description. I still go and request that song in the club.
She cried when she first heard "Bang Bang":
Max Martin the producer, he had the idea of it being a female anthem. He sent it to me and said "I want you to sing on it" so I went in and recorded it, made it mine the way I wanted to sing it. Then he was like, "I want to get Ariana Grande on it" and "Oh, let's get Nicki on it." I heard [Nicki is] very wary but with this she only heard it once and knew it was something special. When I heard her verse, and I heard Ariana's verse, I just cried. I was so thankful for the opportunity. Over the past few years, the success and everything… sometimes you don't like what you're doing and other times you're like, "Oh my god." I think I was tired, I always cry when I'm tired.
Who runs the world? Girls!:
I think every female artist has moments of genius and moments of female empowerment which is why they are successful, independent and have reached a point where people want to listen to what they have to say and what they do.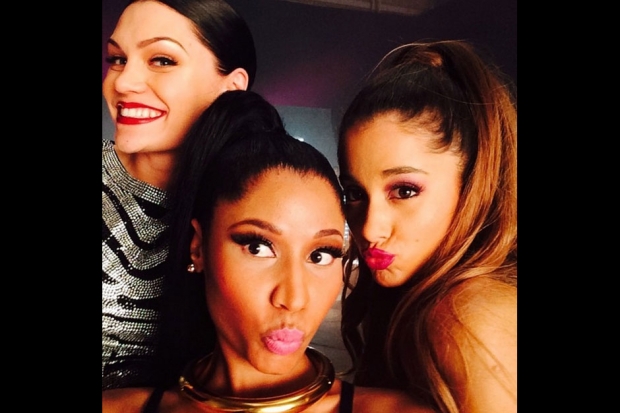 Even when it's hard:
I think being a woman being asked about their sexuality is just one of those things you have to take with a pinch of salt and it's something that comes along with being a female celebrity or person. Not even an artist, but just a women in general that is in the public eye. I think it's a very unhealthy thing. I try my best to embrace it; to not be fearful of it but to not be in denial about it.
She's not sure what "Bang Bang" actually means:
"Bang Bang" basically represents what it did back in the day when you were little. It was just a word that kind of is explosive. Like, "BANG BANG! Pour me a beer!" It's like a Do It Like A Dude mentality; it doesn't really mean anything in particular. It's not violent. It's just a very in-your-face, catchy phrase. It's like "Stomp stomp!" or "Pow pow!" It's edgy and you can kinda take what you want from it.
She's trying to get weird:
My new album is definitely more eclectic and more risky. I took a totally different approach making this album and let people in a lot more than I have before, really to teach me different ways of writing and recording, different melodies, different styles of singing. The album represents the woman that I am now. I thought I did that on Alive but I don't think I did it to the degree that I did on this album.
//www.youtube.com/embed/YswhUHH6Ufc?rel=0