Portland's Dropping Gems label has been a humble but strong influencer in the international electronic music underground, thanks largely to the strength of their Gem Drops compilations. On July 29, the series gets a fresh infusion of burbling lifeblood via Gem Drops Four (that's the pre-order link with all the hand-crafted bells and whistles) which will amass the talents of familiar faces like Natasha Kmeto, Devonwho, Philip Grass, Pixelord, and Free the Robots.
Also among the 21 featured artists: the Range. The Providence, Rhode Island producer's contribution can be heard below. "Rayman" is an indicative work from the man born James Hinton — a track that begins in a dridfty haze and winds up positively ascendant, incorporating busy percussion, cut-up computer voices, and chiming melodies along the way. It's no wonder the dude just did time opening for Phatogram and Chvrches on the road.
The label promises "left-field heaters" and this is one of them. Track list below.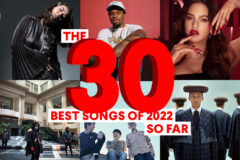 Gem Drops Four track list:
1. DJAO – "Shadow"
2. Anenon – "Actions"
3. Gouda Hoop – "Range Four Harry"
4. Vandetta – "Falling"
5. Ghost Feet – "Give Me Something"
6. The Range – "Rayman"
7. Rap Class – "Jenny @ Da Pie Shop"
8. Shawn Don – "We Do"
9. Philip Grass – "Wmn Too"
10. M. Constant – "Funes"
11. Bone Rock – "Souler"
12. Swarvy – "Creepin"
13. Devonwho – "Sunder"
14. Free The Robots – "Frownin (Robot Edit)"
15. Pixelord – "Mist"
16. Natasha Kmeto – "Last Drop"
17. Braxton/Palmer – "Krycek"
18. Qloq – "Disappear Here"
19. Time Wharp – "Duke 6"
20. Marley Carroll – "Layer Rush"
21. Big Sigh – "If I Could"
The Range tour dates:
August 11 – Los Angeles, CA @ Club Nokia *
August 23 – Long Island City, NY @ MoMA PS1 Warm Up #
September 6 – Raleigh, NC @ Hopscotch Music Festival !
October 3 – Brooklyn, NY @ Glasslands
* with Flume
# with Kevin Saunderson, Gifted and Blessed
! with Jamie xx, How to Dress Well, Blursome