Back in February, Blur frontman Damon Albarn told NME that his reunited britpop crew had recorded 15 new songs during a long stretch spent in Hong Kong, but in a new interview with the same magazine he's restated that such progress doesn't mean a new album is on the way — in fact these new tunes might never surface, thanks in part to the weather.
"There's some great tunes on there, but it may just be one of those records that never comes out," he said, admitting he found himself in a bit of a creative dry spell. "If I'd been able to write the lyrics there and then about being there, we'd have finished the record. But sometimes, if you can't do it all at once, it dissipates really and I don't know what I'd sing about now with that record."
But really, the London quartet apparently couldn't take the Hong Kong heat.
"There was too much commuting between where we were staying and where we were recording and it was a bit too hot," he notes. "I think that's why we didn't get it finished."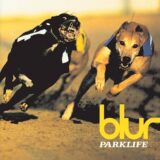 So the decade-plus wait for a follow-up to Think Tank continues indefinitely, but in the meantime Albarn's tour in support of Everyday Robots (one of SPIN's Best Albums of 2014 So Far) winds on.