For Los Angeles quartet Misun (pronounced 'me-sun'), songwriting begins with affliction. The crew's moody, yet upbeat recordings uncover the raw emotions behind the loss of a loved one, succumbing to heartbreak's eclipse, or accepting that some unrealized dreams will remain unrealized. But their beats aren't bleak. Misun's verve lies in addictive, danceable grooves that help alleviate the blues and uncover a cheery silver lining.
"I've been depressed for forever," says vocalist Misun Wojcik at a cafe in Los Angeles's Silver Lake neighborhood. "But I started getting happy in the last few years. Since I've been able to sing and write I've gotten what I've been looking for; to get it off my chest."
The death of her father was the main source of her gloom. "My dad taught me everything I know about piano and singing," says Wojcik, who began learning the keys at age seven. Her father passed when she was 15. "Music died for me for a period. It was very difficult to even want to play music. But, ultimately, music is who I am, and coming back to it was inevitable."
While waitressing at a bar called Science Club in her hometown of Washington D.C., Wojcik connected with DJ/guitarist/producer Andrew Wallace (aka Nacey), who'd occasionally spin at the dive. They started recording together after Wallace heard a song Wojcik made on GarageBand. "We'd maybe get up like every two months," says Wojcik. "But it just continued." On the side, Wallace's production garnered acclaim of its own. As Nacey he has become a prolific producer, with credits that currently range from a remix of rappers Lil Debbie and Riff Raff's grimy 2012 duet "Squirt" to the 22 Jump Street soundtrack's dance anthem "I Own It (feat. Angel Haze)."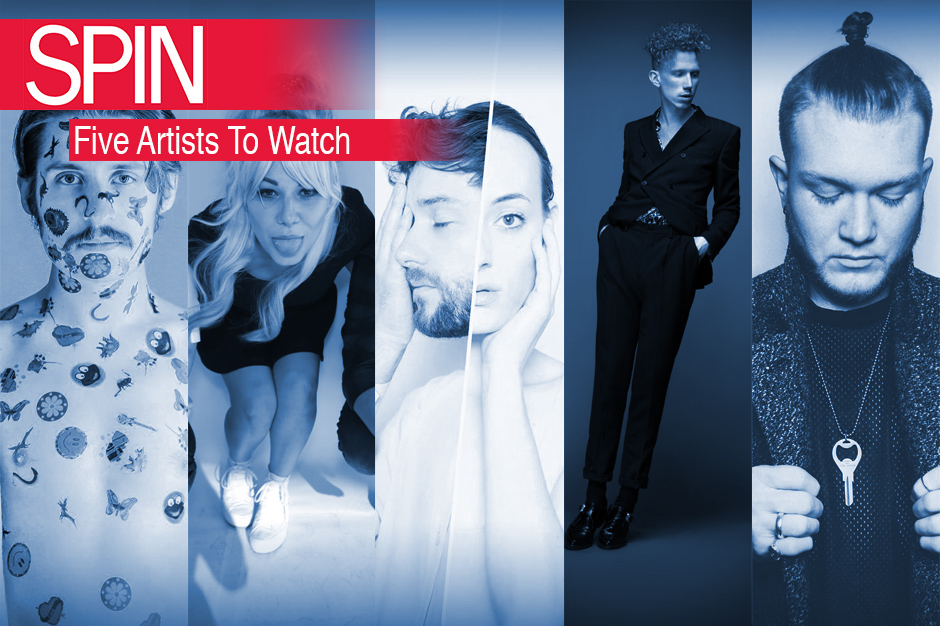 During early sessions in Wallace's bathroom-turned-studio, Wallace remembers Wojcik, "Didn't like beats that I made that were too dark." Instead, she preferred a good-spirited sound, and still does. "There is this general feeling of hope even though things haven't been great all of the time," says Wojcik of Misun's tunes, which she categorizes as spaghetti western dance music due to the recurring guitar riffs. Wallace labels it "aquawave" because of its "bubbly synths and the marimba."
Indeed, the band's sound is a diverse collage of wicked 1960s rock (as found on their track "Eli Eli"), finger snapping doo-wop ("Battlefields"), throwback 1990s house ("Sleep"), and breezy jams like their latest single, the Brazilian tinged "Travel With Me." Wojcik's soulful, vixen-like voice is stalwart yet tender. It's old school, but mod. Mostly, it's emotionally unambiguous. "I love baby-doll meets-fuck-you singing," says Wojcik. "And I love harmony and layering."
In the summer of 2012 Misun released their first EP titled The Sea and immediately generated buzz. "You guys came out of nowhere," recalls drummer Jon Jester, who joined the band in March of 2013 after playing with pop-punk acts like Brett, Driving East and All Time Low. The Northern Virginia-native remembers the local chatter about the duo, but it wasn't until he saw them play live that he became hooked. "[Misun's] energy was so high," he remembers of Wojcik. "As a drummer, when you see someone perform a certain way, you know they can lead you."
"It was a turning point," adds Wallace. "We started booking more shows and writing more. It forced us to have to put together a live show. We didn't know what we were doing. We had to learn to be a band." And that means growing too. They recently added bass player David Kuehl (bassist William Givens left Misun in the Spring to pursue other projects), and are working on securing a label for their new tracks.
"A lot of people are confused by our music because it's a little bit all over the place," says Wojcik, who is inspired by Billy Joel, while Wallace has an affinity for '90s rave jams, and Jester digs punk. "I would love to work with a big label if they had the slightest idea what we were doing. And I don't think they do." So far Misun has self-released a number of digital singles, save The Sea and a limited 7″ vinyl including "Travel With Me" and B-side "Sleep," which were distributed by T&A Records and B3SCI Records, respectively.
While their digital game has worked well so far – many of their tracks have over 100,000 views on Soundcloud – Wojcik says they'd like to build more awareness. "It's still kind of a mystery, the Internet, and what people are going to be excited about," she admits. "I can't figure out exactly what the formula is. So we might need more help than just our own resources."
Until their music can support them full-time, they'll continue to hustle. Wojcik, 28, who moved from D.C. to L.A. with Wallace, 31, last November, works as a waitress at a restaurant in Los Feliz. "Jester is Mr. Yard Work," says Wojcik with a chuckle. "We're working the bare minimum so we can live and do other things," she adds. "We're all in flexible positions," says Jester, 33. "Some months are better than others, but if you stop hustling I don't think you keep getting opportunities." Still, they band makes sure that their music doesn't feel like work. "It's got to be organic," says Wojcik. "Something happens that's beyond me," she adds. If I don't write something that I like within 30 minutes, I don't fuck with the song anymore. We move on."