The tea kettle is whistling in Tim Showalter's Philadelphia apartment as he prepares two pottery mugs of triple echinacea tea. "I need it to combat the amount of beer I've been drinking," he says. "I've been killing it on the solo-blackout-wasted thing this past week."
It's a beautiful spring morning in Mount Airy, a Philly neighborhood that's about as far out as you can get while still in the city. We settle into a picnic table on the porch where Showalter has three ashtrays for the steady stream of Camels, and that's where we'll stay for the next two and a half hours. Showalter, the man behind shapeshifting folk-synth-rock outfit Strand of Oaks, is a talker. Don't be deceived by his tough-looking exterior (black boots, black jeans, black sleeveless T-shirt, face-obscuring beard and long, metalhead hair). Or the serious-looking press shots. Or the video for "Goshen '97," in which a silent, eternally bummed Showalter smokes cigarettes in his underwear. In reality, he's a hugger, and if you give him the opportunity (and some tea or beer), he'll pour his heart out.
It's only now, on new record HEAL, that Strand of Oaks' music matches Showalter's tell-all temperament. Previous records cloaked the personal in metaphor and fantastical allegory. On "Daniel's Blues," off 2010 album Pope Killdragon, Dan Aykroyd grabs a shotgun, hunts down John Belushi's drug dealer and straps him in a chair, but he can't pull the trigger. The same album's "Sterling" finds Showalter having a heart-to-heart with JFK. Half of 2012's stark follow-up Dark Shores takes place in outer space.
HEAL is different. It's intensely personal, sometimes uncomfortably so. Showalter, 32, doesn't just allude to problems; he goes into detail. On "Mirage Year," he describes being on tour while his wife was having an affair: "He asked you about movies, he asked about your day / You showed him in the mirror what was ours."
"I'm not pandering to a metaphor of what heartbreak is," Showalter says. "No, this is exactly how it went down. It's word for word what happened."
You'd think that it might be hard enough just to talk about things like that, much less shout them from the rooftops, but HEAL finds Showalter taking big, bold steps. Strand of Oaks' first release, Leave Ruin, came out on the tiny Pennsylvania label La Société Expéditionnaire in 2009, and the next two albums were self-released. Though Killdragon was received well, the band has been relegated to opening slots for years now, warming up crowds before acts like Joe Pug, the Tallest Man on Earth, and Phosphorescent. Now, with HEAL coming out on the respected and well-distributed Dead Oceans label on June 24, plus a full-band headlining tour this summer, Showalter is hoping to shake off Strand of Oaks' underdog status.
"I'm not a punk rocker who's like, 'I wanna be where it's real, in basements.' I wanna play huge rooms!" he says. "I want a bunch of people to like this. I wanna be a huge band and tour and not be broke all the time. I don't know if I grabbed the opportunity and made that happen or not. My biggest fear when it comes to music is: Are people into what I'm into? With HEAL, they kind of have to like me and my weird head. I don't know if people are going to accept that."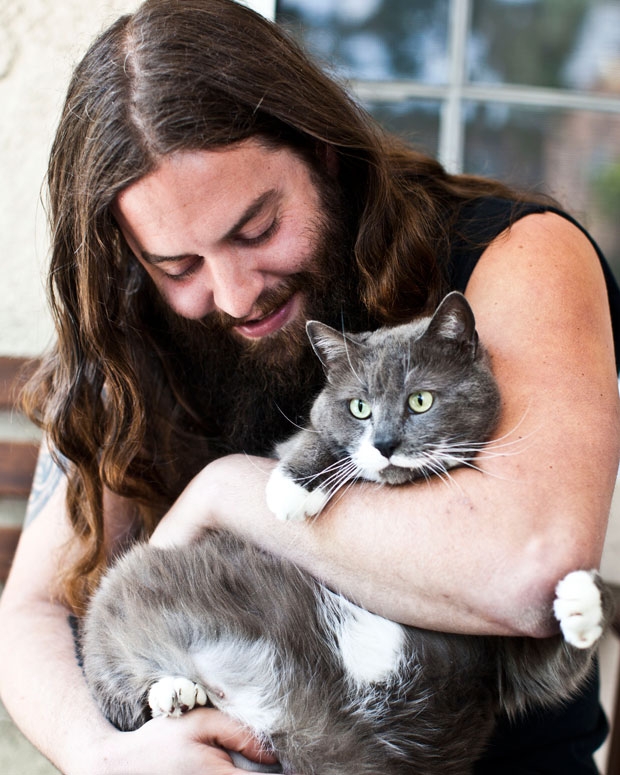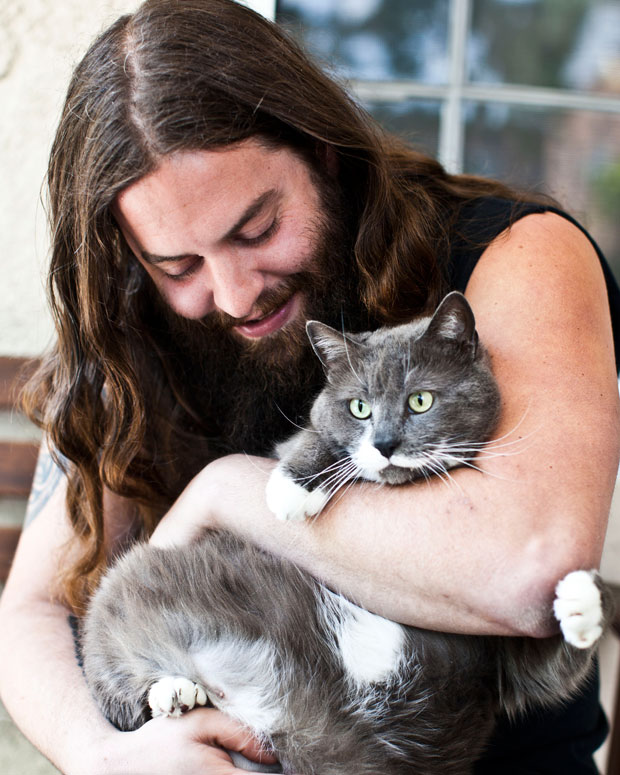 HEAL opens with a 15-year-old Tim "rotting in the basement" of his family's home near Goshen, Indiana, singing Smashing Pumpkins songs in the mirror and recording on his dad's old tape machine. "I was lonely, but I was having fun," he sings in the chorus. Showalter wrote "Goshen '97" in 20 minutes, spewing out verses as visions of his childhood flooded his brain. Aside from the horse and buggies all around, he had a fairly normal Midwestern upbringing. His father owned a GM dealership in town, so everyone knew his name. But Showalter began intentionally separating himself from the other kids at a fairly early age.
"It started with Robitussin," Showalter says. "I read something with [Smashing Pumpkins guitarist] James Iha and he was like, 'I like to Robo trip.' I researched it, and in seventh grade I rode my BMX bike to the pharmacy and got, like, three bottles of Robitussin. I was in math class, and I would raise my hand and then just…" He pitches forward, his head thunk-ing the picnic table. "They didn't know I was on drugs, so I'd just chill in the nurse's office."
After high school, Showalter left Indiana for Philadelphia to attend Eastern University, briefly, then came back to Indiana to marry his high-school sweetheart. Things were going as planned: He bought a ring, she said "yes." Then she broke it off. Reeling, Showalter moved to Wilkes-Barre, Pennsylvania in the spring of 2003, only because it was far away and a friend from college lived there. A few months later, his house burned down. In less than seven months, Showalter had lost his fiancée and all his possessions. In the months following, while teaching at an orthodox Jewish day school, he wrote material for what would become Leave Ruin — a gentle, ruminative folk-rock record that didn't come out until 2009 — and Pope Killdragon, which Showalter released in 2010 after marrying his wife, Sue, and moving to Philadelphia. Ben Vehorn, an engineer and producer in Akron, Ohio, helped take the Strand of Oaks sound into unexplored territory for Killdragon. The folk influences were still present, but synthesizers and effects pedals were everywhere; there was even an instrumental doom-metal track, "Giant's Despair."
Killdragon slowly gained Strand of Oaks a following. Labels showed interest. Showalter nabbed opening slots for bigger acts, striking up a close friendship with Swedish folk troubadour Kristian Matsson of Tallest Man on Earth. What began as four opening dates turned into almost two years of touring together. "Kristian is a once-in-a-lifetime performer," he says. "I studied him. It was like an apprenticeship."
In between tours, Showalter wrote the material for what became Dark Shores, an album he began recording with Vehorn in Akron until he decided to change direction entirely, recruiting John Vanderslice to re-record and produce the songs. What started out as a thematic follow-up to Killdragon, filled with synthesizer-driven space epics, became a stripped-down, mostly acoustic record. It fell flat.
"I fucked up with Dark Shores," Showalter says. "It's not John Vanderslice's fault. I love John. It was my fault because I didn't have any confidence in myself. He did exactly what I wanted him to do at the time. He made the record that he heard, and I, lacking that personal mojo, was like, 'Yeah, this is what it should be.' Looking back, I realize HEAL was written as a result of how bad I felt making that record. That was the lowest point of my life. That's when my marriage was falling apart. I wasn't living at home. It's weird that during the most tumultuous time of my life I made this sterile-sounding record."
What's worse, Dark Shores risked alienating his supporters precisely when he needed them most. Phil Waldorf, co-founder of Dead Oceans, had been a passive fan of Strand of Oaks for a while. He got to know Showalter and his music on the Tallest Man tour, and then he heard a new song Showalter had recorded for Weathervane Music's "Shaking Through" documentary series, called "Spacestations." It's a powerful, full-band, radio-ready song. "I had liked what I heard 'til then," Waldorf told me over the phone. "Then I heard that and it was like, 'Oh, my God. This is what I wanted this guy to be.' Then Dark Shores came along, and that song reappeared in a new version, but it lacked character. There's nothing wrong with the songwriting, but the production lacked personality. I didn't have a deeper passion for it. The funny thing is, I was predisposed to thinking it was good because John Vanderslice was one of our artists at the time. It made me feel terrible because it was John."
While on the road, the reality of the flop began to sink in for Showalter. "All of these labels wanted to sign me before they heard Dark Shores," he says. "And then they heard it, and they just vanished. But the thing that hurt the most is, I agreed with the labels not wanting it."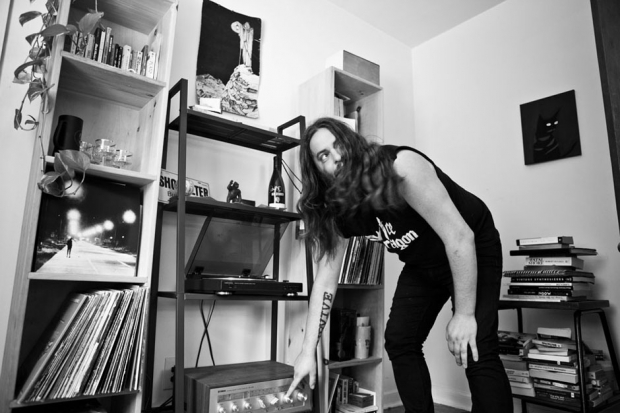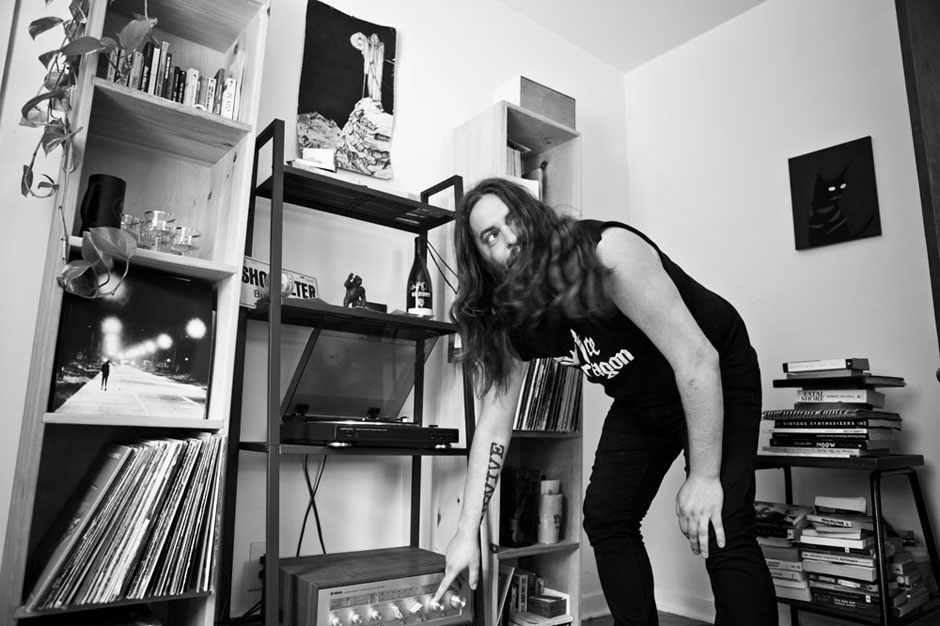 Venting to Tallest Man's Matsson on tour, Showalter told him about the other versions of the Dark Shores songs that he'd recorded with Vehorn. Upon hearing them, Matsson convinced Showalter to release them, which he did on the Darker Shores EP. "That was the beginning of getting over that disappointment and getting that mojo back," Showalter says. "It inspired me to move forward. If I wouldn't have done that, I wouldn't have made HEAL." The EP brought Waldorf and Dead Oceans back, too. "That really clicked for me," Waldorf says. "We signed him on the strength of the performances and the Darker Shores EP."
Showalter eventually came home from tour and got to work, writing and recording in his home studio with a guitar, Novation keyboard, and laptop every day. He demoed more than 30 new songs. As his friend Joe Pug told him, "The faucet is on."
"His recording process is really reclusive. He won't leave the apartment, often for weeks," says Showalter's wife, Sue. "It was a really tough time. There were nights where I would come home from work and he'd been recording all day. He'd be stumbling around, slurring his words, and he hadn't eaten all day and would just be so fucking wasted, and I'd be so worried. I'd go get some food and force him to eat. Then we'd get up the next day and fight about it."
"These things were pouring out," Showalter says. "The song 'Heal' is one pass. I made the drum loop, the synth, and I just talked into the microphone. There's no journal. It was free-form stream of consciousness from my head. As a guy who used to really labor over metaphors of Dan Aykroyd, I felt embarrassed. I rhyme 'fears' and 'tears' — things I would never do in the past. There was no revision." That title track finds Showalter "giving credit" to his friends and influences, name-checking Matsson, Sharon Van Etten, and even "Caitlin," the girl he was writing about on Leave Ruin but never mentioned by name. On another track, the seven-minute slow-burner "JM," Showalter pays homage to Jason Molina, one of his heroes. And, in a development that probably would have blown a young Showalter's mind, Dinosaur Jr.'s J Mascis plays guitar on the opening track. (Mascis recorded his part remotely, looping the three-minute song seven times and shredding over the entire thing — 21 minutes — including the 10-second gaps between songs.)
Later, in Akron, Showalter stayed at Vehorn's house during the recording sessions. They'd wake up, get coffee, record at Tangerine Sound Studios until they were tired, go back home, watch a movie and then start again the next day until HEAL was done. The synthesizers returned in full. "My relationship with synthesizers is when the kid in [The] NeverEnding Story is on the big white dog," Showalter says. "The big white dog is the synthesizer and I'm the kid. That's what world it takes me to — like, 'This is magic!'"
On Christmas Day, 2013, Showalter and Sue were driving their Honda Fit back to Philly from Indiana when they hit a patch of black ice and crashed into two semi trucks. Showalter suffered a concussion and broke every rib on his right side, but the near-death experience gave him a boldness during mixing sessions with John Congleton, just days after the crash. The songs are brash, huge. They sound like they could fill the arenas Showalter hopes to someday play.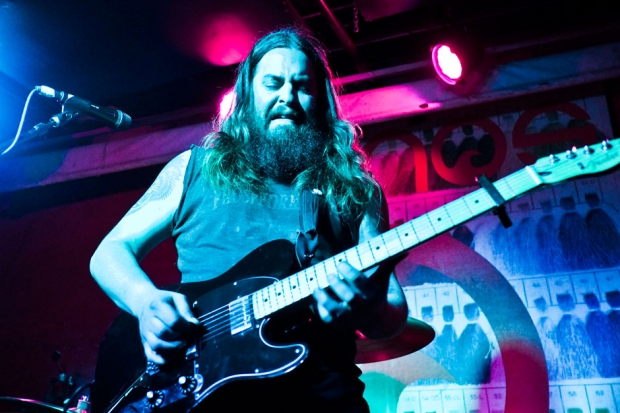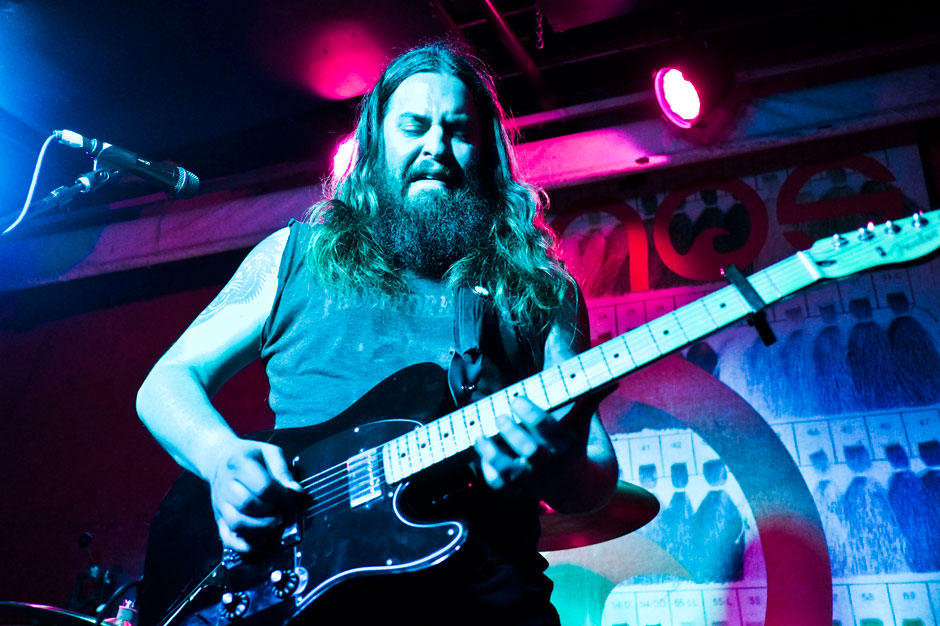 Eventually, out on the porch, our bellies become audible and we venture out of the three-bedroom apartment Showalter and Sue share with three cats they adore. A cat painting hangs above the TV. Elsewhere, unframed lenticular nature scenes adorn the walls and a bottle of Dan Aykroyd-brand wine signed by Dan Aykroyd sits on a shelf above the turntable. "It just showed up in the mail one day," he says, laughing. "No note or anything."
The apartment is a stone's throw from the Mount Airy SEPTA train station, so Showalter rarely travels by car unless it's to his rehearsal space in northeast Philly's Port Richmond neighborhood. When he's not touring, he mostly stays in Mount Airy. Sometimes Showalter goes for long walks to clear his head, but often he stays in his apartment, writing songs, drinking and toking. ("I just get loaded and never leave my house," Showalter sings on "Shut In," HEAL's catchiest, most Springsteeny anthem.)
It takes a lot of momentum to push him into a situation that's not home or touring. The day I visited, his buddy Sharon Van Etten was playing a short set for WXPN, home to the World Cafe with David Dye. She texted him to come out. "That sounds fun. We should go," I say as we walk to Trolley Car Diner, a '50s-inspired lunch spot with red booths, checkered floors, and lots of beers on tap. Despite our wide-open schedule for the day and my encouragement, it didn't happen.
After a pork roll at the diner, we make a pit stop at Walk a Crooked Mile — a cramped, quirky used-book store tucked inside the SEPTA rail stop — then waste away the rest of the afternoon pleasantly in the apartment, picking through Showalter's vinyl collection and geeking out over bands new and old. At one point Showalter gets going on Withered Hand, a.k.a. Scottish musician Dan Willson — particularly the song "Love in the Time of Ecstasy." "There's a line where he says, 'Isn't there some skeleton army I can vanquish?' I feel like he's saying, 'Can't I have something purposeful in my life?'" Showalter says. "The internet and Netflix and all that bullshit — it turns us all into infants. Isn't there something that's not a blog or an MP3? Something purposeful! That's what HEAL was for me. HEAL was my skeleton army."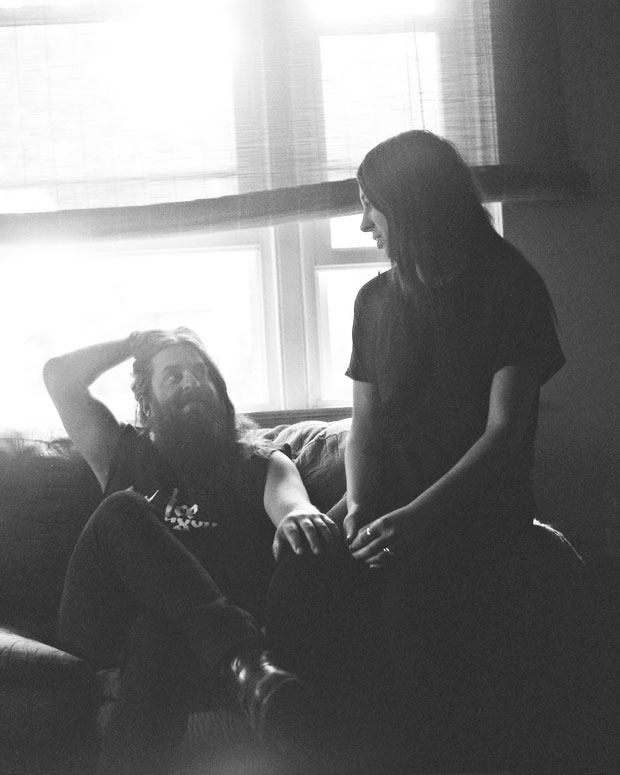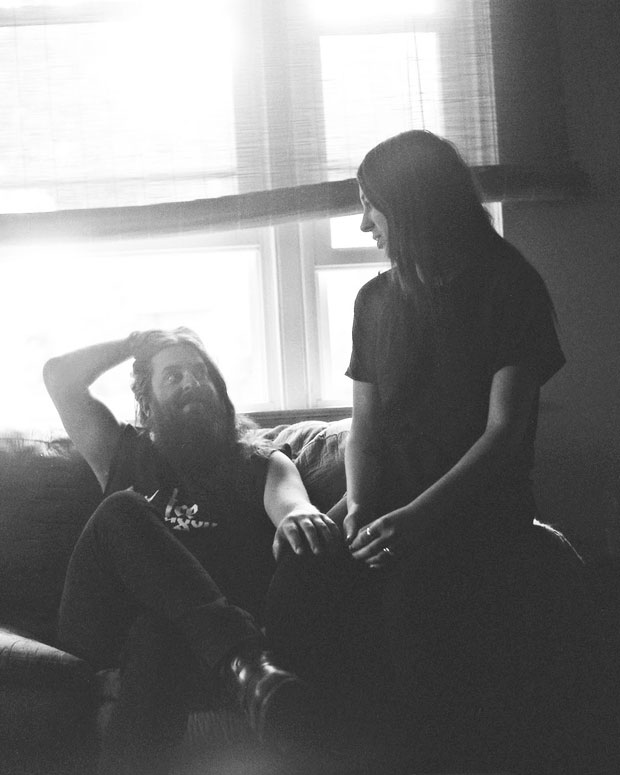 After digging around, Showalter finds demos for the songs on HEAL, as well as some others that didn't make the final cut. They're rougher, of course, but the main ideas are fully realized. The guitar solo from the album version of "Mirage Year," in fact, is the same take as the demo version. The cathartic intensity of the first take wasn't something Showalter could replicate. Nor did he want to. "When we got into the studio, any time that song came up, it was this totem pole on a mountain I didn't want to go to," he says. "I didn't know if I could do it again… I recorded [the solo] here on my shitty laptop. So here I am at 9:30 in the morning in my apartment. My wife's gone. I probably already had five or six beers at that point, and to get the sounds on that solo I had to just punch my pickups. I ripped open my cuticle and my finger was bleeding. It was the most rock'n'roll moment to ever happen in a bedroom with no one to witness it. I came to after the solo happened, just panting and bleeding and my guitar is broken — I broke the pickup 'cuz I hit it too hard. It was like an exorcism. I got some demons out."
Right before the guitar solo Showalter sings, "That winter when you took my love / And that fucker was having his fun / But my hands are worth more than your blood," and then there's a scream. "It wasn't planned. I was so into the part," he says. "Whatever cowardice or problems I have facing confrontation in my life, that guitar solo did it. That guitar solo is like John Wayne. Like, 'I will face the demons in your life and destroy them.'"
"Mirage Year" still haunts him. "It was the first time where a Strand of Oaks song was ugly," he says. "And it has the scariest line on the whole record: 'I was in love, but it was changing.' That, to me, is horrifying. I'm still in love with you, but it's changing, and I can't ever get it back. And I'm thinking about, and talking about, the dude my wife cheated on me with! I know where he fucking lives. I can drive there with my car right now." But just like Showalter's fictional Dan Aykroyd story, he doesn't do it. "I'm better than this," he says. "At one point — it's horrible — but I told her, 'I'm a lion among rats.' My head gets a little megalomaniacal when I'm near suicidal. I got 'SURVIVE' tattooed on my arm because my survival is worth more than the instant gratification of kicking some dude's ass."
Sue was conflicted, to say the least, when she first heard "Mirage Year" and other songs. "Part of me was proud and admired him, but if I was to say there weren't many nights of alcohol-fueled arguments I would be lying," she told me in a phone call after my visit. "I was bothered by it, and it did create a lot of problems, but it was therapeutic for him and for me, as well. It allowed us to deal with shit that we'd been blocking for such a long time. I think by him making this record and by being home and being present and having to fucking fight through it — that's the best way to put it — that enabled us to get better.
Showalter and I listen to some other songs recorded during the HEAL sessions, one of which could be an Achtung Baby-era U2 outtake. ("I'm so into U2," Showalter says. "They shoot for the world!") Most outtakes didn't make the cut because they were too sad or made the record feel like it was only about his marriage. "Baby, won't you tell the truth / Think I might be losing you / Running out of things to make this right," begins one, followed by a desperate refrain: "The lights are out behind us / The lights are out ahead." That song was originally supposed to close the album instead of "Wait for Love," but the latter ends HEAL with a more hopeful tone.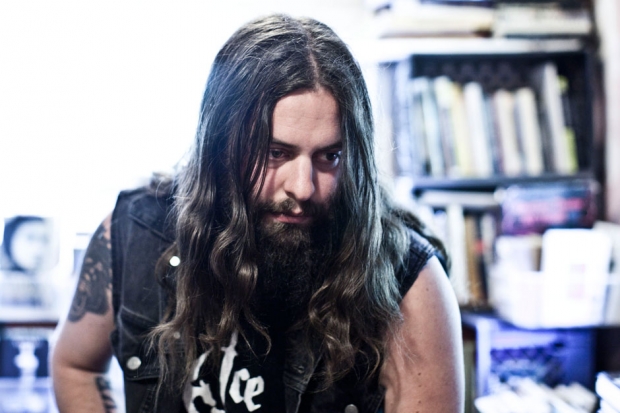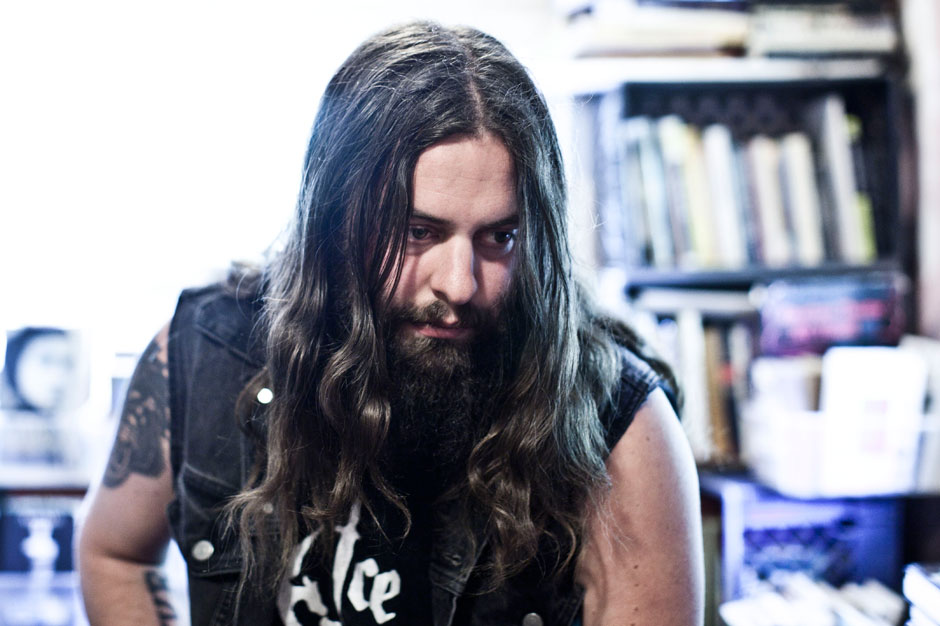 Don't read HEAL as HEALED. Showalter isn't all better. When he talk-sings "You gotta heal" in the title track, it's a command to himself. The first step is merely recognizing things are not okay. That has happened. The next step is diagnosing the root problems. That has happened — sort of. Showalter says he has "bipolar tendencies" and can be manic in his behavior. "You listen to the record and you can hear this clear catharsis and emotional purging," Sue says. "At the same time, you also feel that maybe this isn't a person who's completely rational or sane, and maybe there's nothing that can ever cure that… [HEAL] is scary. Music for a lot of people is rooted in escapism. When you hear something that's so real and honest, initially you can be taken aback by it or afraid of it, but eventually you come around and realize how relatable it is.
The Showalters' marriage is better, but it's still shaky. "My wife and I reconciled, but the second we reconciled I left for tour, so we never really reconciled," he says. "We're still dealing with that." He mentions that Sue should be home any minute, and that he's often drunk by the time she gets home; the drinking is a constant struggle in their marriage. I ask him if he considers himself an alcoholic. He hedges. "I sometimes go three or four days in a row without drinking," he says. "But I might just be doing that to prove to myself that I can."
Sure enough, Sue arrives home from work moments after we've been listening to and discussing songs about their marriage. Her arrival makes me nervous; I anticipate some tension, but it's not like that. Their partnership may have unresolved issues, but Tim and Sue — in matching all-black — seem like any other couple figuring out life together, juggling different careers and wondering if they should make tacos or get pizza for dinner. Eventually Sue picks up a case of Lionshead pilsner (a Wilkes-Barre beer, naturally) and some pizza, and we crowd around the living-room coffee table eating, drinking and cry-laughing at Steve Coogan in episodes of the BBC's I'm Alan Partridge on DVD. If healing is, indeed, a process, this feels like part of that process. It's not complete, but it's more than mere survival.