Trip-hop godhead Tricky will return later this year with a new album called Adrian Thaws. Due September 8, the upcoming LP is the follow-up to 2013's False Idols and will be the second full-length released on Tricky's False Idols imprint. The record spans 13 tracks, including the just-shared "Nicotine Love" featuring Tricky's longtime collaborator Francesca Belmonte.
Tricky teams up with a host of others on his latest effort — Mykki Blanco, Nneka, Tirzah, Bella Gotti, Blue Daisy, and Oh Land all contribute to the record. Despite the lengthy guest list, expect Adrian Thaws to be a more personal affair. The title is actually Tricky's given name, and the U.K. producer says that giving the album his own name is an attempt to tell listeners, "You don't really know me."
"So many times people have tried to put a finger on me and every album I go to a different place," Tricky explained in a press statement.
Familiarize yourself with "Nicotine Love" by streaming the nocturnal bummer jam below.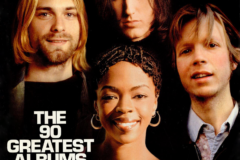 //www.youtube.com/embed/PJ2DVq5EOC0
Adrian Thaws track list:
1. "Sun Down" (feat. Tirzah)
?2. "Lonnie Listen" (feat. Mykki Blanco & Francesca Belmonte)
?3. "Something In The Way" (feat. Francesca Belmonte)"
4. "Keep Me In Your Shake" (feat. Nneka)
?5. "The Unloved (Skit)"
6. "Nicotine Love" (feat. Francesca Belmonte)
?7. "Gangster Chronicles" (feat. Bella Gotti)"
8. "I Had A Dream" (feat. Francesca Belmonte)"
9. "My Palestine Girl" (feat. Blue Daisy)
?10. "Why Don't You" (feat. Bella Gotti)"
11. "Silly Games" (feat. Tirzah)"
12. "Right Here" (feat. Oh Land)"?
13. "Silver Tongue – When You Go"