"It's unbelievable," says a grinning Tiësto of the EDM explosion that's made him one of the highest paid DJs in history: Last year he earned a reported $35 million. "What can I say?"
Surrounded by votive candles and flanked by a voluptuous bartender with Jägermeister shots at the ready, Tiësto can only smile knowing he's on the receiving end of the boom. Backstage at Chicago's Solider Field, the DJ sits ready to perform in front of the nearly 60,000 attendees of the Spring Awakening Music Festival, preparing to pocket another hefty paycheck.
It sounds crazy to earn this much money for a few hours of melding tracks together and pumping his fist, but as with any creative pursuit – and especially one that relies so heavily on performance – charisma and a little luck are required to ascend the contemporary DJ ladder. At 45 and a two-decade veteran of the scene, one who helped pave the way for big-ticket artists like Avicii, Calvin Harris, and Martin Garrix, Tiësto has both in spades.
But does he have anything left to prove? Apparently yes. On the heels of releasing his major-label debut, A Town Called Paradise, a party-starting collection that features his first radio single in "Red Lights," the man born Tijs Verwest sits down with SPIN and reveals how he's artistically turned a corner, how he views himself in relation to other mega-DJs, and why retirement isn't far off.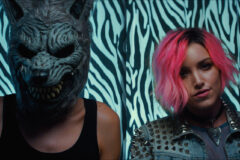 You flew in from Stockholm yesterday, played a show in Las Vegas, and now you're here in Chicago. How does your body get used to this nonstop life?
You have to stay healthy. You have to pace yourself. Because at night I party hard. [Laughs]
How does A Town Called Paradise reflect where you're at in your career?
I've been working on it for more than two and a half years. It became a very personal album. It's still, of course, a party and dance album, but it reflects so well what I've been doing the last couple years: basically my life partying on the road, traveling around the world, meeting people, playing in clubs, energy.
It's more song-centric than much of your earlier, more beat-driven trance work.
I wanted to try that with [2009's] Kaleidoscope, but I didn't have the know-how yet or the expertise, or the experience. I learned a lot from that album: what went wrong, what went well.
Even after 20 years DJ'ing you still feel like a student?
I changed my style completely during Kaleidoscope compared to what I did before. So yeah, it's a whole new learning experience. And now again with this album, it's so different from Kaleidoscope.
Is this album your attempt at pop music?
I would say, maybe cool pop [laughs].
Pop can often have a negative connotation.
I don't like the word "pop." But it's popular music, I guess. My older music is basically built for raves. And this is built for wherever you are: a friend's party, at home, a club.
You're arguably one of the most famous DJs on the planet. And yet "Red Lights" is your first radio hit.
For me it's like the icing on the cake on my career. When I made the song, and when I had the chorus, I knew it was going to be something. I didn't know how big. It's a lot bigger than I expected. I knew it was going to be big in my community when I played it for my fans. But I didn't expect it to be that big on the radio.
Fifteen years ago, you wouldn't have aimed to make a radio single?
No. But I never make songs for the radio. I make songs for myself. I need to be behind them and really think about what I like. Or else it doesn't make any sense.
Did the mainstream success of other big-name DJs like Calvin Harris, Avicii and David Guetta inspire you to go that same route?
I think Avicii has been an inspiration. I've been an inspiration for him and vice versa. With a lot of DJs I have that.
Many DJs call you the "godfather of EDM."
I see it more not like a godfather but like a mentor. It gets sometimes lost in translation [laughs]. But I talk to a lot of them. Like Martin Garrix.
Yes. He told me you inspired him to be a DJ.
That's so amazing to hear. I love that. That's why we're here: for the love of music.
It's also about the big money though, right?
I think a lot of times a lot of people are in it for the money: They sign other DJs up and they sign contracts. I've never done that. I just give them free advice, and I get the love back. It feels more pure.
Still, a lot of people think it's insane how much DJs are making nowadays.
It was insane 10 years ago too [laughs]. I think it's just a question of demand, I guess. People want to pay a lot of money for DJs.
Especially in Las Vegas.
I think the bottle service guys make up for it.
You're obviously OK with it.
I can't complain. I'm grateful for it. But I think people forget sometimes we're not here for the money. It's amazing to make so much money, but that can never be the drive. If music is not the drive… you see DJs become more miserable.
How do you respond to those who say DJs like yourself are glorified button pushers?
It's not just pushing a button; it's a lifestyle. And yeah, it's easy to DJ. But it's always been easy: Back in the day you had turntables and you just adjusted the pitch. It's a matter of practicing. It's also very easy to play the piano or play the guitar if you've been practicing that for 10 years. But I think the art of DJ'ing is still that you know when to play what records and the timing of the records and to keep people interested. If it was that simple that you just push a button, why would there be 60,000 people coming to hear it?
It's also a producer's game now.
That's why DJs became rock stars. Because they don't just DJ records any more; they have to make the music as well. It has to be a combination.
When did you start to feel the EDM scene truly explode?
I don't know what turned the corner. Vegas helped a lot. I think [David] Guetta helped. And Calvin Harris after that. But you know, it was so interesting to see: A while back I was hanging out with Alesso and Skrillex and Avicii, and then suddenly in two years time they blew up. And I blew up myself as well. I mean, I was big already back then, but compared to how big I am now? It's insane.
At 45, you're one of the older DJs.
I'm 45, but I don't feel like it at all. I feel like I'm 25. I guess it's the lifestyle and that I've been doing this for 20 years. When I hit 30, I think the clock stopped.
What motivates you at this point in your career?
What keeps me going is I can always change and I can surprise myself. I always find a new angle to keep it interesting for myself. I had my trance period until 2007 and then I changed to make the Kaleidoscope album.
You felt tired of trance?
I did trance for over 10 years. I was not tired of it, but I just felt like I had done everything that was possible in that scene. I rocked stadiums all over the world; I made all those records, hundreds of records and remixes. I was just like, "I don't know what to do anymore?" And now I feel like with this album again I've changed my style a little bit.
Is retirement coming soon?
Not yet. But I think that feeling will come. And then I will stop. Because there's no reason to keep doing it if I don't like it anymore. As long as there's challenges, I like it. As soon as that goes away, I think it's time to pick up painting.