We've already heard whispers from an unnamed source that Kanye West is hard at work on the follow-up to his abrasive and unescapable Yeezus, but a major player in the last act of the making of that record has now stepped up and confirmed that a new work is indeed in progress. According to NME, Rick Rubin and his legendary beard recently sat down for an interview with BBC's Zane Lowe (set to air next week) wherein he affirms his involvement on this new Kanye album.
From the little snippet that NME was able to get ahold of, it seems like the follow-up to Yeezy's 2013 LP might still be in its early stages. As Rubin himself puts it the two are still "looking at vocal ideas" for this new project.
Rubin also described the hasty final steps toward making Yeezus.
"[Kanye] originally came over and said 'I wanna come play you my new album' and I thought we'd be listening to a finished album," Rubin said of his first exposure to the material that would make up that 2013 record. "Then we listened to about three hours of music, most of which didn't have vocals, and at the end I was like, 'wow, so what's it gonna be?' I'm thinking it's a year away and he was like 'well, I'm putting it out in like 5-6 weeks'. It was just a funny conversation because it was completely normal to him."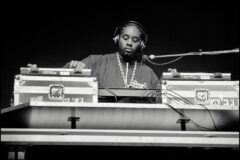 In other Kanye news, the man himself took the stage Friday night at Bonnaroo for the latest installment of his Yeezus tour. Aside from bringing a career-spanning setlist, according to Consequence of Sound, he also addressed his controversial 2008 appearance at the festival.
"Last time before I got here they had 'Fuck Kanye' on the port-a-potties. This time we're going to piss on them," he exclaimed.
He later emphasized yet again that he's not interested in garnering radio play, or in beating out anyone who achieves such mundane goals. Instead he's "goin' after Shakespeare. Walt Disney. Mozart. Henry Ford. Howard Hughes. David Stern. Elon Musk."
The Guardian reports that, like at other recent shows, he's excised any lyrical references to Jay Z from his set, so we'll leave you to figure out just what that means.
Let's part on just a little more advice from Yeezus himself: "You can only achieve as high as your dreams." Right on Kanye. Right on.