Early last week, before popping up at Dave Chappelle's Radio City residency and throwing an extravagant birthday party for his one-year-old daughter, Kanye West took some time to take stock of all his disparate creative and personal impulses as part of a panel at the 2014 iteration of the Cannes Lions Festival. In conversation with technology entrepreneurs Steve Stoute and Ben Horowitz, he discussed the Apple/Beats deal, the influence of Steve Jobs, and the aesthetics of the internet. Monday night, full video of that panel surfaced via MissInfo.tv.
Though Yeezy has previously compared himself to the Apple founder, at Cannes he described Jobs as his "biggest influence" and hopes that he too can "raise the taste level of a generation and also be involved with the production and distribution and advertising of that thing everyone's begging for."
And if you ask 'Ye, this generation (and particularly the internet) could use some taste.
"The world as a whole is fucking ugly," Kanye said. "The internet as a whole is fucking ugly, too. But I'm not in the construction business."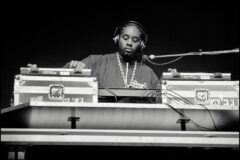 Outlining some of the ways he tirelessly works toward his own aesthetic ideals, he described the process of directing his own wedding photo. After famed portrait photographer Annie Leibovitz dropped out of the proceedings, Kanye still wanted the Leibowitz look, so he dedicated himself to achieving that, even to the annoyance of his new wife.
"We sat there and worked on that photo for four days," Kanye laughed. "Can you imagine telling someone who just wants to Instagram a photo (and who's the number one person on Instagram) that we need to work on the color of the flower wall?"
Later on he discussed the magnitude of the recent multi-billion dollar deal between Apple and Beats Music.
"There would have been no Beats deal without the Samsung deal [with Jay Z]," he explained. "It showed the No. 1 company the importance of connecting with culture. Because of how my parents raised me, I have to work with the No. 1. I can't work with anyone but Jay Z, because he's No. 1. I can't be with any girl but Kim, because that's the girl whose pictures I look at the most and get turned on by. I'm not going to represent any company but Louis Vuitton, because that's No. 1. Samsung is not quite Apple, but it showed that Jimmy [Iovine] and Dre would be able to connect with the No. 1 influencers."
None of it's really groundbreaking analysis of trends in technology, but it's fairly insightful as far as the man's compulsive and exacting drive to achieve his creative goals. You can watch video of the whole panel above.