Jay Z and Beyoncé's "On the Run" tour kicked off last week with 40-song set at Miami's Sun Life Stadium, and as that tour continues to roll on through massive venues across the country, the duo has shared a behind-the-scenes clip from the rehearsals that preceded that first show.
Though the clip is only three minutes long, it manages to squeeze in a look at the intense choreography, lights, pyrotechnics, and the general noir-ish atmosphere that's surrounded all of the promotional materials for the trek thus far. It looks pretty expensive, but they probably don't mind since Forbes just proclaimed this tour to have the second highest gross revenue per show ever.
Also surfacing today is footage of the Miami performance of "Izzo (H.O.V.A)," which goes off mostly without a hitch, though Gawker points to what may be a sneaky barb at Justin Bieber. During the performance, projections of some famous celebrity mugshots appear behind Jay Z until Bieber's appears, at which the music dropped out and Beyoncé reportedly said "Even the greatest can fall." Though it's certainly possible that the comment, if accurate, was directed at all of the fallen celebs, you can always count on Beliebers to take it personally.
Video of that performance is below (though it's hard to make out Beyoncé saying anything above the screaming crowd) and the rehearsal footage is above. Take a look at both, and check the remainder of the duo's tour dates here.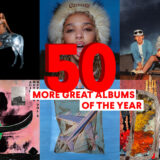 //www.youtube.com/embed/xhGcThjS6tI