Governors Ball 2014: The 15 Best Things We Saw
SPIN spent this past weekend on New York City's Randall's Island, taking in the three-day wonder that is the Governors Ball Music Festival. We gave OutKast's ongoing reunion a routine check-up, caught the Strokes' latest homecoming gig, and braved through the sweltering heat. Here are the best things we saw. KYLE MCGOVERN
1. Governors Ball 2014: The 15 Best Things We Saw
1/16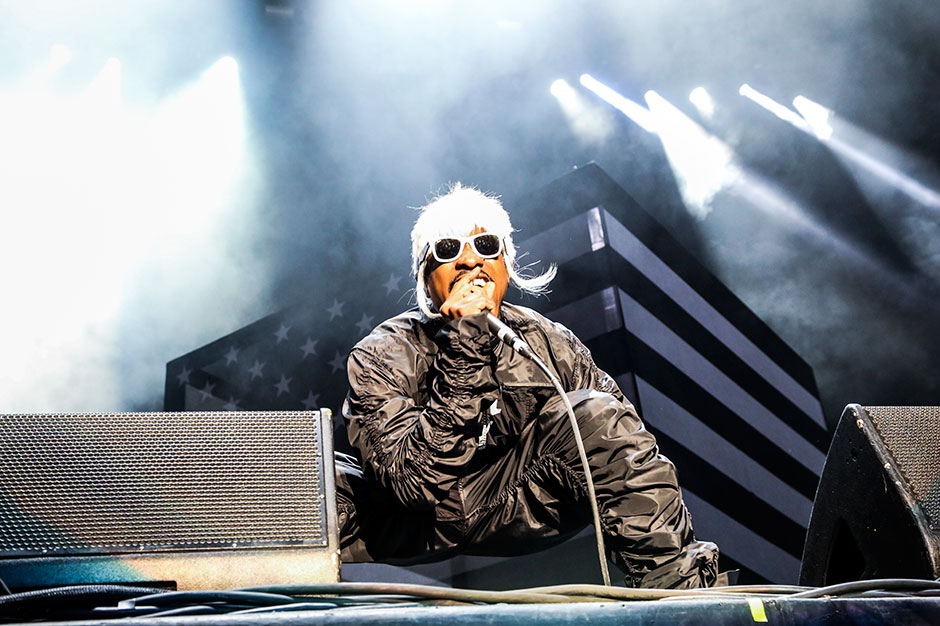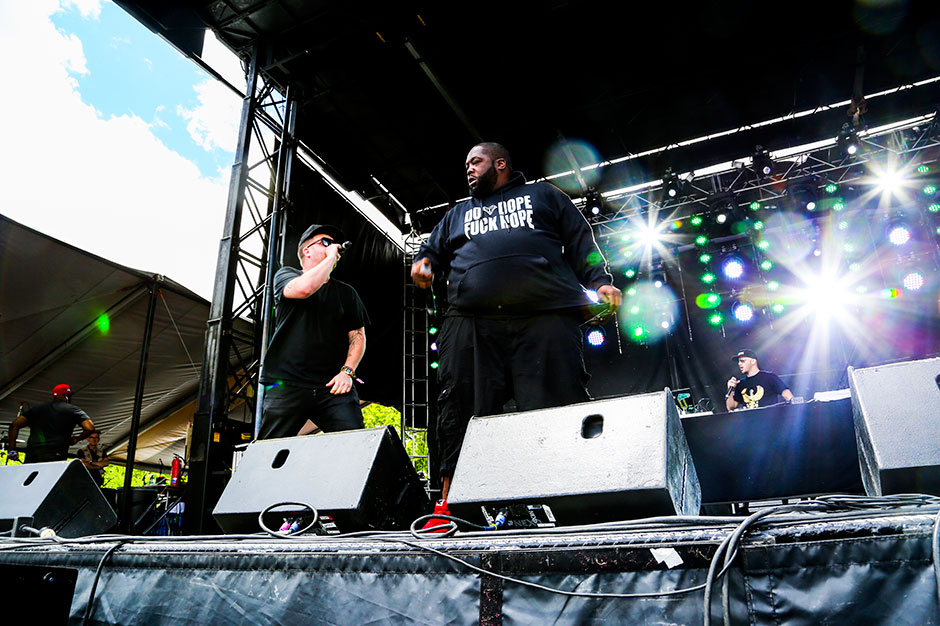 It takes balls to walk onstage to Queen's "We Are the Champions," as Killer Mike and El-P did on Friday. The duo hammed it up, singing along and egging the crowd on to join in. For all their talents, there's an inherent comedy to Run the Jewels, not only in their mismatched size. They cracked jokes throughout the set, with El-P introducing "36" Chain" by saying, "I don't want to say we're style icons, because we're not," and then telling fans to go to their invisible jewelry store, pick up an invisible chain, and wear it with pride. Before closing the set with "A Christmas Fucking Miracle," they performed their debut's bonus track "Pew Pew Pew" for the first time, messing up the intro and starting over again, finally making it all the way through the song. "That shit was like exercise for fat guys," Mike said. In the end, Run the Jewels left us laughing, supremely entertained, and holding out hope that Killer Mike and El-P someday make a buddy-cop movie. DAN REILLY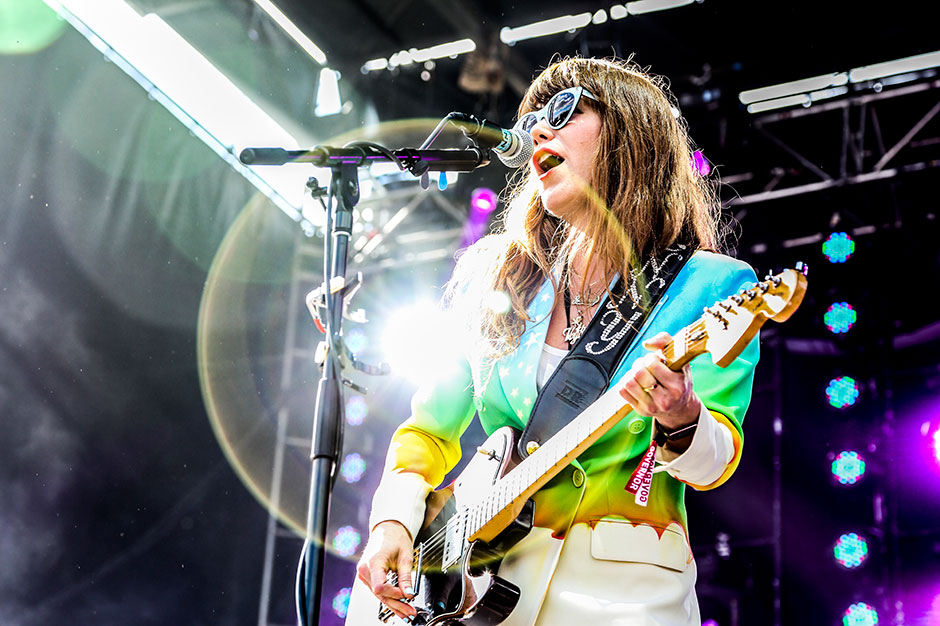 Fifteen years into her musical career, Jenny Lewis has a deep bench of material to draw from, and that's just what the 38-year-old did on Friday. The Los Angeles singer-songwriter did right by her second solo album, performing a handful of tracks from 2008's Acid Tongue, and also promoted her forthcoming follow-up by playing four tracks from The Voyager, including the July LP's Beck-produced lead single, "Just One of the Guys." But fans fawned hardest when Lewis dusted off selections from the Rilo Kiley catalog. The glistening coke-rock riffs of Under the Blacklight's "The Moneymaker" have aged surprisingly well, and the quiet misery of More Adventurous' "A Man/Me/Then Jim" still stings, whether it's Lewis singing or a crowd of die-hards who are just happy to share the moment with one another. K.M.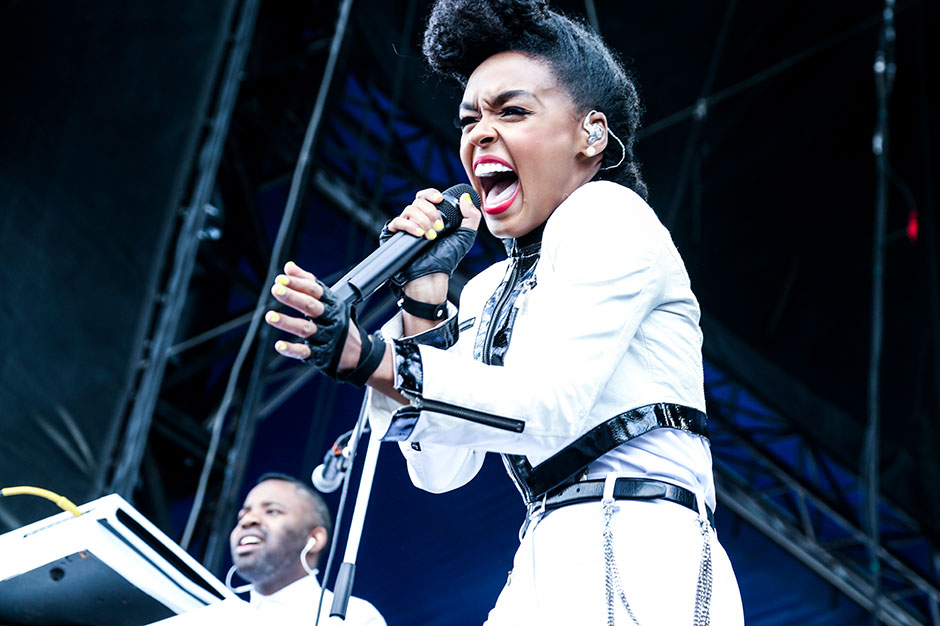 Don't be fooled by her 3:00 p.m. time slot: Janelle Monáe delivered a headlining set on Friday. The Atlanta transplant was wheeled onstage while wearing a prop straightjacket and awarded a cape when she eventually made her exit; in between invoking Hannibal Lecter and James Brown, Monáe moonwalked, shimmied, shuffled, belted out highlights from her shape-shifting sophomore album (2013's The Electric Lady), and, with the help of some bobby pins, managed to keep her signature coif in place. She's a professional through and through, approaching her theatricality with a work(wo)man-like dedication. Minute for minute, Monáe arguably gave the weekend's most thrilling performance. The sci-fi-inclined R&B singer is the once and future Q.U.E.E.N., and the rightful heiress to OutKast's top-tier billing. K.M.
5. High and Mighty Brass Band
5/16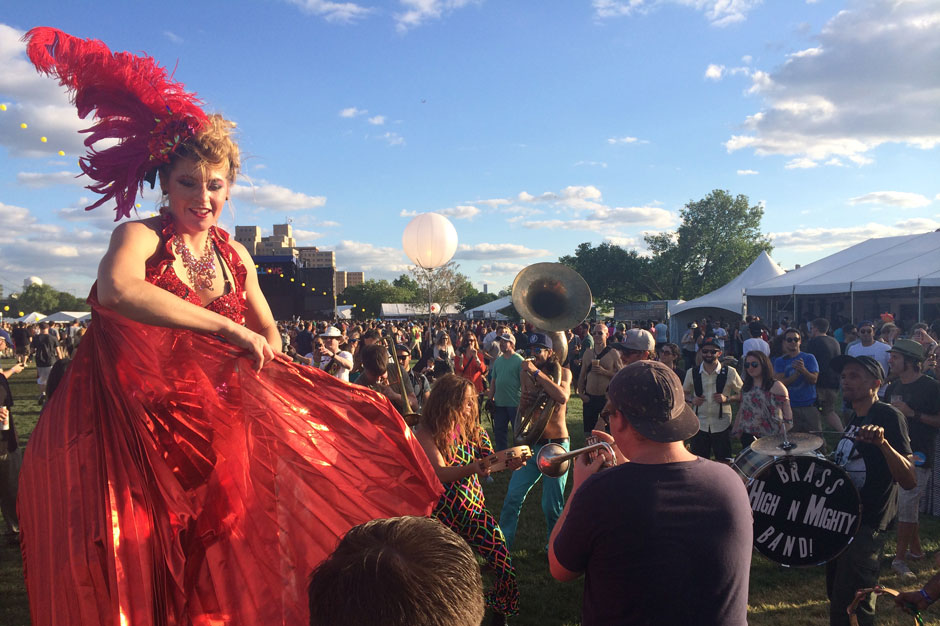 Facing that afternoon lull in stamina and walking through the field in search of Red Bull, our trek was interrupted by this troupe of trumpets, trombones, and percussionists marching out into the crowd with a lady dancer/grand marshal and two women in Mardi Gras-style garb prancing around on stilts. They formed a circle and encouraged onlookers to join the pop-up celebration — it was the kind of one-for-all vibe that's characteristic of the Crescent City, and that Second Line flavor that makes even the sourest of people smile. It was a perfect pick-me-up for the afternoon, and a welcome surprise for a festival the had nothing in the way of surprise sets, let alone a jazz band that got people dancing without any prompting. D.R.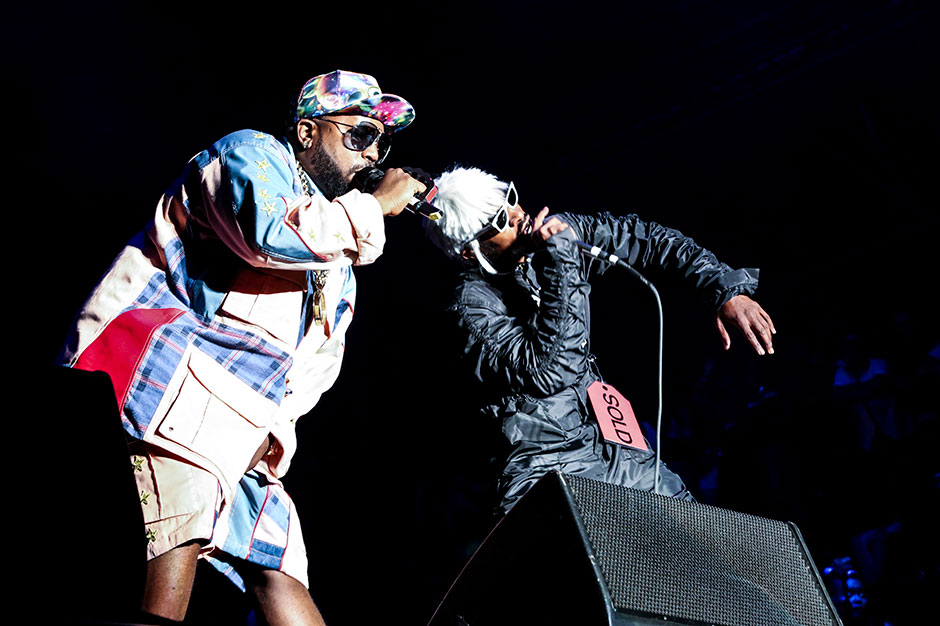 Now that they're several weeks into their festival-conquering reunion tour run, it's clear that OutKast were just getting warmed up at Coachella. The ATLiens were onstage for nearly two hours on Friday night, and André 3000 didn't rap with his back to the crowd once. Even better: As far as we could tell, Dre and Big Boi were actually having fun during their headlining set, smiling, running around, happily hamming it up in front of a crowd that wasn't just there for a "Hey Ya!" sing-along. The beloved hip-hop duo slid through their history, opening with the Stankonia speed-rap classic "B.O.B.," and then dipping into the many other highlights of their varied, shapely body of work — even a mid-show detour into 2003's so-so The Love Below couldn't kill the vibe. But the greatest pleasure was a simple one: just seeing two old friends and comrades performing side-by-side, rapping about fish and grits and all that pimp shit. K.M.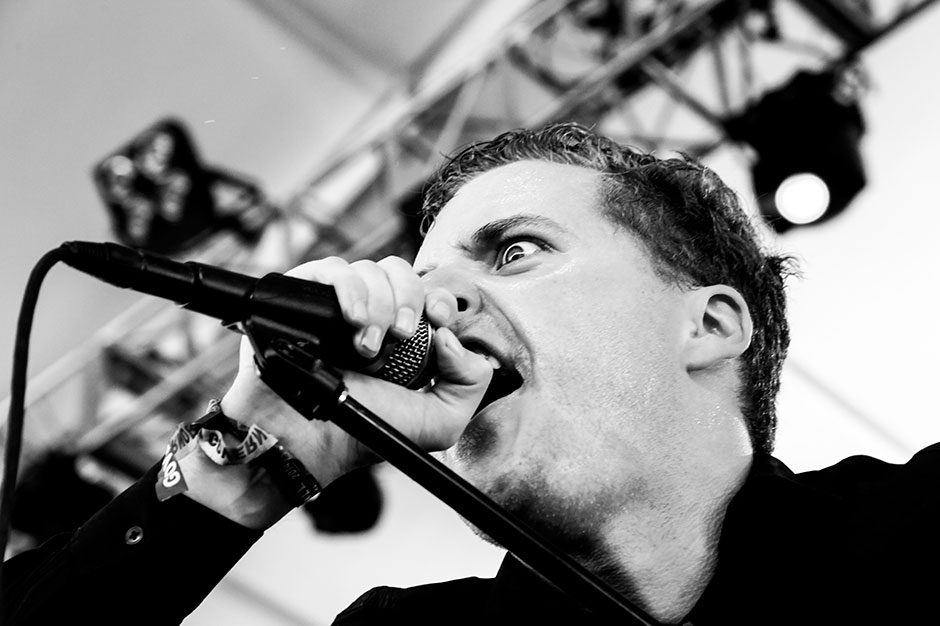 Deafheaven's George Clarke commands a crowd like he's commanding an army. When he wasn't shrieking into the microphone on Saturday afternoon, the lead screamer was beckoning the audience to yell in his place, demanding more and more each time, refusing to settle for any volume, no matter how ear-splitting. During the instrumental segments of last year's black-metal beauty Sunbather, Clarke moved his hands swiftly and wildly, cutting through the air with every crash and raising his palms up with every guitar swell, as if he was actually composing the chaos from the eye of the storm. K.M.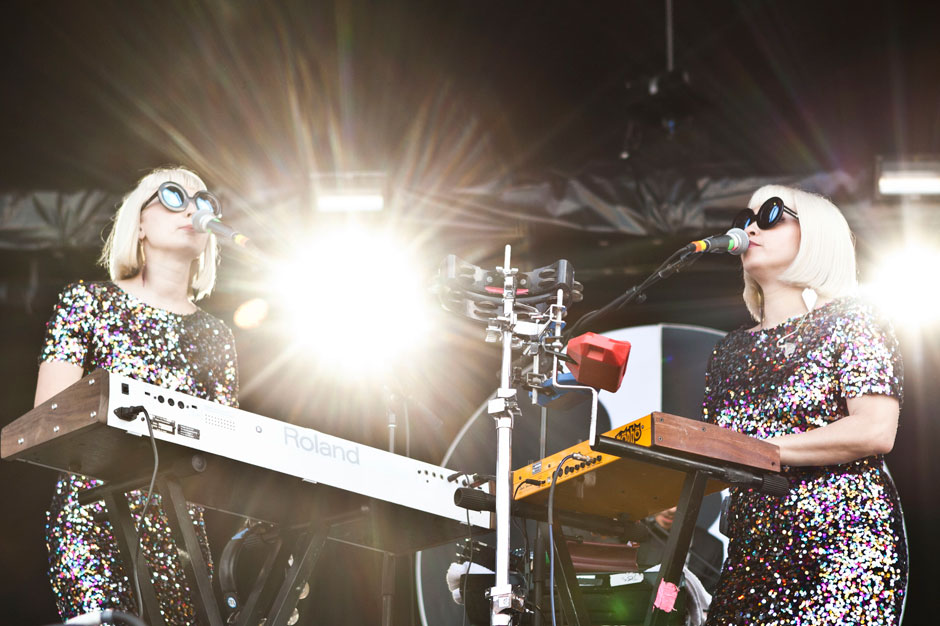 Led by singers Holly Laessig and Jess Wofle and their matching platinum hairdos and sparkly dresses, Lucius never fail to put on a visually stunning show. But more importantly, the frontwomen's harmonies are powerful and piercing, commanding the huge crowd that gathered for their Saturday afternoon performance. Veering from the synth-pop of "Tempest" into the country-tinged, percussion-heavy "Go Home," the Brooklyn quintet adeptly blends their influences into a cohesive sound, and they do it with style. Our favorite moment came at the end, when they segued from "Turn It Around" into Whitney Houston's "I Wanna Dance With Somebody," a truly inspired curveball that left everyone smiling. D.R.
9. Chance the Rapper
9/16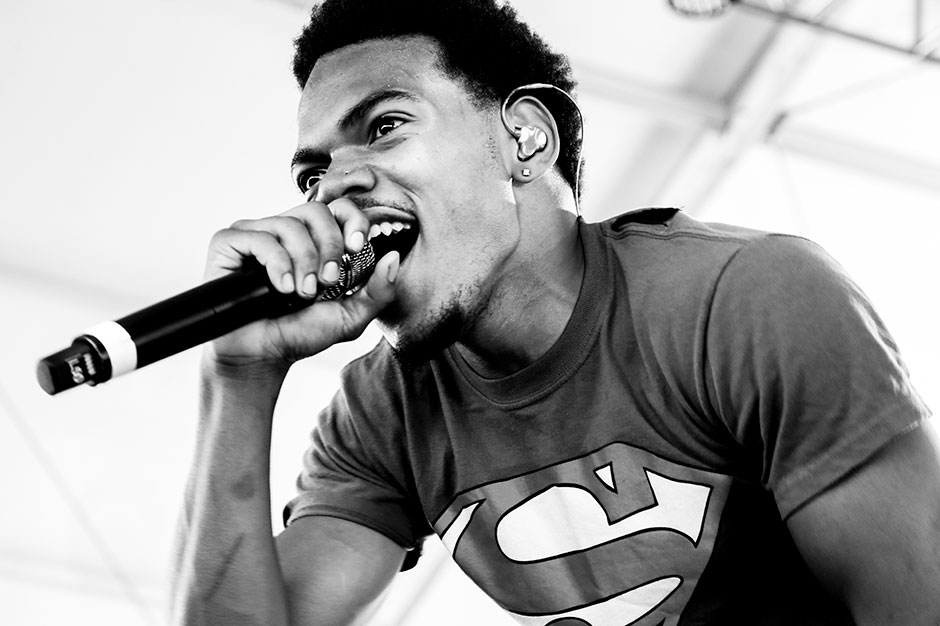 Chance really sold himself short when he added "the Rapper" to his stage name. He's a consummate entertainer, crooning, dancing, reggae-toasting, and controlling the crowd with the skill of an old-school Motown man. Backed by a live band, he treated the packed Gotham Tent to Acid Rap favorites "Everybody's Something" and "Pusha Man" early on, sang a snippet of the theme song to the PBS kids' show Arthur (y'know, "Everyday when you're walking down the street / And everybody that you meet, has an original point of view"), then taught the crowd to sing the chorus of a new R&B-inflected track: "I believe that if I fly / I'll end up somewhere in paradise." After saying he had one more song in him, he led the fans in a rousing rendition of "Paranoia," closing out a powerful, inspiring set that proves Chance is destined for much bigger stages than the one he had at Gov Ball. D.R.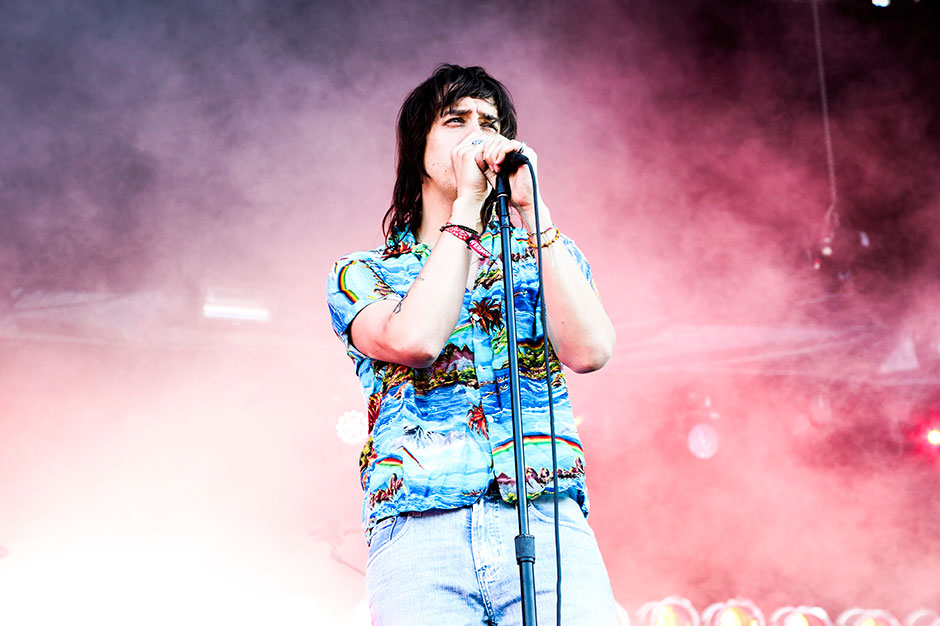 The Strokes were greeted like kings when they walked onstage (ten minutes late, natch) on Saturday evening for their first New York City show in three years. Women screamed when the Jumbotron cut to Julian Casablancas, and men quickly re-evaluated the Hawaiian shirt (more on that later). Bizarre as it may seem, the Fab Five are seasoned veterans at this point, and their impeccably curated set list reflected as such. They leaned heavily on their classic debut album and its worthy sequel, and cherry-picked the best bits from their three later, better-than-you-remember LPs. Blasted from the main-stage speakers, latter-day cuts like "One Way Trigger" and "Machu Piccu" felt very much akin to such well-worn standards as "Hard to Explain" and "Reptilia," as if the second half of the Strokes' career has been thought-out much more than anyone believed previously. Their performance was a master class in the victory lap, done with ease in front of thousands of devotees. K.M.
11. Julian Casablancas' Glorious Hawaiian Shirt
11/16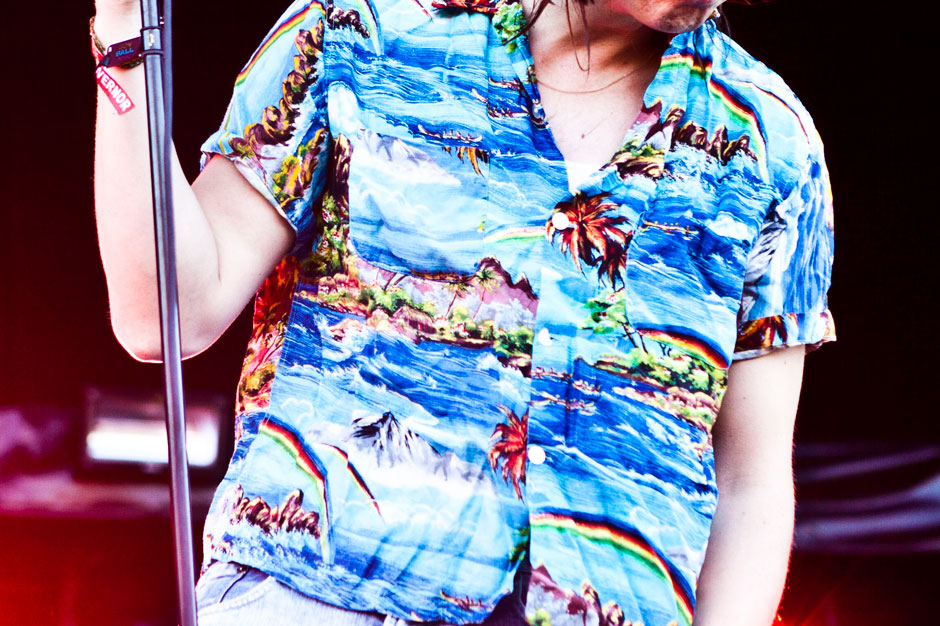 No joke, by Sunday, Randall's Island was slowly being overtaken by Casablancas-copycats boasting their best resort wear. Margaritaville: Now just 15 minutes outside of Manhattan. K.M.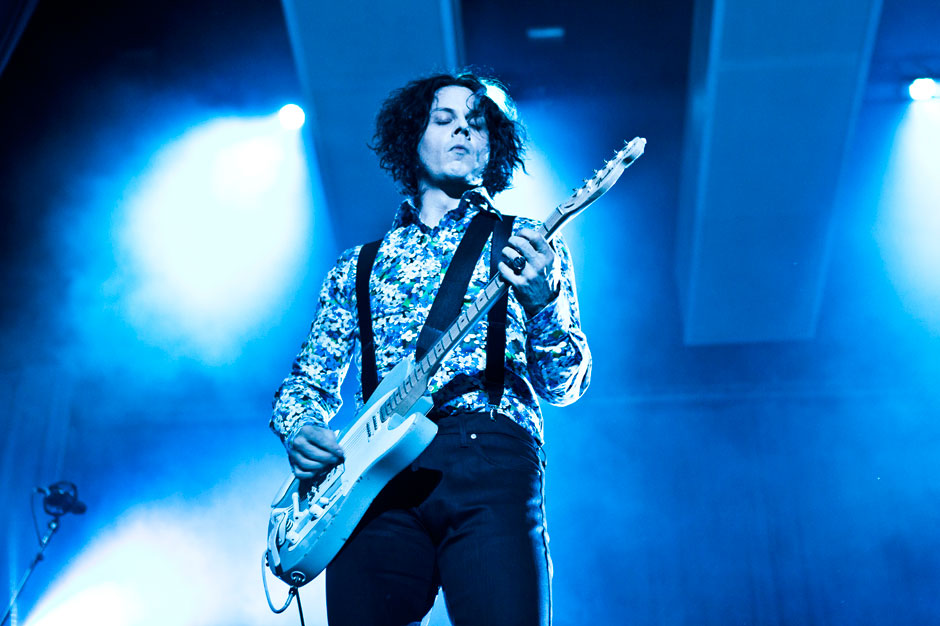 The Saturday headliner brought the heat from the get-go, coming onstage to a squall of feedback and launching into the White Stripes' "Dead Leaves and the Dirty Ground." Unlike some of his Blunderbuss festival shows, White didn't switch out his backing band — all night long, he stuck with the same lineup, featuring standout drummer Daru Jones. Ever the artiste, White made sure his stage and supporting players were decked out in black and blue, with the Third Man Records logo hanging above and streaming on a retro TV set near his amp. The career-spanning set included new songs ("Lazaretto," "Just One Drink"), Raconteurs tracks ("Steady as She Goes," "Top Yourself") and some countrified reworkings of White Stripes classics ("Hotel Yorba," "We're Going to Be Friends"). White repeatedly said how much he loved New York, and thanked everyone for standing out in the hot sun all day, something the pale singer obviously doesn't do too often. For his final trick, Mr. White ended with a feedback-heavy rendition of "Seven Nation Army" that sent the Governors Ball crowd out with a jolt of excitement and ringing ears. D.R.
13. Earl Sweatshirt and Tyler, the Creator
13/16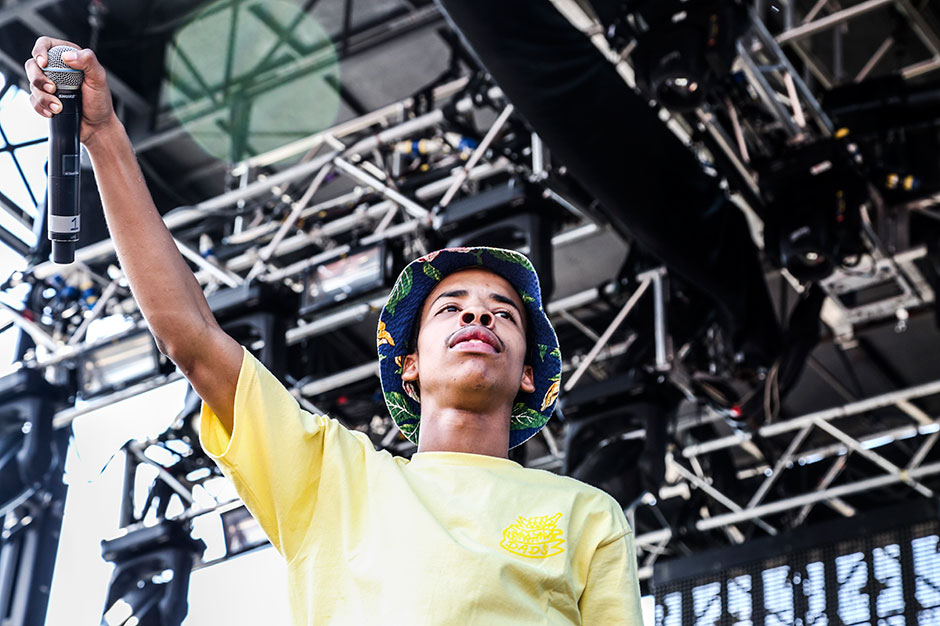 The Odd Future buddies shared some stage time thanks to the Gov Ball schedule putting them on opposite stages back-to-back. The music was fun and all, but the banter was more of a highlight. Earl made sure the assembled wildlings knew the chorus of "I'ma fuck the freckles off your face, bitch," and later asked the audience to enter a verbal contract in which they would get crazy, elbow someone, and "make security earn their paycheck" for "Drop." Five minutes later, across the lawn, Tyler, the Creator had his turn, with some of the loudest bass of any set at the fest. As far as Odd Future shows go, the dudes were very well-behaved, potty mouths notwithstanding. Instead of diving into the crowd and potentially injuring people as they've done in the past, they reserved themselves and just messed with fans. "Did your rich parents pay for this?" Tyler yelled at the VIP section. "You think you're Gandalf? Do you smoke crack?" Earl yelled at a girl who was filming the set with a GoPro held up on a stick. Booking both MCs was a good call, but having Earl and Tyler actually emcee a fest could really pay off. D.R.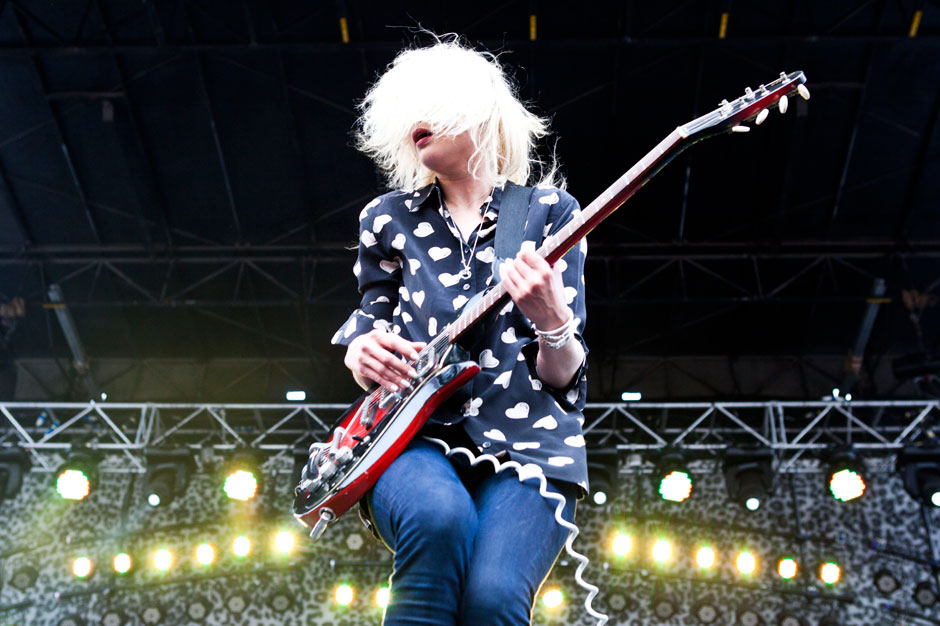 It's been three years since the duo of Alison Mosshart and Jamie Hince released Blood Pressures, and they've been chilling on the performing for a while, but they came to Governors Ball invigorated. Whereas they used to play to backing tracks, this time they were supported by four drummers — two ladies, and two dudes — each manning a pair of skins, with Mosshart posturing while the breeze blew her shock of blonde locks and Hince churning out the power riffs, clearly having a blast. Given how tight and spirited that set was, and how visibly tight their bond is, their next album should be a true treat. D.R.
15. Diarrhea Planet
15/16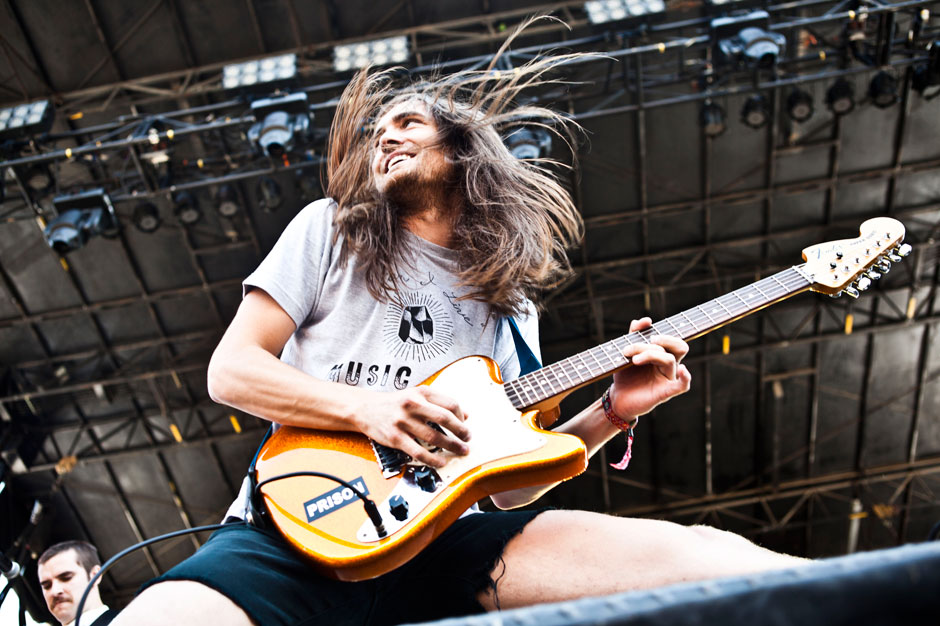 Early afternoon sets can easily fail to lack vigor, so it was pretty shocking to see how wild the crowd was for this Nashville six-piece. Of course, it helps when you have four guitarists who can shred with the best of them, and some fans who arrived specifically to mosh their way through this set, which featured three new songs, including one dedicated to Tinder users. It doesn't get wilder than seeing Diarrhea Planet play their "Ghost With a Boner" and segue into a cover of OutKast's "Hey Ya!," with guitarist Emmett Miller playing while crowd surfing, and fellow axeman Evan Bird climbing over 20 feet up onto the scaffolding, hooking his leg into the metal bars, and ripping a solo. It was easily the rowdiest set of the weekend, and definitely the most fun. D.R.
16. Vampire Weekend
16/16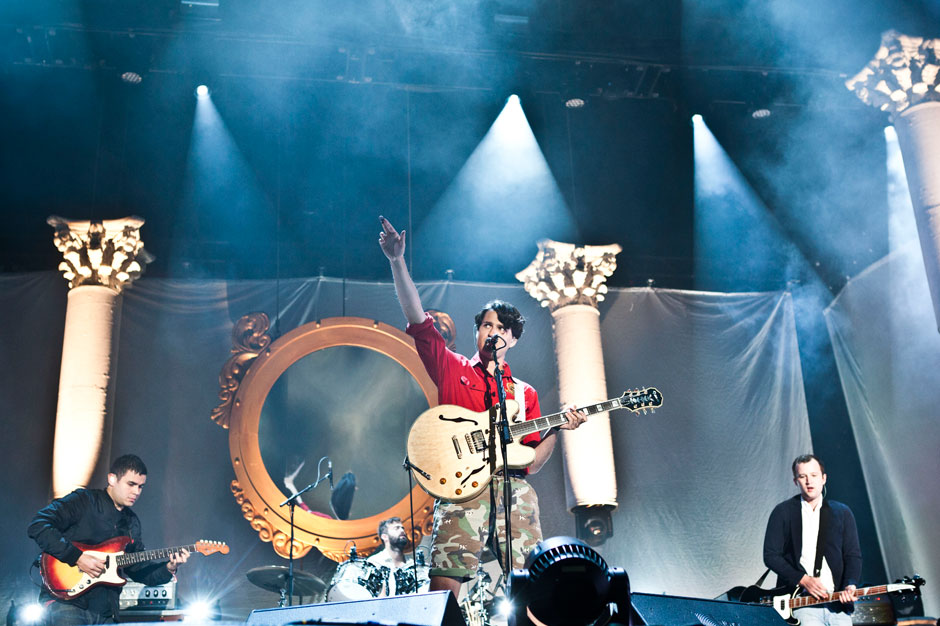 Just as the Strokes could be counted on to be tardy, Vampire Weekend could be relied upon to start right on time. SPIN's 2013 Band of the Year began their Sunday night set a minute early, actually, right as clocks hit 9:14 p.m. What followed was a solid, 90-minute digest of the New York foursome's discography — a crowd-pleasing CliffsNotes version, if you will. They opened with Modern Vampires of the City single "Diane Young" and blazed through an additional 20 songs (encore included), ending with early-days anthem "Walcott." Always a considerate and thoughtful bunch, Vampire Weekend made sure to close on schedule, allowing the audience an easy trip home (and, by extension, a less-painful Monday morning commute). All in all, VW's turn onstage was a well-mannered grace note with which to end the festivities. K.M.