New York DJ Afrika Bambaataa changed the music landscape forever with his omnivorous approach to dance music, spawning, in part, the last three decades or so of the genre we've now come to call "hip-hop." Now, a couple of forward-thinking cratediggers from the Bambaataa tradition have come together to announce a tour that pays tribute to the Godfather's importance to the genre. Starting September 1, DJ Shadow and Cut Chemist will launch a vinyl-only tour that draws all of its source material from Bambaataa's own record collection.
In a new interview with Rolling Stone, Shadow named Bambaataa as "one of the three biggest musical influences in [his] life" citing the pioneer's "desire for social change" and for using "music to help foster a revolution" as important philosophies that play out in his own music.
Bambaataa's 40,000+ records are presently housed at Cornell University where they're being digitally archived, but on their Renegades of Rhythm tour (dates below), Shadow and Chemist will play nothing but vinyl from that collection. The idea was born when art collector Johan Kugellberg contacted the duo to commission a Bambaataa tribute mix, an idea which quickly dovetailed into a full-fledged tour.
According to DJ Shadow, the show will feature six turntables, two mixers, a drum machine, and a host of vintage gear from the '70s and '80s in an attempt to pay tribute to Bambaataa's most fruitful period. "It is a final opportunity to experience the very same grooves that incited a revolution," he said. While Cut Chemist has yet to weigh in, his work can be heard on the freshly released, White Stripes-sampling Jurassic 5 track, "The Way We Do It."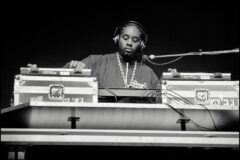 Check out the full five-week slate of dates below.
DJ Shadow and Cut Chemist tour dates:
September 1 – Toronto, ON @ Guvernment
September 3 – Boston, MA @ House of Blues
September 4 – New York, NY @ Irving Plaza
September 6 – Philadelphia, PA @ Theatre of Living Arts
September 8 – Washington, DC @ The Fillmore Silver Spring
September 9 – Baltimore, MD @ Baltimore Soundstage
September 11 – Charlotte, NC @ The Fillmore Charlotte
September 12 – Atlanta, GA @ The Loft At Center Stage
September 14 – Orlando, FL @ House of Blues
September 16 – New Orleans, LA @ House of Blues
September 18 – Austin, TX @ ACL Live
September 19 – Dallas, TX @ House of Blues
September 20 – Houston, TX @ House of Blues
September 22 – Louisville, KY @ Mercury Ballroom
September 23 – Chicago, IL @ House of Blues
September 24 – Minneapolis, MN @ Skyway Theater
September 26 – Denver, CO @ Ogden Theatre
September 27 – Aspen, CO @ Belly Up Aspen
September 29 – Las Vegas, NV @ Brooklyn Bowl Las Vegas
October 1 – San Diego, CA @ House of Blues
October 2 – Anaheim, CA @ House of Blues
October 3 – Los Angeles, CA @ Hollywood Palladium
October 7 – Portland, OR @ Roseland Theater
October 8 – Seattle, WA @ Neptune
October 9 – Vancouver, BC @ Commodore Ballroom