Outside a craftsman home in the Los Angeles neighborhood of Eagle Rock is when you begin to hear the screaming. It's a typically sunny spring day in Southern California, and the front door of the house is wide open, as I'll find it generally remains, and Cloud Nothings' frontman Dylan Baldi is in the entryway, sheepishly grinning in welcome. "Nathan's recording over there in the closet," he says, referring to the homeowner and Baldi's collaborator du jour, Wavves singer Nathan Williams. A basketball game plays on mute on a screen in the living-room background as the screaming begins again. "Sorry about all the, uh, yelling," Baldi continues, giving an exaggerated sigh of embarrassment before breaking into a laugh. He takes a swig from an oversized beer mug and motions for me to take a seat on the couch. "Don't worry, the noise isn't driving me to drink," he says, putting down the mug. "This is more important than beer. This is coffee."
That Baldi almost always has a coffee in hand is telling of his work ethos. The singer has spent most of the past year touring with his bandmates — bassist TJ Duke and drummer Jason Gercyz — and working on his fourth release, Here and Nowhere Else. The follow up to 2012's acclaimed Attack on Memory, Cloud Nothings' latest release has positioned the band as a refreshingly brash contrast to the glossy-produced nostalgia that's currently dominating indie-rock. Though they'd likely cringe at the word "emo," the band has gone through a bold transition; their once pleasant blend of punk affectations and angsty suburban boredom has evolved into a complex mix of noisy guitars and raw vocals. The update has brought the Cloud Nothings their biggest success, sparking an extensive international tour that ended only a few months before Here and Nowhere Else's April release. "Guitars, man," says Baldi, speaking to his current, growing success. "There aren't many bands that are all about the guitars right now."
But recording is still the most pressing focus of Baldi's career and he's somehow found time to spend two weeks at Williams' home-studio. A few weeks earlier, Williams had texted Baldi, who was visiting his girlfriend in Paris at the time, and suggested a collaborative project. What resulted from the informal text-convo was a rather spontaneous decision to try to record an album during the two-week window Baldi had free before setting off on tour once again. "I knew Nathan from years ago when our booking agent put us on tour together," says Baldi. "I figured I had nothing else to do. Why not?"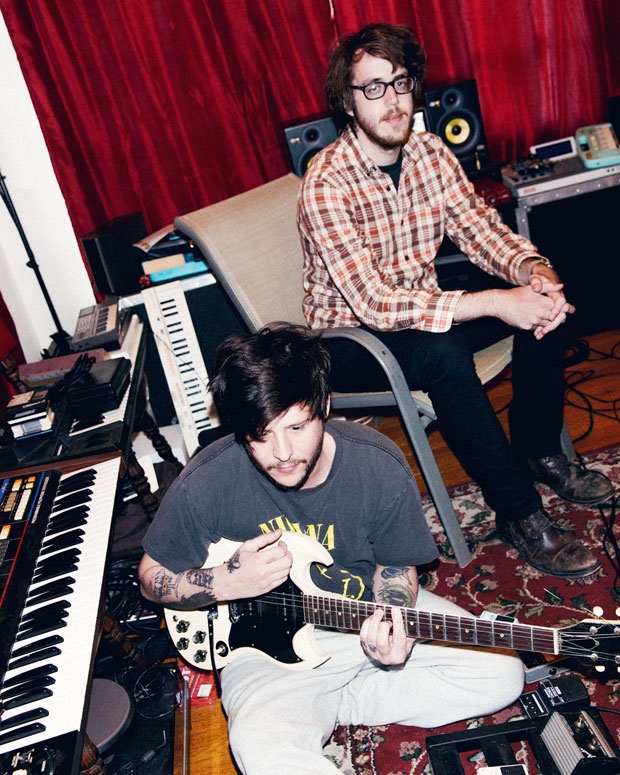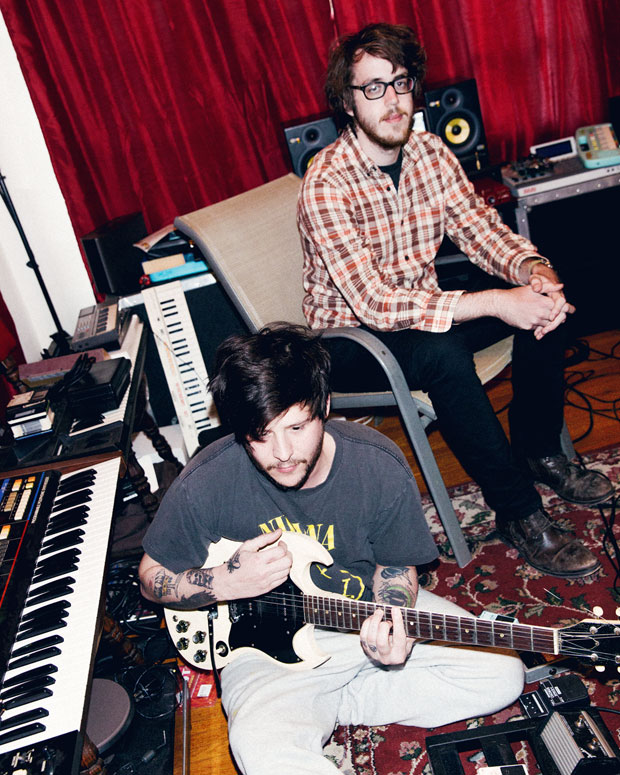 The yelling stops after a few minutes and Williams emerges from the closet in an oversized Marc Jacobs jacket. ("It's a women's coat!" he'll proudly admit later.) He picks up a remote, queues up the DVR on a large flatscreen, and falls into a tufted, Victorian armchair next to Baldi. Framed portraits of Jay Z and Biggie flanked the TV and the coffee table in front is a mess of the commune's staples. (Most prominent are multi-colored vials of medical marijuana, lighters, and a slew of scattered coasters.) The pair chuckle as Williams settles on a show and the familiar theme song to Tom & Jerry plays through the room. "Gene Dietch is a genius!" exclaims Williams, referring to the 1960's animator and sound director responsible for this particular episode.
Baldi nods in agreement, switching out his now-empty coffee goblet for a canned beer. It seems for a moment that the singer might actually relax, but no: As Williams flips to an episode of Real Housewives of Beverly Hills, Baldi quietly wanders back into the makeshift studio attached to the living room, where Williams' brother and the project's stand-in recording engineer Joel layers instrumental tracks for playback on his computer. An open closet door in the corner reveals that their vocal studio is literally a hole in the wall, stuffed with pillows and other scrap materials where it opens to the kitchen.
The incoherent noise we heard earlier plays again, this time through speakers; now the howls emerge from fuzz as earnest lyrics bolstered by the addition of noisy guitars and a stand-in drum-machine. A sinister bass line cuts through the crackling. "There's got to be something there," says Joel, replaying the backings to an empty hook. "We need you to do something."
"Yeah, yeah, I hear what you mean," replies Baldi, fingering his light-blue earbuds and turning toward the closet. "I'll turn it all the way up in your headphones," says Joel. "We just need something on there, we need some random nonsense."
That's his cue. Now it's Baldi's turn to scream.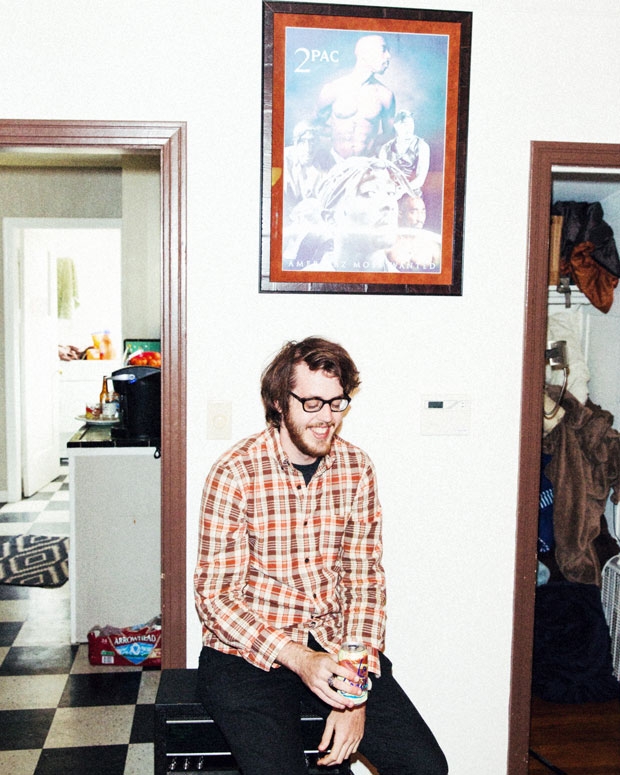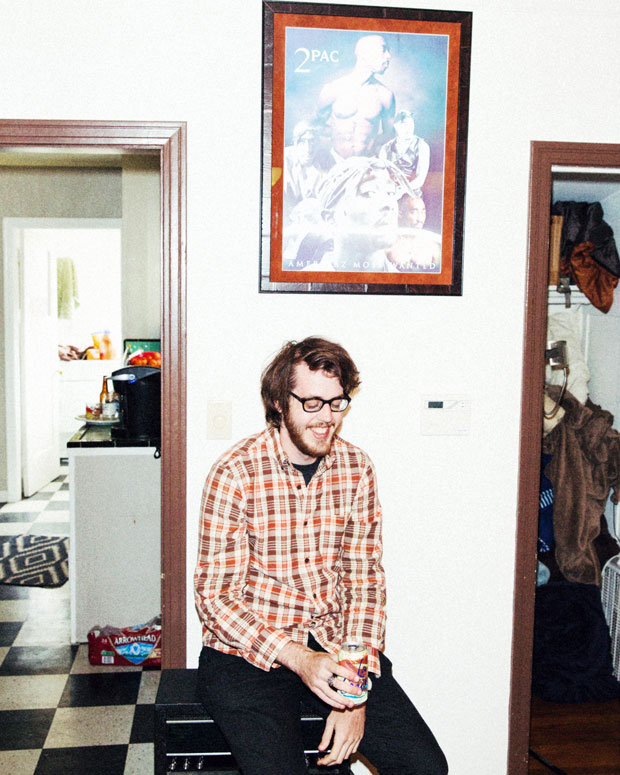 Raised in Westlake, Ohio, a suburb that's about 20 minutes outside of Cleveland, Baldi talks about high school like it was a long time ago. At 22, he's not so different from he was then, describing the teenage version of himself as "kind of a nerd" who felt more comfortable around band and choir geeks than the other kids. Back then, he played the piano and saxophone and was drawn to structure and composition, the theory behind what made songs likable. He mentions an early love for avant and experimental jazz by way of saxophonists like Albert Ayler and pianist Duke Ellington. (Baldi briefly attended Case Western Reserve for college, with a major in saxophone, before dropping out.) But it was the discovery of what he refers to as the "predictable, perfect pop-punk" of '70s and '80s era bands like the Ramones and Adverts when he was 15 that sucked him into wanting to make his own music.
"I met TJ first in 2009, when his band played with my old band Ponyta," Baldi says, now laughing at the Pokemon-monikered endeavor he helmed in high school. TJ Duke, now 31, is the oldest and most reserved member of Cloud Nothings, and had been working as a part-time janitor to pay the bills before the band became a full-time project. Soon after, TJ's friend and drummer Jason Gercyz, 27, joined them. "When I met Jason, it was immediately apparent that he was a really fantastic drummer," says Baldi. "It was the first time I felt like I was part of an actual band."
Over the past five years, Cloud Nothings has released four studio albums, one live one, and a handful of singles, with Baldi's guitar finding a way to remain front and center. Meanwhile, Duke and Gercyz help flesh out his schemes and bolster the singer's self-deprecating paranoia. It's the kind of stuff that becomes most evident on songs entitled "Quieter Today," "Just See Fear," and "Psychic Trauma" on their newest release, where the Baldi's anxiety builds outward to some of the band's strongest hooks. "I'm not telling you all I'm going through," he sings on Here and Nowhere Else highlight "I'm Not Part of Me." The line is fervently repeated in mantra form before coming to a close: "I'm not telling you all I'm going through / I'm not telling you all I'm going through / I'm not telling you all I'm going through / I feel fine."
Getting out of his own head is likely what makes Baldi and his band prefer performing their music live over piecing it together in the studio. In fact, the releases themselves seem like an excuse to get out on the road; albums give Baldi something to tour around and tours give the band motivation to write. While he doesn't relate to any DIY scene, and adamantly refuses being part of one, Baldi's earlier method of getting the band on the road was to act as booker himself; he called dive bars and venues in cities the band could easily pick up and drive to.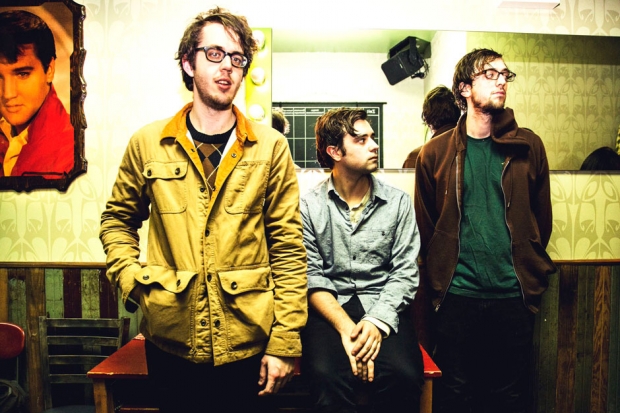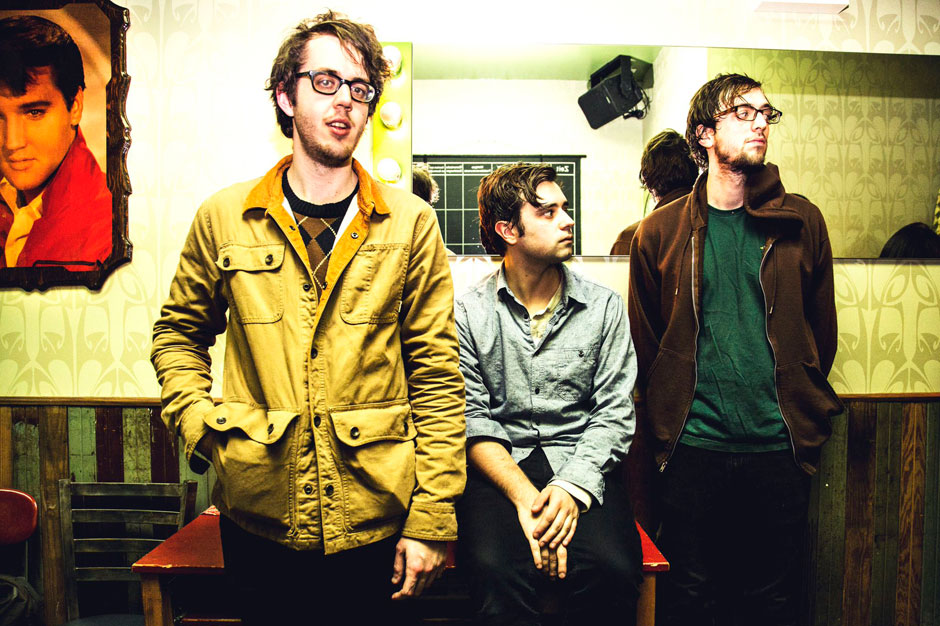 "It was depressing back then," he says. "We would tour a lot. I would call up venues and ask if we could play there. But then there would be one person at the show. No one cared except the Internet." One of those dates was a December 2009 appearance at Brooklyn's DIY institution Market Hotel, where the band played alongside Real Estate and Woods. "That was cool but we knew [the audience] wasn't there for us. It was strange, it was depressing. I liked my music and didn't get why no one else did."
Things have picked up since, and this year's Here and Nowhere Else reflects a drastic change of pace from Baldi's earlier time. It's the most outwardly positive set of music he's released to date, largely thanks to the reception the band got while touring behind Attack On Memory. That Steve Albini-produced album put his sound at a surprisingly loud distance from the earnest, sing-song endeavors that preceded it. "My label didn't know what to do with me," he says laughing, remembering Carpark Records' initial reaction to his newer, aggressive sound.
The defiant shift in Baldi's sound has continued to evolve even since, bringing a strident blend of unsullied reverb to his pop-loving croons. Now, the singer's harried, self-mined apprehension is more than complicated teenage growing pains; it's an uncertain self-awareness hidden amid layers of ripping guitars and drums.
"Each album really has been reflective of where I was in that point in my life," says Baldi as he reflects on his growing popularity. While he remains fiercely protective of his music and independence, the lyrics have evolved from the daily bedroom musings of a bored, restless teenager to more mature, even philosophical subjects.
"I can get caught up in things," he says, fidgeting with a lighter. "But I try not to think about it at the time." The wall of apprehension he's built around his music isn't the easiest to break, but he's satisfied with his newest release now that it's done. Proud even. It's not something he's used to: other people being as excited about his music as he is. //www.youtube.com/embed/L7_Kvjlej7k?list=PLXHCSIE_HKYhdMV-g8KU5S95GR9-UoFzA
A couple of days later we've just returned from Señor Fish, a restaurant down the street from Williams's house and the duo's go-to place for tacos, if only because it's the closest. Joel is playing back the four songs that Baldi and Williams have agreed to use on their forthcoming release for certain. "It's never been important to me to feel a kinship with people musically speaking," Baldi told me earlier. "I don't think about it. I've never thought that I should or could be a part of something larger. I think a lot of that stuff is weird, saying you're a part of scene or a sound."
Given the sentiment, seeing Baldi gel with Williams feels like a step forward for the traditionally introverted songwriter. The two bands went on tour together with Fucked Up in 2011, when Cloud Nothings were supporting their self-titled sophomore album and Wavves were still basking in the success of their stoner-skate punk release King of the Beach. The acts were two post-punk identifying outfits that came from opposite ends of the spectrum: Cloud Nothings were the bedroom project of a quiet Midwestern teenager who wrote lo-fi, hook-cradling pop born out of the boredom of living with his parents in the Cleveland suburbs. Wavves, on the other hand, were nonchalant, sun-soaked, bong-ripping Californian cool-kids helmed by Williams as their charming, self-confident ringleader.
While the pair live in worlds that may be inherently distant, their collaborative efforts are easy and comfortable. Both acts come from self-oriented DIY origins, yet both are cautious about being grouped with artists, their friends, who might share similar qualities. Cloud Nothings is currently on tour with post-punk outfits the Men and Protomartyr, but sees little similarity in their sounds. Williams hinted at the possibility of working on an album with Fucked Up, but was quick to steer the conversation back to vague hypotheticals.
As the songs play, Williams pulls out a toy gun, one that that looks far too real for comfort, and shoots BBs at a stuffed deer head on the wall. There are empty cans of beer that cover the antlers for target practice. The tiny green balls ricochet around the room, bouncing off a glass case that holds a shrunken head, off a shelf that sports rare comics and figurines, eventually landing on the floor.
Williams offers a shot to Baldi, who hesitates before taking the gun. "I don't even know how to hold this thing," he says, fumbling with the toy awkwardly. "I wouldn't even know how to shoot it." With a visual cue from Joel, he shoots once in the direction of the deer and is quick to pass it off again. "Get this thing away from me," he says with some distress. "It's too creepy." Later, in passing, Baldi will mention his hesitance with dealing with things that are overwhelming. "I'm that way with writing," he says. "I need to do it in the moment or I won't be able to do it at all."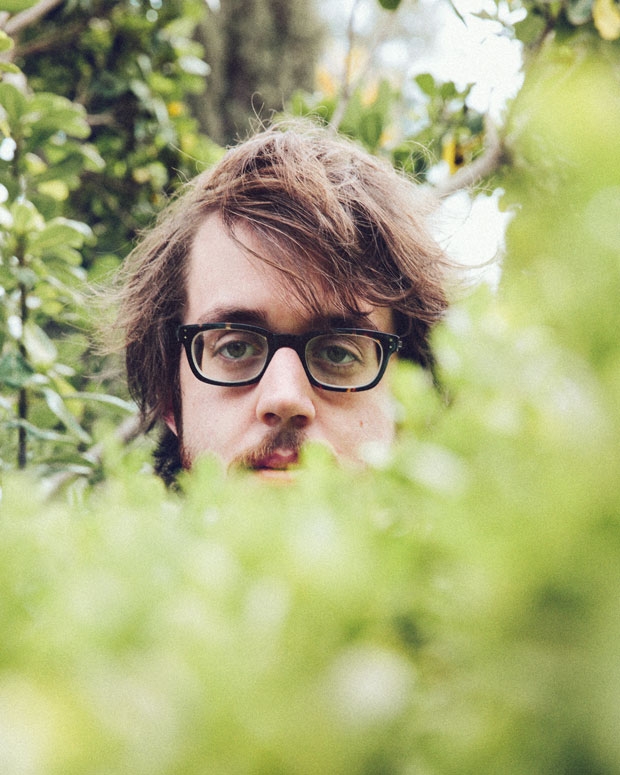 This comment explains "Psychic Trauma," the lead single off his new release that carries a haunting, earworm of a hook: "I can't believe what you're telling me is true / My mind is always wasted listening to you." It's the sort of hook that would trigger emo-punk flashbacks; the wailed phrase could very well be the angsty rebuttal of a kid trying to wrestle with the world around him. And while he'll say that his lyrics are the least important part of his songs, it's clear that those hooks provide moments of clarity for the singer. He's fidgety when he writes, jotting down what's at the front of his mind, very quickly and often only hours before he enters the studio to record. As a result, his most compelling songs come from something that's both deeply mined and difficult to discuss at any sort of length.
"I don't know if I can explain it. I really can't think about things too much," he says, pausing to search for a light for his cigarette. "I write down little statements. The next day I make them into lyrics. I try to figure out what they mean later. 'Psychic Trauma' is about that, actually. I'm a super-anxious person. I over-think everything to the point where I'm terrified to do anything, you know? It's something I don't really like. It's something to fix."
Anxieties aside, Baldi has found Los Angeles a more comforting place than others. For the first time, he feels settled and relaxed while he records. "I don't know a way to say this that isn't new-agey," he quips when talking about the renewed faith he has in himself both as a musician and on a personal level. "It's what my song 'I'm Not Part of Me' is about. It's about taking the things I've experienced and been influenced by and finding who I am and being comfortable with that."