With Soundgarden heading into a hectic several weeks, Chris Cornell has granted an extensive interview to Marc Maron for the interviewer/comic's WTF podcast.
The Seattle alternative-rock icons release their 20th-anniversary Superunknown deluxe reissue on June 3. They'll play the album in full tonight (June 2) at New York City's Webster Hall; the show will air on Howard Stern's SiriusXM channel Howard 101 on June 13 at 10 p.m. EDT, according to The Hollywood Reporter. Soundgarden are also touring this summer with Nine Inch Nails. But Cornell is still bemused about his band's success.
"The idea that 'Black Hole Sun,' for example, could be this international hit single — have you ever read the words to it?" he told Maron. "It's not anthemic. It's extremely dark. It's very esoteric. It's stream-of-consciousness lyrics that I don't know what they mean. I don't know what Paul Anka thinks it means, but he sings the shit out of it."
It worked, though, as Cornell acknowledged, and that brought the band its next set of challenges.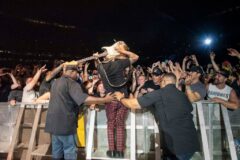 "We really killed ourselves to make that album and to get to a new place as a band that could live on," he said. "But touring for that album also brought us into a point of crisis that I saw Nirvana go through and I saw Pearl Jam go through. And that is that we came from this post-punk, indie world with the punk-rock bible firmly in hand, and we killed commercial rock music by then. It's gone. Done. Sunset Strip, they're wearing flannel shirts and have pink hair. It's over. And we did it. At the same time, now we're playing hockey arenas and we're in the same magazines that the scene that we killed was in, and suddenly we're having this existential crisis of, we are that."
He said that next came an "implosion," and then came 1996's Down on the Upside, which Cornell told Maron was "one of our best creative moments." But he doesn't deny Superunknown's place in the band's legacy. "Superunknown was just this strange shift in finding an audience and also a band a decade old going through this reinvention," he explained.
The lengthy conversation also touched on Cornell's youth listening to the Beatles, getting sober, and Soundgarden's early place as a band that people would describe as "Zeppelin in a good way" at a time when the indie scene generally brought up Led Zeppelin as a negative comparison.
Listen to the entire interview on the WTF website (the chat begins around the 20-minute mark), download the episode here, or pick it up on iTunes. Also check out our November 2012 profile, Animal Instinct: The Return of Soundgarden.