Brian Wilson is turning to a new generation of musical talent as the Beach Boys great works on his next album. According to a short item in the latest print issue of Rolling Stone, possible collaborators for the project include Frank Ocean, Lana Del Rey, Kacey Musgraves, and Zooey Deschanel.
It's unclear how far along these team-ups might be, but Ocean's track, described as "potentially" featuring the channel ORANGE singer, would be titled "Special Love." Del Rey's reportedly "haunting" contribution is titled "Last Song," Musgrave's is "Sharing a New Day" ("sassy"), and Deschanel's is "On the Island" ("space-age bossa nova" — who'da thunk?).
"This project blows my mind," Wilson is quoted as saying. "I had no idea we could pull this off!"
Wilson republished the RS article on his website. Wilson's Facebook followers haven't all been as excited about Ocean, Del Rey, and Musgraves as we are, though, and as Billboard points out, the Beach Boy has responded with a post calling for some good vibrations.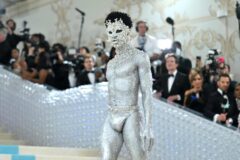 Read that below.
To my fans: it kind of bums me out to see some of the negativity here about the album I've been working so hard on. In my life in music, I've been told too many times not to fuck with the formula, but as an artist it's my job to do that – and I think I've earned that right.
I'm really proud of these new songs and to hear these great artists sing on them just blows me away. I love what we've done.
I would think that after making music for more than fifty years, my fans would understand that I'll always do what's in my heart – and I think that's why you are my fans. So let's just wait until the album comes out because I think you just might dig it as much as I do.
Love and Mercy, Brian
Scroll down to see videos for Ocean's "Pyramids," Del Rey's "West Coast," and Musgraves' "Follow Your Arrow."
//player.vimeo.com/video/49497576
//www.youtube.com/embed/kQ8xqyoZXCc?feature=player_detailpage