Björk made history last week when New York City's Museum of Modern Art announced that her Biophilia app would be the first of its kind to become part of the institution's permanent collection. But that's not the only way MoMA is honoring the Icelandic artist. Beginning next year, a retrospective — cleverly titled Björk — will blend fact and fiction as it surveys her one-of-a-kind career "through sound, film, visuals, instruments, objects, costumes, and performance," according to a press release.
"The installation will present a narrative, both biographical and imaginatively fictitious, cowritten by Björk and the acclaimed Icelandic writer Sjón Sigurdsson," the statement reveals. "Björk's collaborations with video directors, photographers, fashion designers, and artists will be featured, and the exhibition culminates with a newly commissioned, immersive music and film experience conceived and realized with director Andrew Huang and 3-D design leader Autodesk." The exhibit opens March 7, 2015 and runs through June 7.
Considering that the Biophilia app is going to be used to teach creativity in schools in several Scandinavian countries, perhaps the retrospective will be the focus of some pretty heady class trips. Her recent collaborations with Death Grips might necessitate a parental advisory if they're featured, though.
"Björk is an extraordinarily innovative artist whose contributions to contemporary music, video, film, fashion, and art have had a major impact on her generation worldwide," said Klaus Biesenbach, MoMA's Chief Curator at Large and the organizer of the retrospective. "This highly experimental exhibition offers visitors a direct experience of her hugely collaborative body of work."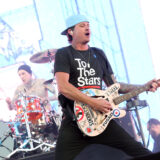 Translation: Expect the unexpected.