Last week, Björk's 2011 album app Biophilia landed in New York's revered Museum of Modern Art, but The Guardian reports that it'll also soon be headed to another institution that's at least as hallowed: the school systems of several Scandinavian countries, including her native Iceland.
The Icelandic singer first launched her Biophilia Educational Program back in 2011 with help from the University of Iceland and several instructors for Reykjavik City Schools. In a statement on the initiative's website it claims the project "designed to inspire children to explore their own creativity, and to learn about music and science through new technologies."
The program has already been tested in several cities, including Paris, Oslo, São Paulo, Buenos Aires, Manchester, Los Angeles and San Francisco, but several northern European countries have become the first to adopt it in any official capacity.
The initiative attempts to get away from traditional modes of instruction, and as such has become popular with children who have ADHD or dyslexia.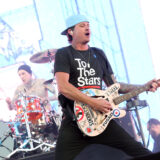 Bjork first attempted to fund this project in early 2013, but fell short by approximately $565,000. It should be at least as educational as that nature documentary she made.
Above, you can see a video of the program in action, from its website.