Björk's Biophilia is vast, it contains multitudes … of opportunities for endless (and endlessly entertaining) media offshoots. When it came out in 2011, the Icelandic singer's eighth studio album, which SPIN deemed "at once her most and least Björk-y," was released as both an LP and a suite of apps that fleshed out all 10 songs with interactive moving graphics and musical instruments. Then it was a live show that blinded us with science, and in April Björk: Biophilia Live came to the Tribeca Film Festival accompanied by a website and posters and everything.
Now, according to the Creators Project, Biophilia's mobile iteration will be the first app to be featured at New York City's Museum of Modern Art.
"I started thinking about acquiring Biophilia when it was released," commented Paola Antonelli, senior curator of the department of architecture and design, in a statement on the museum's website. "At that time, a year after the iPad had been introduced, designers and developers were excitedly experimenting with apps that took advantage of a screen bigger than the iPhone. With Biophilia however, Björk truly innovated the way people experience music by letting them participate in performing and making the music and visuals, rather than just listening passively."
Alas, Björk's Biophilia-inspired nature documentary, Attenborough and Björk: The Nature of Music, has yet to find a home in the high arts. In the meantime, check out the Creators' Project's own behind-the-scenes interview with the app's collaborator, Scott Snibbe, below.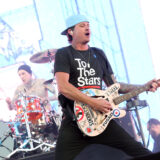 It's a big week for Björk, who a few days ago was featured as a self-described "found object" on rap noiseniks Death Grips' surprise album, niggas on the moon. "i am proud to announce my vocals landed on the new death grips album ! i adore death grips and i am thrilled to be their "found object" ! i have been lucky enough to hang and exchange music loves w/ them and witness them grow !! epic : onwards !!" she wrote in a Facebook post.
//player.vimeo.com/video/42779262