Now in its 21st year, Barcelona's Sónar festival presented, as it always does, three days of provocative contradictions: raving vs. contemplating, vintage vs. cutting-edge, mid-day ambient set vs. 6 a.m. blowout, business vs. pleasure. As always, the festival's offerings — four daytime stages, four nighttime stages, installations, professional conferences, a developers' symposium; three days in a row, with the possibility of nineteen hours' worth of music in a single stretch, for the truly committed/insane — proved inspiring and intimidating in equal measure. (And that doesn't even begin to touch upon the dozens of "Off Week" events that have proliferated across Barcelona in recent years, filling virtually every nook and cranny and rooftop and beach bar with a panoply of electronic music ranging from the resolutely underground to the big-budget Ibiza style; there really is no FOMO like the FOMO you experience in Barcelona in mid-June.)
SPIN braved the rave and came back intact; these were the highlights.
Bee Mask
Chris Madak's lattice of sonar pings (no pun intended) was the perfect thing to test the range of the Sonar Hall, featuring arguably the best sound of the whole daytime complex (well, save for James Murphy and 2ManyDJs' custom-built Despacio sound system, an audiophile's dream about which more in a moment). Bubbling, metallic tones spun in complex arrays before massing together into a roaring drone. Along the way, he tipped his hat to Raymond Scott with a cartoon-like boing that prompted audible laughter from at least one attendee; for all its immersive intensity, Bee Mask's music wasn't afraid to be playful.
Laurel Halo
The sprawling Sonar by Night complex is the opposite of intimate, given that three of its four stages have a capacity that runs into the thousands of people. How many, I honestly have no idea — 5,000? 10,000? — but suffice to say that it is fucking huge. Tucked alongside the bumper cars, however — yes, bumper cars are a thing that still happens at European festivals — the SonarCar stage offered the illusion of intimacy for a crowd that topped out at a few hundred people. This year's SonarCar area was greatly improved over last year's installation, too, with red velvet curtains creating the impression of one of David Lynch's louche, lysergic nightspots. Laurel Halo used the space to great effect, building up a minimalist pitter-patter of bell tones and broken beats. It was a risky strategy — largely melody-free, consisting of little more than abstracted percussion and FX, and going long stretches without the four-to-the-floor pulse that 1 a.m. clubbers tend to crave — but she made it work, maintaining a careful balance of punchy kicks and suggestive, brushed-metal timbres. At times, her parsimony with obvious thrills gave her set an almost fuck-off quality, but instead of repelling the crowd, it served to pull them in more closely.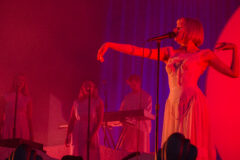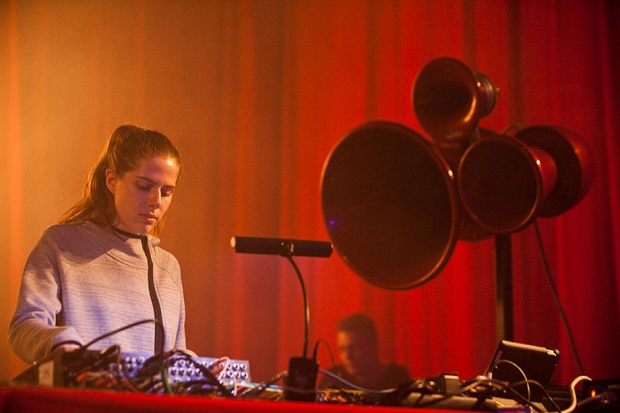 Nisennenmondai
The Japanese trio Nisennenmondai came across like a quartz-powered version of Factory Floor, locking into lean, linear, impossibly tight grooves that modeled the difference between post-punk and disco as a series of quantum leaps. Peering into the gloom, it was shocking to realize that there was an actual human drummer on stage, given their mechanical precision.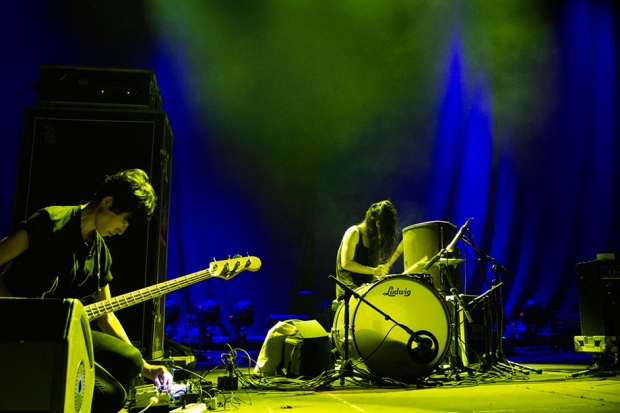 Jessy Lanza
Jessy Lanza's sultry, shuffling take on R&B is a bedroom soundtrack par excellence, but it turned out to work equally well under the blazing midday sun. The Toronto singer/songwriter/producer proved her ability to wear multiple hats by rocking the mic and manning multiple keyboards all at once, and all without seeming to break a sweat. The presence of her co-producer Jeremy Greenspan (of Junior Boys) on the mixing desk helped give the outdoor SonarVillage stage some of the best sound heard there all weekend. And while on record she often sounds almost wispy, here her voice proved surprisingly forceful, without losing its appealingly breathy edge.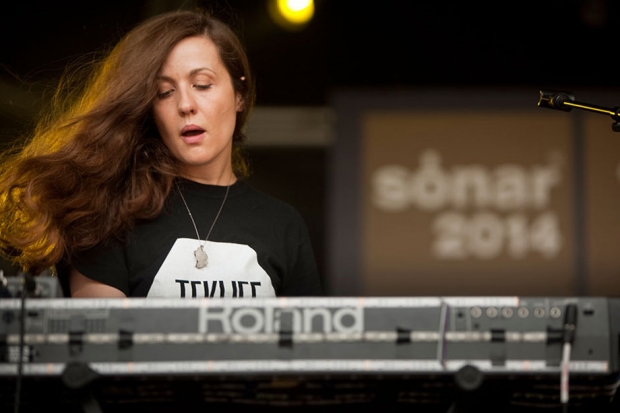 Oren Ambarchi
While the boozy crowd outdoors sank deeper into the Astroturf, Oren Ambarchi delivered an entrancing, 45-minute performance of his 2012 piece Knots in the darkened SonarComplex auditorium space. Accompanied by the absolutely kick-ass drummer Joe Talia, the sound artist Crys Cole (playing an amplified metal spring), and Poland's Sinfonietta Cracovia — masterfully conducted by the violist Eyvind Kang, whose own performance was full of a kind of personality and authority that seemed at odds with the freeform sprawl of the music, yet was all the more engaging for it — Ambarchi spun meditative guitar figures through electronic processing in a way that alternatingly resembled wind whipping across power lines and dominoes toppling in slow motion.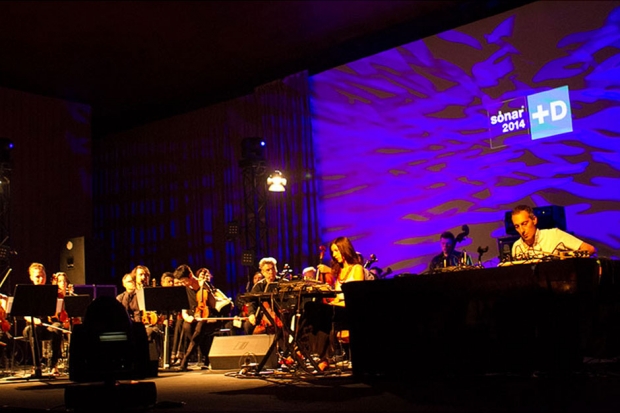 James Murphy and 2ManyDJs Present Despacio
James Murphy and 2ManyDJs' custom-built Despacio sound system really was all that it was hyped up to be: a 360-degree experience in crystalline audio, powered by 11-foot-high McIntosh towers (complete with glowing amps that festooned each stack). The DJs themselves were hidden somewhere at the end of the room, leaving the focus entirely on the sound — and the music, of course. On Friday afternoon, just an hour into their six-hour set, the floor was already packed, and the sweat (and booze, and who knows what else) was flowing freely. Ikea Expedit shelves held potted plants behind the bar outside the curtained-off dance floor — a nod to the vinyl-only underpinnings of the set? Who knows, but one thing was certain: This must have been the first time, and probably last, that Heart's "Magic Man" was played at Sónar. 10cc's "I'm Not in Love" was reportedly the last song played on Saturday, which must have been a thing to behold.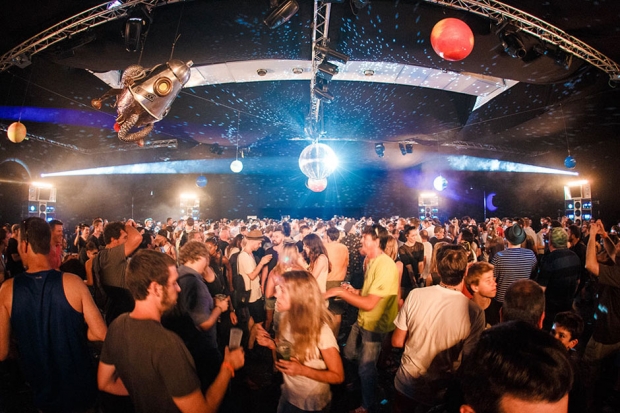 Theo Parrish
The sound didn't do any favors for Theo Parrish's vinyl-only set on the outdoor SonarVillage stage Friday evening; the intricacies of his mixing were lost in all that bassy rumble. But it was great to see him clearly having a ball up there, and his mix of house and jazz and Latin music and whatever else he was playing was the perfect thing to carry a woozy crowd toward dusk — certainly much more appropriate than Mute founder Daniel Miller's cold, linear techno set the day before, in the same time slot.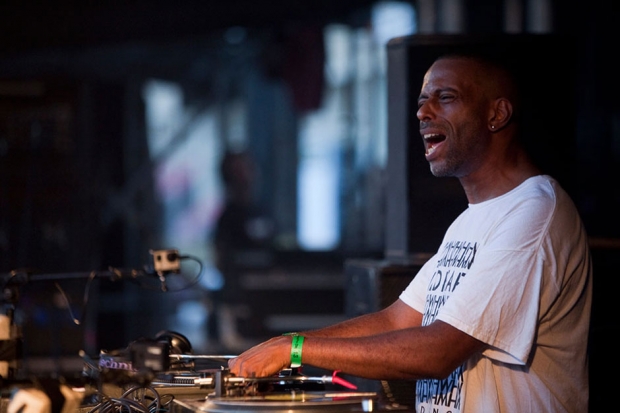 Chic
While it can be hard to square a legacy act like Chic with Sónar's mission as a festival for "advanced music" — more than one national newspaper compared the band's performance to an immaculately played rendition of what you might hear at a midsummer festival in a village town square — it was hard not to be seduced by Nile Rodgers' gap-toothed grin, not to mention his quicksilver riffage. Did we need to hear "Get Lucky"? Probably not, but everybody knew in advance that we would, and "Let's Dance" and "Like a Virgin" proved fine surprises; opening with "Everybody Dance," in any case, was a brilliant move. Days later, I'm still singing along to it.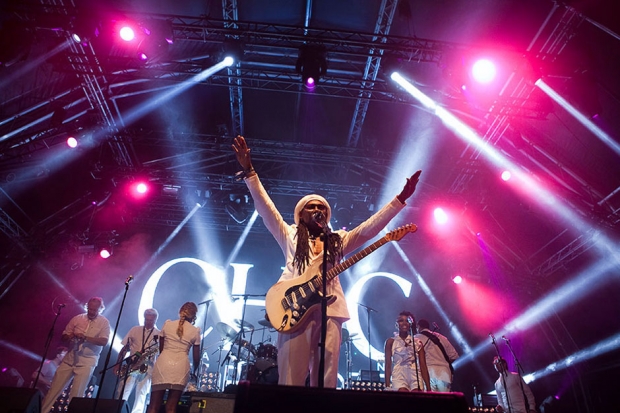 Future Brown
It was, yes, mildly disappointing that Future Brown's set turned out not to be a live performance, but rather a B2B2B2B between members Fatima Al Qadiri, Lit City Trax founder J-Cush, and Nguzunguzu's Asma Maroof and Daniel Pineda. Still, hearing their sometimes seamless, sometimes hard-angled fusion of southern rap, grime, zoned-out R&B, brittle Night Slugs club constructions, and Auto-Tuned futurism, plus nods to ballroom and who knows what else, was plenty exhilarating, or at least engrossing, and it was a treat to watch the four of them up there just vibing. And as far as hip-hop-influenced takes on club music go, it sure beat the hell out of DJ Snake's cartoonish, drop-riddled rendition one room over and an hour later, about which the less said, the better. He was such a buzzkill that after hearing him, my crew didn't just turn down; we grabbed a cab and turned in.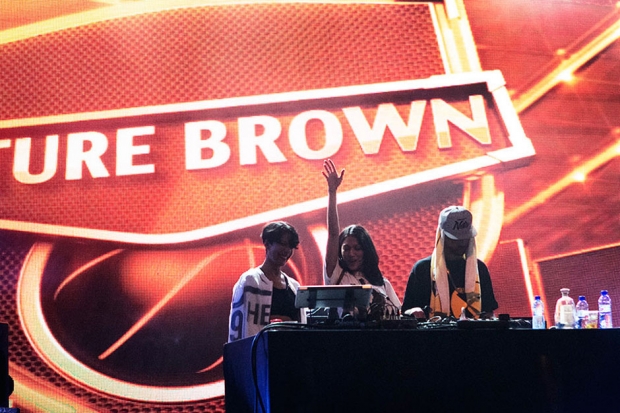 Matmos
Nowhere did Sónar's central contradictions — storied festival of "advanced music," technology conference, hedonistic free-for-all — become more apparent than during Matmos' difficult, ridiculous, captivating, inscrutable, laugh-out-loud wonderful performance in the crowded (but progressively less so) SonarHall on Friday afternoon. "Are you ready for some experimental music?" asked M.C. Schmidt as he and Drew Daniel faced off over banks of synthesizers, samplers, mixing desks, and who-knows-what-all assorted noisemakers and gewgaws. A beery cheer went up from the crowd. "We warned you," he continued, assuming a kind of ironically schoolmarmy, sorry-not-sorry tone.
And experiment they did. The first song ("song") consisted of real-time processing of the audio from a video of Schmidt's disembodied head (visions of Jambi!) as he reeled off weird, assonant rhymes like "Homos shoot photos of foot-long schlongs" and "Lots of hobos do odd jobs no boss stoops to do." (Why were these all O words? Were we witnessing the birth of O Wave?) Their shot across the L=A=N=G=U=A=G=E poetry bow scared off quite a few would-be ravers, and by the end of their set, when Schmidt was wrapping up his legs in packing tape, its elastic r-r-r-r-ripping sound caught on mic and turned into contorted, rippling rhythms, the amped-up and aimless were shouting in exasperation. Still, along the way a kind of Bontempi-organ space-age-bachelor-pad song got everyone dancing, and dancing in the way that you never see house and techno make limbs move; you could tell that people were testing out muscles they weren't used to moving as they knocked hips and inverted elbows, a forest of right angles and strange swivels.
Midway through their set, it was Daniel who posed a question. "We're told festival audiences like music with a steady rhythm," he deadpanned, as Schmidt focused a miniature video camera on a metronome. (Ba-dum-bum! If nothing else, Matmos are champions of brainy electronic music as standup routine. Seriously, someone get these guys their own HBO special.)
"Is that true?"
Some whoops came up from the crowd, feebly.
"Is that not true?"
Even feebler whoops. (I whooped both times, so don't look at me.)
"There are no right answers," he shrugged, every bit the friendly professor. And as the metronome kicked into its steady clop-clop-clop-clop and began ricocheting down a serpentine signal chain of pitch-shifting and delay, and the crowd began stomping along with abandon — particularly this one particularly dazed-looking hippie woman next to me — it occurred to me that Daniel was right. Look at all these people, I thought, dancing to a fucking metronome. Were they vibing on the conceptualism of it all, or were they just into the steady beat? Who knows? Who cares? There are no right answers. And that, in a nutshell, is the beauty of Matmos: They make the smartest and funnest music around; they unite both the thinkers and the movers, and their peculiarities have the benefit of weeding out both the suspicious-of-thought and the haters-of-fun.
Ten minutes later, I looked over and caught a glimpse of the hippie to my right doing bumps of something off a credit card. She wandered off not too long after that, but there was no shortage of rapturously fucked-up looking people that stuck around for the gorgeous song that closed out the duo's set, a Reichian spiral of arpeggios that was almost excessive in its beauty. All around me, couples pressed into each other, floating on the music and absolutely oblivious of their surroundings.