Don't fear the ringer. And we don't mean cowbell. Will Ferrell and Red Hot Chili Peppers drummer Chad Smith staged their long-teased drum battle last night on The Tonight Show Starring Jimmy Fallon. But the actor may have had an advantage over his rock lookalike. And it all culminated in the Chili Peppers making their first late-night TV performance since 2006.
The "traditional drum-off," as Ferrell insisted, played by "traditional rules," followed months of trash talk. After the Saturday Night Live alum acknowledged looking like the Super Bowl stickman, they raised more than $300,000 in donations for the charity Cancer for College, and the drum battle was on.
In matching KISS T-shirts, black leather jackets, and backwards blue baseball caps, the two sat down with host Jimmy Fallon, each talking in character as the other about their rivalry. They also shouted out their respective charities: The actual Smith's is Little Kids Rock, while Ferrell's, again, is Cancer for College, which awards college scholarships to cancer patients.
Then it all went down. Ferrell and Smith traded off drumming chops and insults. It may have helped that ?uestlove, the drummer for the Roots, was at the comedy-guy's side. A drum stick was lost, but wait — it only takes one to cowbell. Smith's Chili Peppers, dressed as if for a That '70s Show reunion, took the stage to perform Blue Öyster Cult's 1976 hit "(Don't Fear) The Reaper," of SNL "More Cowbell" fame.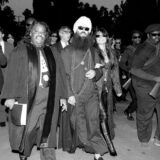 And the Golden Cobwell was Ferrell's. Or wait, is that Chad Smith? It's so hard to tell.
Watch the drum-off above and the interview below, and scroll down to see the Chili Peppers perform a frenzied take on Funkadelic's 1974 "Standing on the Verge of Getting It On" with the Roots, followed by their own "Give It Away."
//www.youtube.com/embed/EsWHyBOk2iQ