If you placed bets on the drum battle between Will Ferrell and the Red Hot Chili Peppers' Chad Smith, the time will soon come to honor them. The comedian and the uncannily similar-looking drummer will go cowbell to drumstick on The Tonight Show Starring Jimmy Fallon on May 22. The pending bout has raised more than $300,000 in donations for the charity Cancer for College and follows months of trash talk, after Will Ferrell acknowledged he and Smith share a resemblance.
Jimmy Fallon was to announce the details of the drum-off on his show last night — we'll add video when it's available. Ferrell's gag since a February Reddit AMA has been that he's the real Chad Smith and there is no Will Ferrell (and all you other guys quoting Anchorman are just imitators). "We're going to have a drum-off to see who the real Chad Smith is," the actual Smith told Rolling Stone. "I'm all for it. But unless Will's been practicing or is secretly a crazy, wild drummer, I think it'll be evident right off the bat who the real Chad Smith is. I'm ready to take him down."
The pair have met at least once before, but Fallon will be their first time together in public. Though Ferrell's fever for "More Cowbell" is famous from the classic Saturday Night Live sketch, his chops might be a bit rusty. "I have not been practicing," he told RS. "There's no amount of practice that would help me become a good drummer."
Maybe he could pre-record it? Anyway, a lack of applying themselves has never seemed to hurt the guys in his movies. And you'll notice Ferrell didn't rule out being "secretly a crazy, wild drummer."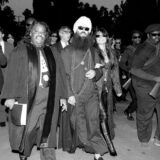 Watch their post-Reddit AMA Instagram video exchange below, and decide for yourself which one is real the Chad Smith.