SPIN Rating:
Release Date:
May 06, 2014
Label:
4AD
Success brought crisis to tUnE-yArDs' Merrill Garbus. Following up 2011's Whokill filled her with fear – not a great state for a performer beloved for her apparent fearlessness. A former theatre major who traded her puppets for a ukulele and samplers, the 35-year-old Oakland-based songwriter topped the Village Voice's critics' poll with the rarest of musical commodities – a sound that essentially hadn't been heard before. She attained art-punk Afrobeat singularity by being both uncommonly childlike and brilliant, yet now her prodigious enthusiasm was getting squashed with the weight of adult expectations.
Garbus fought back by schooling herself. She studied dance and drums in Haiti and pondered cultural appropriation while doing good deeds. She learned to sing and squawk without hurting herself. She set office hours, and abandoned much of the instrumentation that defined Whokill – no sax, no loops, and what little ukulele remains she disguised. Lo-fi became hi-fi, independence turned to collaboration, and diligence joined risk-taking. In other words, Garbus grew into that seemingly contradictory role of a professional artist.
Nikki Nack is all about that transition; she makes it clear from the start with "Find a New Way," which confronts her panic head-on. "I tried to tell him all the reasons that I had to never sing again," she admits in the opening verse, a torrent of insecurity. There's brutal digital percussion and delicate handmade click-clacking; her voice is similarly both demur and determined as she maneuvers between uncertain exposed verses and joyous choir-driven choruses. The other tUnE-yArD – Nate Brenner, Garbus's romantic partner – softly skips and jumps on his bass, as if meditating on her dilemma, flipping from jazzy freedom to Jamaican dancehall rigidity and finally to a heated, nearly classical resolution that testifies that, yeah, Garbus did find her new way: She conquered her demons by exposing them.
It could've been so much easier to cover them up with bells and whistles. Instead, drums of all kinds beat relentlessly in tandem with bass, synths, sound effects, and other weirdness. But little gets between the listener and Garbus' magnificent yelp: It's everywhere, stronger than ever, nuanced, and more defiant. She crams most songs so full of words that her singing gets nearly as percussive as the rapidest rappers, particularly on her Busta Rhymes-esque "Water Fountain." This, the first of three collaborations with Santigold producer John Hill, may ostensibly be about fighting poverty with community, but following as it does right after "Find a New Way," it also battles artistic drought with love. Zigzagging from dead-end frustration to charity to coital ecstasy, this three-minute marvel proves that what Garbus lacks in instrumental mastery she more than makes up for in tightly compressed compositional dexterity. Beyond the chorus' simple skipping rope vibe there are multiple key changes and mounting percussive complexity that culminates in tightly coiled vocal cacophony. Girl goes off.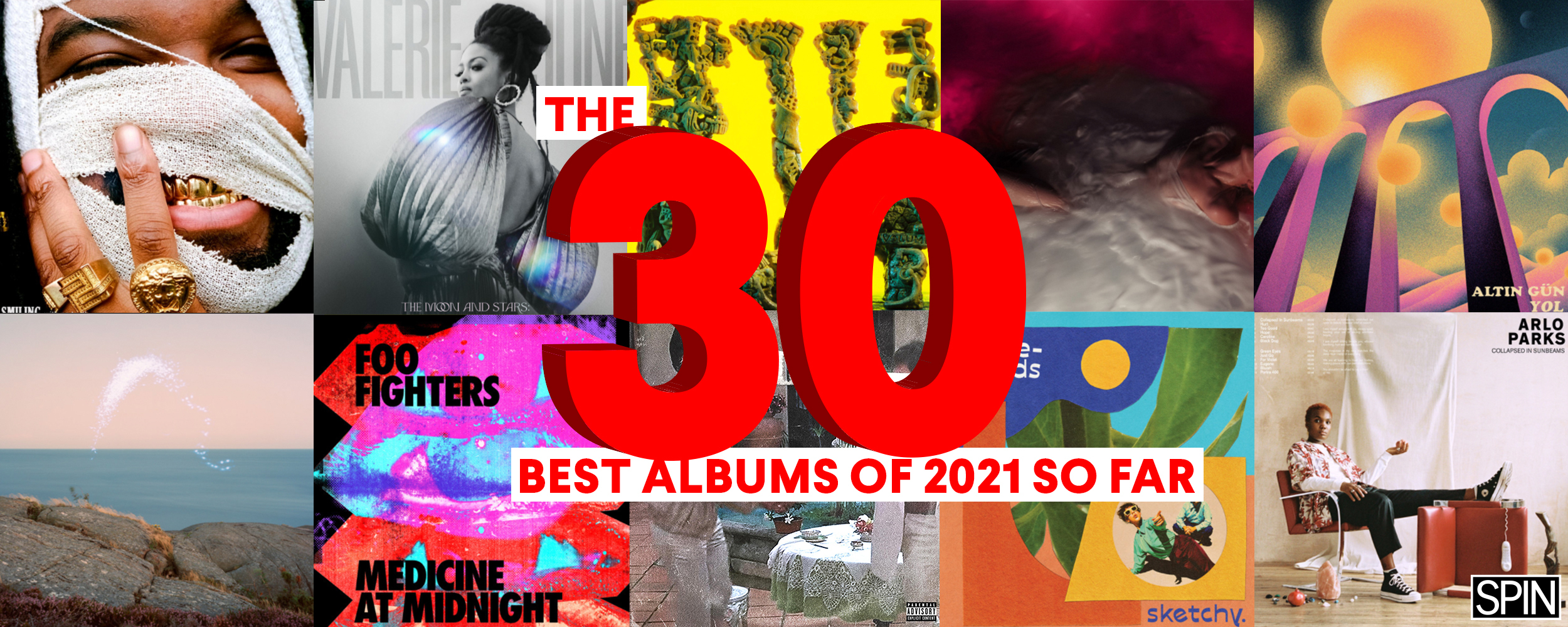 Nikki Nack isn't all orgasmic wailing and voodoo drum solos. "Time of Dark" builds like the mountain she vows to scale. Garbus resolves to abandon her doubts by surrendering her sight to a higher power that will see her through the shadows. This is gospel, even if it's outfitted with swooping bass booms and glistening studio filigree, and she nails it because her will to transcend is as tangible as her spiritual crisis.
Yet as soul-searching as it gets, Nikki Nack also makes friends with pop. Although its emotional intensity is at first nearly overwhelming, Nikki Nack gets similarly crazy with hooks, which makes it more daring because it ups the stakes even higher. It's not enough for Garbus to simply freak out; she now takes greater pleasure in finely honed tunes, like the one in "Wait for a Minute," where her cool coo suggests Dusty Springfield luxuriating in the warm bubble bath of a Burt Bacharach melody. But the lyric tackles the psychological roots of addiction, and the fact that she's set it to lovely escapist synthpop co-produced by Frank Ocean cohort Malay makes her point of wanting to avoid her pain even more poignant. That's not simply people-pleasing with commerciality; it's savvy conceptual art.
Whether she's singing about vigilantism from a sympathetic place in "Stop That Man" or the gentrification of her Oakland base in "Left Behind," Garbus finds global analogies to her own internal conflicts, and vice versa. Even in the midst of "Look Around," ostensibly an R&B love jam abstracted by her idiosyncratic sonic pallet, she can't help herself from pointing out, "Our friends have died waging war against their rulers." Like the world around her, she's embattled. Yet for most every I, she's implying a We.
On the surface, Nikki Nack is a 45-minute panic attack about writer's block. But on a deeper level, it deals with reclaiming an authentic sense of self when a false one is foisted upon you, a problem she understands as universal. "Don't call me the real thing," she protests in "Real Thing," knowing the fakeness of such a designation. Garbus's F.O. attitude is still punk, the genuine outsider variety, but those jazz chords she strikes with honking background vocals overdubbed to resemble a one-woman horn section point to even greater harmonic riches ahead. As good as this gets, Garbus is still growing.
She may sing about her belief in herself faltering, but her sincerity is actually stronger than ever. The victory here isn't just that Nikki Nack betters Whokill by beefing up its feral ferocity with more sophisticated chops, or that she triumphed over her detractors by proving she hadn't already peaked. Garbus found power in a hopeless place. She stared down the darkness of her despair and found light and inspiration. May we all do the same.