Music streaming has crossed a new benchmark. Spotify announced today it now has 10 million paying subscribers globally. Including free listeners, it now has 40 million active users worldwide.
The streaming service provider says the milestone matters for the music industry as a whole. "We've had an amazing year, growing from 20 markets to 56 as people from around the world embrace streaming music," said Daniel Ek, Spotify's CEO and co-founder, in a statement. "We're widening our lead in the digital music space and will continue to focus on getting everyone in the world to listen to more music."
The announcement comes at a pivotal moment for Spotify and, yes, the streaming business overall. Earlier this month, the Financial Times reported that Apple was close to acquiring Dr. Dre's Beats Elecronics — parent company of the Beats Music streaming service — for $3.2 billion. And as Bloomberg Businessweek points out, while Spotify won't talk about its balance sheet, a report by private-company peformance analysis firm PrivCo last year indicated the Swedish company had lost $200 million since it started.
Another report, issued last November by Generator Research, found that the streaming business model is "inherently unprofitable." As Andrew Sheehy, the report's lead author, wrote: "Our analysis is that no current music subscription service — including marquee brands like Pandora, Spotify, and Rhapsody — can ever be profitable, even if they execute perfectly."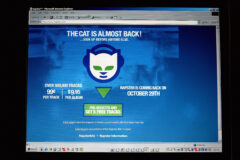 Once Spotify reaches a certain size, though, it should theoretically be able to turn a profit. As Businessweek reports, the company says roughly 70 percent of its income goes to royalties, so eventually with enough subscribers it ought to be able to use the remaining 30 percent to pay bills and still have money left over. While Ek brushes off the idea of a "magic number," Recon Analytics analyst Roger Entner has said streaming services need 5 million to 10 million paid users to turn a profit.
So Spotify might become sustainable very soon. Maybe today. In any event, that's 10 million down, and many more to go for the music industry as it tries to find a success to CDs and digital sales. (Also see: Did Vinyl Really Die in the '90s? Well, Sort Of…)