Quincy Jones certainly knows a thing or two about Michael Jackson's music. The 81-year-old legend produced the King of Pop's smash albums Off the Wall, Thriller, and Bad, but when it comes to Jackson's latest, the recently released posthumous LP XSCAPE, Jones is not a fan. Though he hasn't directly commented on the quality of the music, he's not thrilled that the Timbaland-led record exists at all.
"They're trying to make money," he said in an interview with CBC Radio. "And I understand it. Everybody's after money, the estate, the lawyers. It's about money." When asked if he was disappointed that more unreleased Jackson material could see the light of day, he said, "Yeah, but it's not my business anymore. They're not our business."
It's kind of funny to hear that coming from Jones, who is involved in a lawsuit against Jackson's estate and Sony Music over royalties stemming from the posthumous releases. Back in October 2013, he sued for $10 million, claiming that some of Jackson's master tapes were altered in an effort to cheat Jones out of future back-end profits. He also says that the estate and Sony wrongfully denied him his share of money from the This Is It movie and soundtrack, the 25th anniversary edition of Bad, and the Cirque du Soleil productions that use Jackson's songs.
If Jones is looking for a sympathetic ear in regards to XSCAPE, he'll find one in the Black Keys' Patrick Carney. The outspoken drummer had a few choice words for the album in a recent interview with Rolling Stone: "[It's] some fucking bullshit that sucks so bad that it took them three years after he died to make it listenable. Like he had to be dead for three years for it to be released." He agreed that it's all about the money, adding that the album only exists because "L.A. Reid needed a new boat."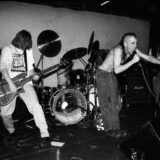 Unfortunately, Jones didn't comment on the creepy hologrammed Jackson performance at the Billboard Music Awards, which might as well have featured hologram dollar signs floating above the CGI'd King of Pop.