The annual Webby Awards celebrate Internet innovation across a number of different platforms, and Monday night a number of familiar names popped up in the music-related categories. Best of all, De La Soul won the Webby for Artist of the Year in celebration of their decision to release their whole discography for free on Valentine's Day. Questlove was on hand to offer an affecting speech on their importance to the history of hip-hop, which you can watch above.
As the Roots leader sees it, the iconic crew's choice to release their discography for free was just the latest in the long tradition of inventiveness. With the advent of online music sellers, De La Soul's music effectively went out of print due to issues surrounding sample clearance. "It was like a digital picture of Rushmore without Jefferson," says Questlove. But in releasing their music for free, they bypassed the mechanism that was keeping their songs from a new generation.
Patti Smith was also present to present a "Person of the Year" award to Banksy. In 2014. Yeah, we don't really get that either, but it's pretty great to see the legendary rock poet going off-script regarding her appreciation of the famed street artist. Banksy was supposedly in the green room for the night's proceedings, but then again we'd never really know would we?
And weirdest of all, Pavement man and Jicks boss Stephen Malkmus showed up alongside YouTube Music Awards co-host Reggie Watts in order to present a Best Viral Video award to Ylvis for "What Does The Fox Say?" Both Watts and Malkmus seem pretty bad at reading from teleprompters and/or just generally speaking in public, but that's probably the joke.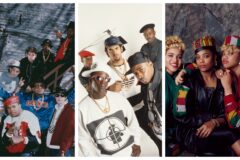 Catch the De La appreciation above and the other videos below, including a performance by Fred Armisen in character as his Saturday Night Live-debuted forgotten punk Ian Rubbish.
//www.youtube.com/embed/grI61qRP0A4?list=PLWeKJ75kFs5RvRKp5KuMyAjBtcvUvLdYs
//www.youtube.com/embed/aHs81dv0y9s?list=PLWeKJ75kFs5RvRKp5KuMyAjBtcvUvLdYs
//www.youtube.com/embed/CmsUJ7J-NLI?list=PLWeKJ75kFs5RvRKp5KuMyAjBtcvUvLdYs