Part of Morrissey's appeal has long been his adroitness at being "Morrissey," but somehow the man manages to keep topping himself (or is that "himself"?). The U.K. icon debuted the title track from upcoming album World Peace Is None of Your Business at his tour kickoff last week in San Jose, California. SPIN's Barry Walters called it "a barbed ballad that sports ruthlessly realistic observations of ever-widening economic disparity," and you can watch fan footage of the song here.
The studio version of "World Peace Is None of Your Business" is available now with pre-orders of the album, now due out on July 15, via iTunes. But the former Smiths singer, whose camp was recently caught up in a highly unusual debate with Scottish up-and-comers PAWS, has also shared a video for his new LP's title track. Typically, it's not your typical video: A spoken-word version of the inequality-skewering track plays as a well-dressed Moz sits at a piano or walks up to a microphone. Natalie Johns, whose other work includes a video for Phosphorescent, directs, and Nancy Sinatra (!) makes a brief, wonderfully strange appearance.
Watch the video on iTunes. Check out the fantastic album artwork and the iTunes deluxe edition track list below.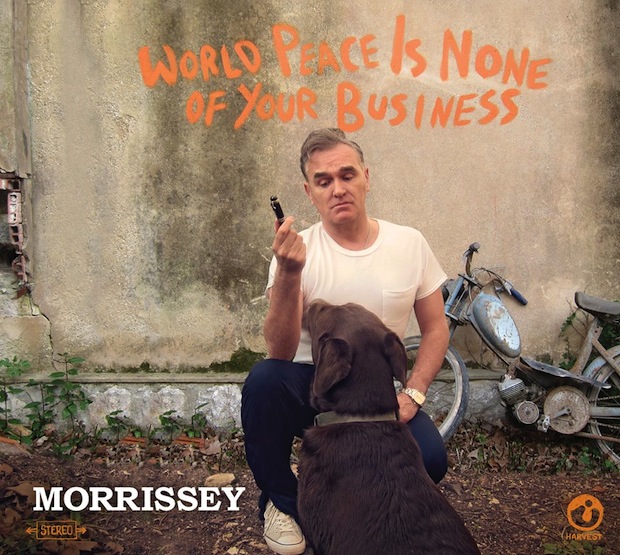 World Peace Is None of Your Business deluxe track list:
1. "World Peace Is None of Your Business"
2. "Neal Cassady Drops Dead"
3. "Istanbul"
4. "I'm Not a Man"
5. "Earth Is the Loneliest Planet"
6. "Staircase at the University"
7. "The Bullfighter Dies"
8. "Kiss Me a Lot"
9. "Smiler With Knife"
10. "Kick the Bride Down the Aisle"
11. "Mountjoy"
12. "Oboe Concerto"
13. "Scandinavia" (Deluxe)
14. "One of Our Own" (Deluxe)
15. "Drag the River" (Deluxe)
16. "Forgive Someone" (Deluxe)
17. "Julie in the Weeds" (Deluxe)
18. "Art-Hounds" (Deluxe)