Macklemore could hardly make those who share his demographic — white, socially progressive, college-educated indie-rap fans — look worse if he tried. Which probably helps explain why many in that cohort hate him so much. Still, it's hard to believe he's actually trying. Of course, if he's just ignorant, that doesn't excuse his ignorance — Brad Paisley and LL Cool J made a whole embarrassing song about that — but it's worth thinking about in light of the intense reaction to Macklemore performing on Friday night wearing a costume with a black wig, hooked nose, and beard.
The "Can't Hold Us" rapper and his musical partner Ryan Lewis were the unannounced guests during a May 16 event at Seattle's Experience Music Project. "Apparently he was a little worried about being mobbed," as Seattle Weekly wrote the morning after, "because he came onstage and continued a majority of his show, with a wig, beard, and false nose adhered not-so-securely to his face (by the end of his 15-minute set he looked a little like he was melting)."
Video of the audience suggests no one thought they were witnessing an act of hate speech.
Photographs of the costume definitely evoked an old anti-Semitic caricature, though, and Twitter was quick to respond. On May 18, Seth Rogen shared one image and wrote, ".@macklemore, first you trick people into thinking you're a rapper, now you trick them into thinking you're Jewish?" The Macklemore-dressed-up-in-offensive-Jewish-costume idea spread from there.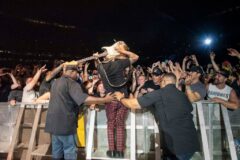 Macklemore has since denied attempting to dress like a hateful stereotype. On May 19, he tweeted, "A fake witches nose, wig, and beard = random costume. Not my idea of a stereotype of anybody."
Honestly? First of all, Rogen is a professionally funny guy; if the Anti-Defamation League calls out Macklemore, then that will be serious. Secondly, the wig. If you're going to call that an example of a stereotype, it'd be a lousy Beatles impression at best. The nose and beard? Definitely a horrendously bad call. But the fact that Macklemore, as many noticed, wore all this while performing the song "Thrift Shop"? Well, okay, in order to find that offensive you'd need to be more aware of hateful stereotypes than the rapper probably is. (Good grief, he's not critical darlings Clipse.)
None of Macklemore's prior behavior has indicated he's someone culturally aware enough to realize when he's dressing like an anti-Semitic caricature. Yes, he's a champion of same-sex marriage, but his Grammy performance of "Same Love" was full of enough of what Rob Harvilla called "pious garishness" to undermine the worthy sentiment. Yes, he reached out to Kendrick Lamar after ridiculously defeating the California rapper for Best Rap Album, but — well, it's pretty tone-deaf and pointless after the fact to tell someone, in public via Instagram, "It's weird and sucks that I robbed you."
That's why he's Macklemore. He can be pretty lame, but that doesn't make him an anti-Semite. It might make him an "accidental" anti-Semite, though (see also: "Oopsy-Daisy Homophobe"), which for those of us who oppose anti-Semitism and enjoy making fun of Macklemore is the best of both worlds. And hey, remember that American Music Awards speech he gave against racial profiling? That was pretty good.