UPDATE: Linkin Park have been forced to deny the allegations coming from Sublime's replacement singer, releasing the following statement: "Rome Ramirez's allegations are 100 percent false. No one from Linkin Park's camp said anything to the police or any other authorities regarding the activities taking place in Sublime's dressing room," via Guardian. See Mike Shinoda's follow-up tweets below.
Linkin Park's Chester Bennington has been pretty frank over the years about his drug use and recent sobriety, but when you share a stage with any incarnation of Sublime you pretty much know what you're getting into. Nevertheless, if a series of tweets from new frontman Rome Ramirez are to be believed, Linkin Park may have called the cops on Sublime With Rome when the band was onstage at KFMA Day in Tuscon, Arizona.
As Music Feeds points out, according to Ramirez, Linkin Park claimed to be "allergic to pot" and made a call to the local police, who confiscated Sublime's stash when they were onstage. Ramirez characterized the behavior as "bitch shit" and called the band "Linkin Nark" (zing!).
Linkin Park head out on a United States tour this summer with 30 Seconds to Mars and AFI, and though the latter two bands aren't as notoriously stoney as Sublime, they still ought to be careful with their combustibles in and around Linkin Park's, ahem, green room. Carrying marijuana on tour with Bennington and co. has to be almost as dangerous as holding in Texas.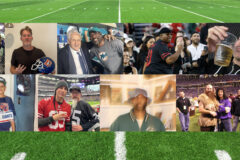 You can see Ramirez' tweets below.
Linkin Park called the cops on us and said that they were allergic to pot. cops came and took all our weed while we on stage. Bitch shit

— Rome (@RomeMusica) May 25, 2014
That just happened lol #snitches #bitchmove

— Rome (@RomeMusica) May 25, 2014
Linkin nark

— Rome (@RomeMusica) May 25, 2014
LP didn't "call the cops" on @RomeMusica smoking pot. Not sure where the rumor came from. Definitely not my style, bummer it happened.

— Mike Shinoda (@mikeshinoda) May 27, 2014
We were at a meet & greet when Sublime was on stage, not dressing room. Wouldn't even know if there was smoke. CC: @AltPress @RomeMusica

— Mike Shinoda (@mikeshinoda) May 27, 2014
If someone was "representing the band" to the cops in the venue about weed smoke, they were out of line.

— Mike Shinoda (@mikeshinoda) May 27, 2014
Me & the boys just left One Direction's dressing room. Feels like a pretty productive day. #LinkinNark pic.twitter.com/RCTTAzyK4v

— Mike Shinoda (@mikeshinoda) May 28, 2014