Nirvana bassist Krist Novoselic has seemingly been added to the star-studded membership of new Portland band Super-Earth. Though the name of the group is subject to change, the core is set: Sleater-Kinney's Corin Tucker and R.E.M.'s Peter Buck debuted their project live last week. As reported by The Oregonian, their lineup was rounded out by guitarist Scott McCaughey (Minus 5), drummer Bill Rieflin (Swans, Ministry), and guitarist Kurt Bloch (Fastbacks).
"The new material, speedy and loud, was full of power chords, enthusiasm and the occasional signature Buck arpeggio — less punk rock than power-pop but always knife-sharp," wrote David Greenwald, adding that the band played "12 songs so fresh, Tucker had lyric sheets."
Now it seems Super-Earth's outing may have been a test run for a full album recording. On May 4, documentarian and director Lance Bangs shared a photo of a the known membership (minus Kurt Bloch) with the added addition of Novoselic, writing, "Ex-R.E.M., Sleater-Kinney, Nirvana, Flipper, Swans, Ministry, Young Fresh Fellows studio session." The official R.E.M. account shared a second Bangs shot with all six musicians in the frame.
R.E.M., of course, retired in 2011, though Michael Stipe recently inducted the surviving members of Nirvana into the Rock and Roll Hall of Fame. Sleater-Kinney split in 2006, though reunited briefly last year. You already know the deal with Novoselic's best-known band, and it's worth mentioning that Swans are streaming their latest double-wide album, To Be Kind. Check out the Super-Earth photos below.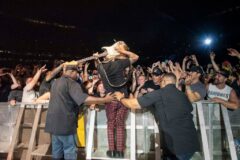 Ex-R.E.M., Sleater-Kinney, Nirvana, Flipper, Swans, Ministry, Young Fresh Fellows studio session. pic.twitter.com/dC98vCxZz5

— Lance Bangs (@lancebangs) May 5, 2014
Studio Shot (by Lance Bangs): (L-R) Corin Tucker, Peter, Kurt Bloch, Bill Rieflin, Krist Novoselic, Scott McCaughey pic.twitter.com/2OjoDU5miB

— R.E.M. HQ (@remhq) May 4, 2014