"The place you gotta go to change / Is deeper into the strange." So sings King Tuff — a.k.a. 31-year-old singer-guitarist Kyle Thomas — on "Unusual World," a glammy gem from his self-titled second album, released in 2012. It's a sentiment that Tuffy echoes in late March while speaking on the phone with SPIN about his next full-length. "You've gotta dive into the abyss," Tuff says from his Los Angeles home, "if you wanna get anything good."
According to the Brattleboro, Vermont native, diving into the "abyss" means indulging the extremes of one's personality. And for Tuff, that's playing up his persona as a garage-pop jester and a giggle-prone trickster who finds joy in being playfully cagey. To wit: Tuff shares some details about his forthcoming third LP and confirms that the album will come out later this year on Sub Pop, says that King Tuff producer Bobby Harlow is once again at the helm, and that he's been recording at California's Studio B with his bassist, Magic Jake, and his drummer, Old Gary. But when he's asked how many songs will be on the new record, His Highness says, "It'll be somewhere between 12 and 69." Questioned about the effort's title? "There's no title yet, but there are things presenting themselves and trying to win my heart. They might lose their power if I let 'em loose too early."
Find SPIN's conversation with King Tuff below.
What's the status of the record?
I keep thinking I'm almost done with it, and then I realize I'm not done at all.
Are you just working out little details? Or are you thinking of scrapping the whole thing and starting over?
No, I don't want to start over, but yeah, it's still being fully realized. We're coming along. We started recording in November, so it's been quite a little journey so far.
Is this a normal timeline for your creative process?
Every record has been very different, so I can't really compare them. The first record was good. I originally recorded about half the songs on that one in 2003 or something, and then I went back a few years later and re-recorded them and added some other songs. So, you could say that that album took years to make. And then it took another, like, six years for it to have an actual release. [Laughs.]
And then the last one, the actual recording of it was only two weeks, but I had recorded fully-realized demos for it, so we knew exactly what we were going to do when we went into the studio. But this one, I had a couple demos going into it, but other than that, I had just come off tour and I hadn't really written anything. So, it was kind of just going in blind, not knowing what we were going to do.
Did you start writing immediately after you finished touring?
Yeah, I tried to go right back into it, but it had been years since I had really been able to write anything, because it takes me a long time to switch from one mode to another. I had been used to being on tour and not using my creative brain. So it was like being thrown into the studio and then, "Okay, let's make an album." And it's like, "Oh shit, how do I write a song again?" [Laughs.] But it started coming back, and things just happened, I guess. Now, we look back at when we started and we're like, "I even don't remember how any of this happened." We've got quite a few songs now, but I'm like, "Okay, now I remember how to do it."
It's just interesting the way it works — how when you finally stop trying, that's when you can do it. We learned the music for songs, and recorded the basic tracks. Then I had the task of writing lyrics to them, which was the opposite of what I've done in the past. I find it harder to write the lyrics afterwards because then you're just trying to fit them into something that's already there. I was kind of struggling lyrically, and I took a little trip by myself up to the forest. I was like, "Alright, I'll go hang out with some trees and they'll tell me what to do." I got there, and it was great, it was beautiful, and I was like, "What am I doing?" I just sat there. I just basically sat there staring at a fire. This album had a lot of staring at flames. It took a lot of staring at flames for hours.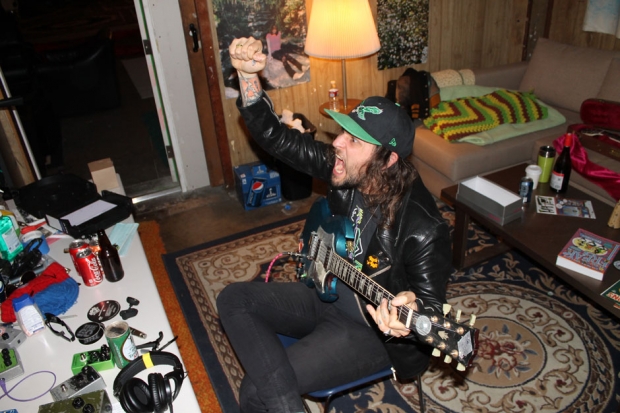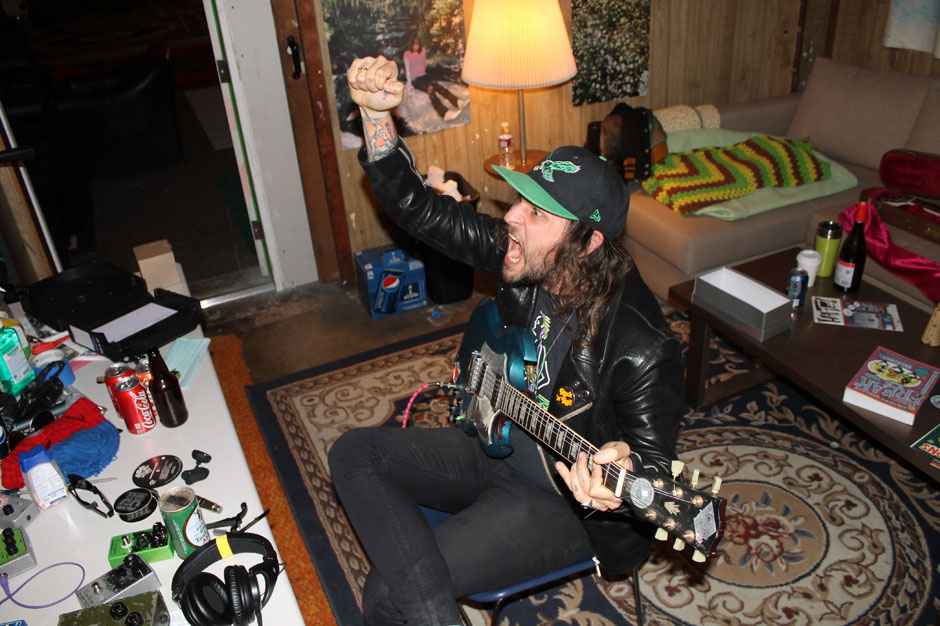 Lyrically, what are some of the themes on your new songs?
There's a lot of sex. There's a lot of mystery. [Laughs.] You know… magic, mystery, sex, youth, flames. You've gotta dive into the abyss if you wanna get anything good. Every record, you've gotta go down in the abyss and hope that you come out of it alive.
Are you talking about indulging your ugliest thoughts and impulses?
I think the key to great art and great artists is to just fully be yourself and not be scared of that, and be the extremes of your personality. Show the extremes of your personality and embrace the imperfections. Embrace the things about yourself that you might not like. Just show your true personality because then nobody can fuck with it — because you're just being yourself. But it's hard to let yourself do that sometimes because you're always thinking about what other people are going to think.
I was just talking to my friend today and I was saying the lifelong battle of being creative, or anything really, is just trying to figure out how to do it. You can be a musician, but you're just trying to figure out how to be a musician the whole time. I also feel like when you actually know what you're doing, that's when it gets shitty. [Laughs.]
Because then you can just be on autopilot, right? Not be as engaged?
Yeah, you need to be exploring and searching for something. I think once you're satisfied, it's like, then what? There's the sort of thing where it's like, I'm happy being unsatisfied because it gives me something to keep striving for. It's very strange.
What are some things you're unsatisfied with?
You ask any songwriter, they'll probably always feel like they haven't written their best song yet. It's always like, "Well, I think I can do better than that." And that's kind of what feeds the fire — the fire that you're staring into.
How would you describe the new album's sound? What adjectives jump out in your head?
Very silvery. Silvery. There's this sparkle in there — maybe, like, volcanic sparkles. Maybe some really oily, oily color. Oily orange. Orange oil.
Like an Oompa-Loompa kind of orange?
Are Oompa-Loompas orange? I thought they were green. Oh, their heads are green. Their faces are orange. [Pause.] Holy shit. Man, who created the goddamn Oompa-Loompa?
[Editor's note: It was Roald Dahl.]