Stones Throw has been capitalizing on its ravenous crate-digging for the better part of two decades now, and this week the omnivorous Los Angeles hip-hop label's documentary Our Vinyl Weighs A Ton hits Blu-Ray and DVD. Here to mark that release are 30 minutes of extra footage, released in the form of the special feature Extra Special Loving for the People. In it, among other things, Kanye West discusses the enduring influence of J Dilla.
The video, via Rolling Stone, mixes production outtakes, interviews, and old concert footage. West talks about Madlib's fractured production work around the 22-minute mark and hints that he wants to work with the Beat Konducta again on future projects. But the most substantive bit of this whole B-reel is Kanye's meditation on the music of J Dilla.
"It's amazing," the Yeezus rapper says. "How could we lose Biggie, Pac, Dilla, Steve Jobs, Michael Jackson? It almost feels like the devil's winning."
He continues: "We gotta make music and think, 'If Dilla was alive, would he like this?' I have to work on behalf of Dilla. When I put a weird-ass Jamaican sample, it works at first but it's not until I put the [makes weird amusical noise] that it sounds like art or sounds slightly wrong. And now it'll go to the radio now that it's wrong, motherfucker. Now play this. Play this five-minute song that completely fucks up your programming. The best respect that we can pay to great artists that have inspired us so much is to never, fuckin' never sell out."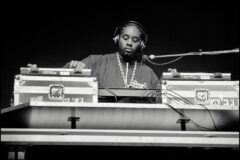 It's inspiring stuff and you can catch it above, in between shots of the Stones Throw crew rolling blunts, playing video games, and sitting in bath tubs.