News of Jenny Lewis' third solo LP The Voyager slowly trickled out last week, but she's confirmed today that a new record, produced by Ryan Adams, is on the way on July 29 on Warner Bros.
As Rolling Stone reports, Lewis made the record after the breakup of Rilo Kiley and a confluence of personal struggles, including intense bouts of insomnia. Lewis set out work on this solo record at Adams' studio in California, during "one of the most difficult periods of [her] life."
Extra production help on "the hardest record [Lewis] ever made" was handled by Beck, and Lewis' Jenny and Johnny bandmate/beau Johnathan Rice. You can check out The Voyager's track list below.
The Voyager track list: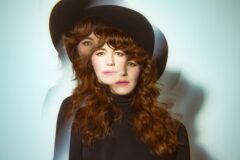 1. "Head Underwater"
2. "She's Not Me"
3. "Just One of the Guys"
4. "Slippery Slopes"
5. "Late Bloomer"
6. "You Can't Outrun 'Em"
7. "The New You"
8. "Aloha & the Three Johns"
9. "Love U Forever"
10. "The Voyager"