Last year in an interview with The Believer, musical polymath Mike Patton said that the Faith No More reunion had mostly "petered out" due to a desire to not "spray diarrhea over their whole body of work." But today the erstwhile Mr. Bungle/Fantomâs/Tomahawk/Peeping Tom/etc. leader has launched a Twitter account for the band along with a selfie and a cryptic message that seems to hint at the possibility of new music from the band.
"Hey! Stay tuned for more Tweets from Twats," Patton tweeted (twatted?). "The reunion thing was fun, but now it's time to get a little creative."
The band was already poised for a couple of live dates (at London's Hyde Park on July 4 with Black Sabbath and Soundgarden and a headlining slot at Poland's Open'er Festival), but considering they've been doing shows again since 2009, it sure sounds like being "a little creative" means making new music.
If the set we saw back in 2010 was any indication, the singer with the biggest vocal range in pop music and his heavy crew haven't lost a step since their late '80s heyday. Patton's fears of diarrhea appear to be mostly unfounded.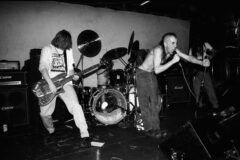 Hey! Stay tuned for more Tweets from Twats!!! The reunion thing was fun, but now it's time to get a little creative. pic.twitter.com/6RBFE7aHbd

— Faith No More (@FaithNoMore) May 30, 2014