Almost two weeks ago, Dr. Dre declared himself "the first billionaire in hip-hop." The Beats by Dre co-founder's video-recorded celebration came after a report that Apple was close to buying Beats Electronics for $3.2 billion. At the time, the deal was expected to be announced as early as the following week, but here were are on May 21, and at least as of this post, nothing has been confirmed. But that doesn't necessarily mean the wedding is off.
One possibility is that the time frame has simply changed. The ink might not actually dry on the deal until this week, Re/Code has reported, citing "people familiar with the transaction." It's unclear whether the original report just got the timing wrong or the negotations have run into snags.
If Apple and Beats have hit some speed bumps, lawsuits filed against Beats recently could be to blame. As Hypebot notes, the headphone maker and Beats Music streaming service provider faces at least three current legal actions.
One is from former hedge-fund manager Steven Lamar, who has sued Dr. Dre, Jimmy Iovine, and others claiming he co-founded Beats Headphones and deserves royalties. Another is from David Hyman, who was CEO of Beats-acquired streaming service MOG. California-based design firm Pentagram, which with Lamar was involved in a previous Beats legal settlement, is also party to a third lawsuit against Beats, filed in January by the auditing firm in charge of Pentagram's royalty rights.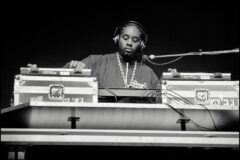 Meanwhile, speculation continues to run rampant about what an Apple-Beats deal would mean. Steve Jobs biographer Walter Isaacson told Billboard that Apple may be more interested in Iovine than in Beats' businesses. But a former eMusic CEO told Bloomberg the deal is all about Beats' streaming service. Before we can find out, though, the sale will have to go through.