At least one man in a position to know is pretty confident Apple will buy Beats Electronics.
Late Thursday, The Financial Times reported that the iPhone maker was completing a $3.2 billion acquisition of the audio equipment company Dr. Dre co-founded with music exec Jimmy Iovine. Forbes points out the deal would make Dre hip-hop's richest man, with a probably net worth around $800 million that would handily top current leader Diddy's $700 million. And now video has surfaced (via CoS) of Dre celebrating the deal.
"The first billionaire in hip-hop, right here from the motherfuckin' West Coast," Dre declares in the clip, shot by actor/musician Tyrese. The deal was reportedly expected to be announced as soon as next week, but Dre's pronouncement suggests he at least considers it a sure thing.
One reason for Apple to buy Beats, which also includes the Trent Reznor-guided Beats Music streaming service, would be to compete with Spotify and other streaming providers, Time notes; Apple launched iTunes Radio last September, but its Pandora-like offering has faced criticism. Meanwhile, according to BuzzFeed, it's all about hiring Iovine.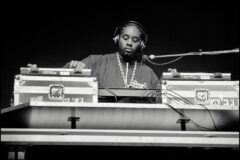 We'll know more soon. But it's unlikely Apple has bought anything as priceless as the below.
//www.youtube.com/embed/S0Sp500ZVI0