The Black Keys are back with a new album to promote, so it's a pretty good time to reignite some high-profile beef. Also, Seth Rogen can take a break from being the current go-to pundit on all hate Justin Bieber-related. Yes, Patrick Carney has said more unkind things about everyone's favorite car-crash-walking — this time in an interview with Rolling Stone. Specifically, the drummer has called the Biebz a "fucking irresponsible asshole" and a "fucking moron."
If you'll travel back to the part of you brain where you file shit you presume you'll never have to access ever again, you'll recall that over a year ago, Carney pissed off Bieber by making a sorta snide, mostly innocuous comment about the kid to a TMZ reporter regarding the Believe-maker's then-recent awards show snub: "Grammys are for like music, not for money … and he's making a lot of money. He should be happy." Well, he wasn't, and he fired back.
Bieber tweeted that Carney "should get slapped around," which gave the online Beliebers free reign to rain down a hailstorm of H8 upon the Black Keys dude. The grown man in the dispute then trolled back by pretending that he was the "Baby" boy. It was weird, kinda funny, and mostly a waste of everyone's time. But again, Turn Blue is out May 13, so the Nashville-based duo are booked for Saturday Night Live, Colbert, Letterman, and more Twitter drama.
It begins (again) here: "Justin Bieber, like a fucking irresponsible asshole, sicced 40 million Twitter followers on me because I paid him a compliment he didn't understand," he said, prompted RS's Patrick Doyle to explain the "compliment" part. "I'm saying that he should be grateful that he has a fucking career in music. And he shouldn't be fucking telling his followers to slap me, and then also be doing anti-bullying bullshit. It's so irresponsible."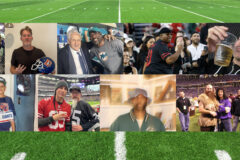 But the 34-year-old continues: "I mean, Justin Bieber is a fucking moron. And that's the gist of what I was saying. And then he goes and says I should be slapped? Honestly, I feel bad for him. Every single person who works with him should fucking be embarrassed… And honestly, I don't dislike his music. I don't listen to his music, but he needs to not conduct himself that way. Like, really, you make millions of dollars playing music, you should feel fucking lucky."
Well, that clears it up. Visit Twitter right now for a whole lot of this:
@patrickcarney you forget your place. You're a drummer, not a creative. Bieber is actually a more naturally gifted musician than you

— roger (@rogerroger08) May 9, 2014