The 15 Best Things We Saw at Maryland Deathfest 2014
The blasting of beats vibrated through the air as we approached the line outside of downtown Baltimore's Edison Lot on Friday. It was the first official day of the twelfth annual Maryland Deathfest and, for someone who was staying on a houseboat in the Chesapeake Bay, a sensitive, revolving gravity prevailed even on the relatively unwavering ground of the lot, making every environment gently rock to varying densities of the music. Sound was a variable, of course; metal that was blackened to any degree often became swallowed by the high wind, suffering from a similarity in anatomy and rhythm.
Over the course of three days, the festival's most endearing artists growled at the audience in their interstitial stage banter, creating an almost comical blur of collaborative metal songs from their interactions with their audiences. Fans projected whole attitudes and devotions with their t-shirts; including several gorgeous homemade Mercyful Fate shirts and one that blurred the landscape of Burzum's Filosofem with the shape of a cat. (The latter came with a caption that read "Purrzum.") The air of the festival was one of camaraderie; isolated encounters between festival-goers inevitably erupted into enthusiastic, layered conversation. When one tuckered-out reveler fell asleep on the ground on Saturday, many passers-by expressed concern, eventually forming a gentle circle pit around his slumbering body as the stage-show raged on. "When I was growing up, I lived in a place where for so long I was told that I didn't belong," said Dark Angel vocalist Ron Rinehart on Saturday. "But I look out at all of you and I know where I belong." Maryland Deathfest ended with the prevailing notion that one's private metal allegiances didn't matter; everyone there was invested in something together.
1.The 15 Best Things We Saw at Maryland Deathfest 2014
1/16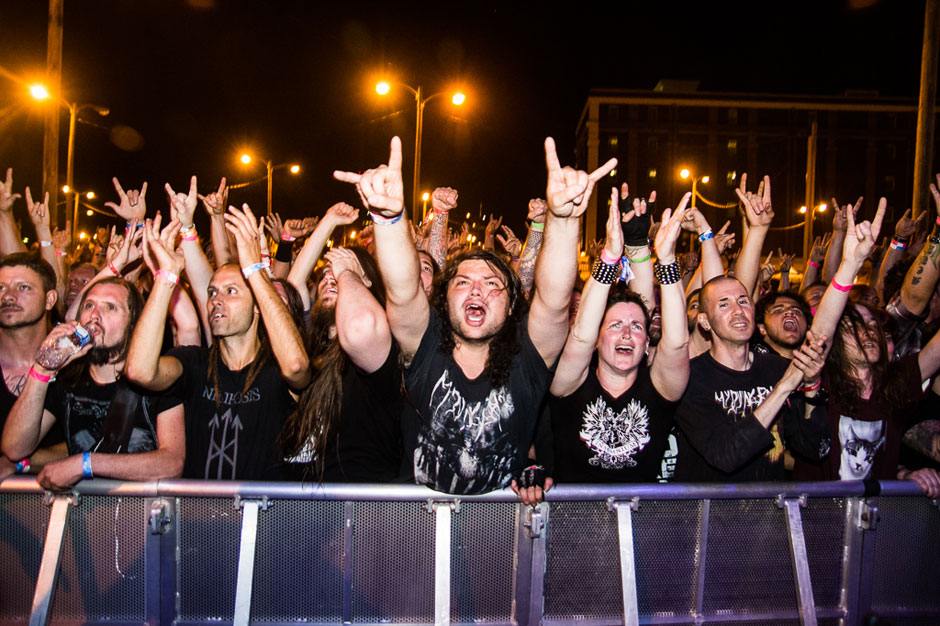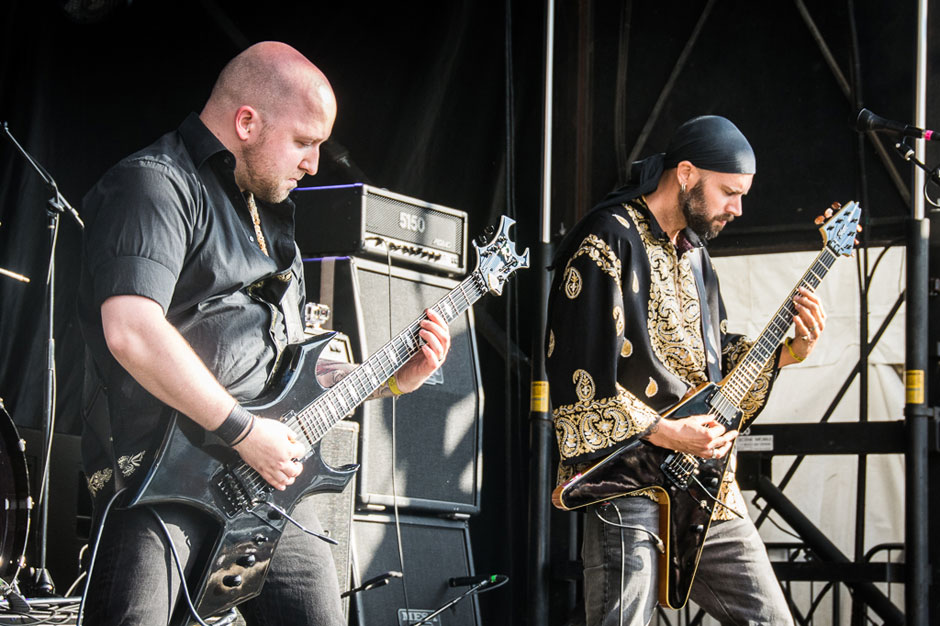 A particularly athletic yet pleasingly linear band from Germany, Necros Christos struck an essential chord of the death-metal genre on Friday afternoon. Live, the quartet's intricately woven songs about bodily decay were put to the test; the band unleashed a set that displayed that their music's incalculable complexity is mined from very basic, very raw sensibilities. Ultimately, the band's set showed what ultimately distinguishes the flights of virtuosity in death metal from, say, prog and other factions.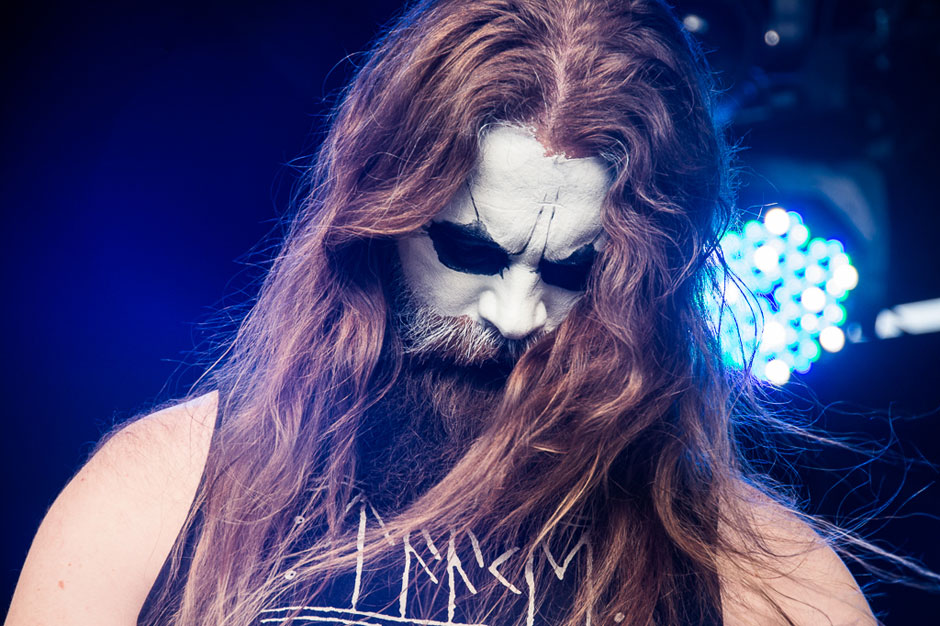 The first — but not final — instance that this festival-goer was hypnotized by the densely conditioned vortex of a metal guitarist's hair. That said, the most impressive thing about Taake's set is that, after establishing an aesthetic of thoroughly blackened death metal, the Norwegian band relaxed into a Motörhead-like propulsion, becoming a fearsome riff machine for the remainder of their set.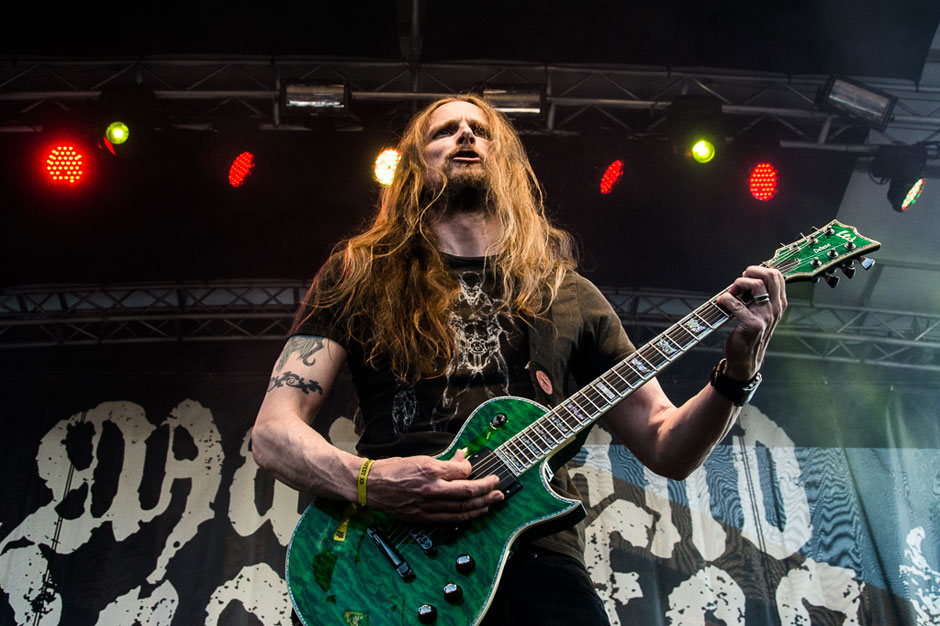 The UK thrash band recently reformed and reduced to a three-piece and, at Death Fest, the trio exclusively played tracks from their first three records. The resulting effect was thrash metal condensed to its essential elements, with guitarist/vocalist John Walker emitting riffs and solos almost simultaneously. "The one thing that unites us all, Maryland, is death," Walker growled mid-set. "No one is exempt from this rule. Die! Die!"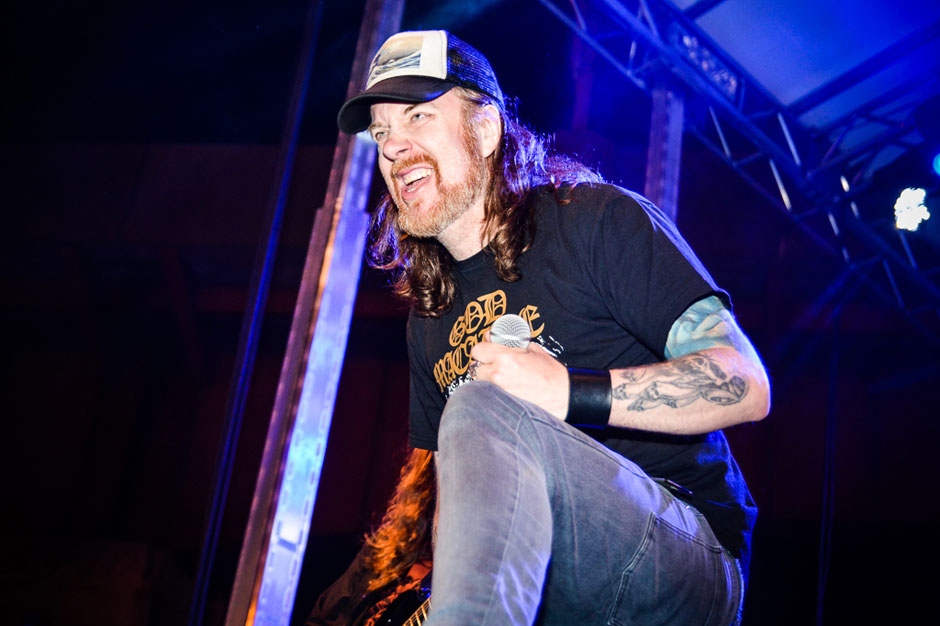 During Agalloch's set of interminable gloom, people cheered when they heard distant drum rolls from the other Edison stage, signaling the opening sounds of Swedish death-metal pioneers At the Gates. Considering At The Gates all but perfected melodic death metal in the mid-'90s, and their set mostly constituted tracks from 1995's Slaughter of the Soul, they relied on thoroughly clarified riffs that are as catchy as they are severe. Their pit was accordingly massive, a revolving dark with multitudes of discovered shoes held aloft to seek their barefoot owners.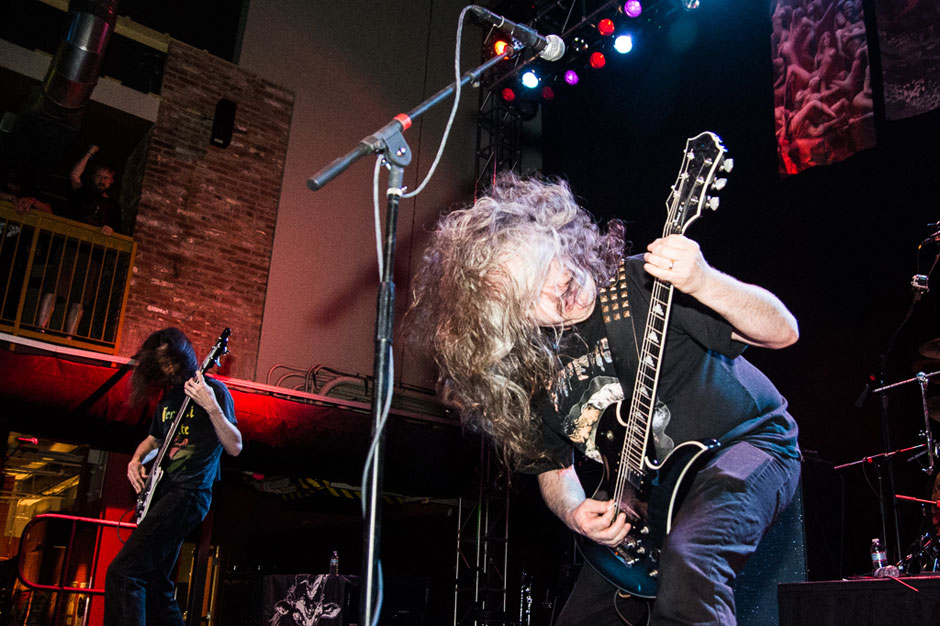 Incantation, a Pennsylvanian death metal band who released genre-establishing records in the early '90s, compositionally lean toward elaborate, unresolved phrases, as if their guitars drift at the edges, into a whirlpool. Live at Rams Head on Friday, this had a hypnotic effect, as if one were trying to isolate parts of a writhing, indivisible mass. Founding guitarist/singer John McEntee appeared visibly ecstatic to play for the "sick fucks" at Maryland Deathfest again, his long gossamer strands of hair silvering in the fog and spotlights.
Floridian thrash band Nocturnus' intense variety of thrash metal is further complicated by a pile of oscillating synths live. On Saturday, they played the entirety of their album The Key, which describes a metaphysical journey through space and time to destroy Christ. Normally a concept record of this ambition and incoherence would require a degree of proggy distance, but the extremely grounded discipline of thrash keeps Nocturnus in a tense, terrestrial space.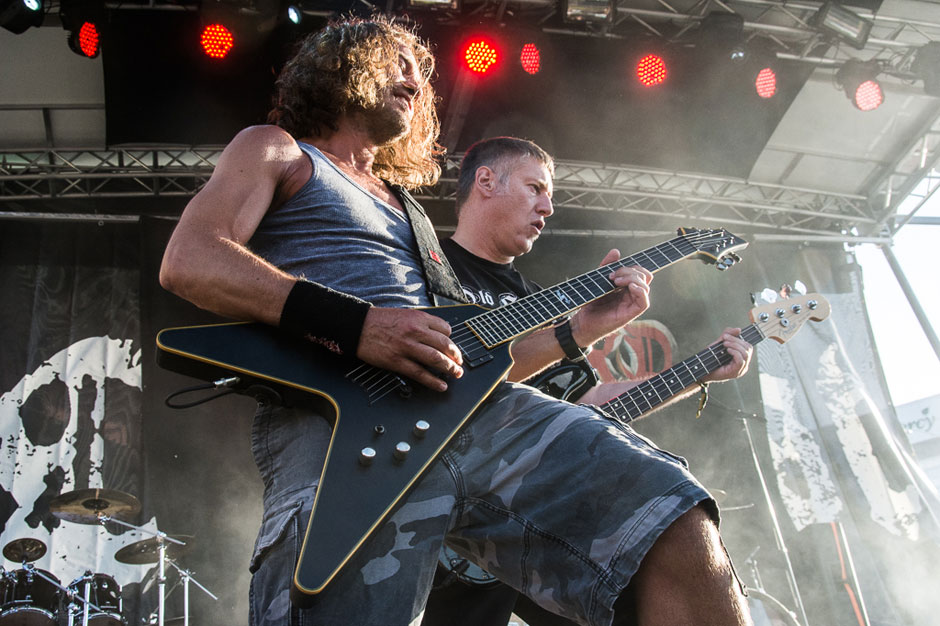 Tankard, a German thrash institution, largely orbit the subjects of drinking and zombies in their songs. So it's no surprise that they're totally ridiculous live. "So many beautiful girls in the front row," lead singer Gerre remarked. "I am not used to this. I am totally confused." Later he invited a woman from the crowd to tango gently to an elongated, regal thrash introduction to their final song. "Do you all know about death?" he screamed at one point. "This song is called 'Die with a Beer in Your Hand.'" They were in very specific accord with the overall tenor of Deathfest, embodying the symbiotic relationship between drinking and metal.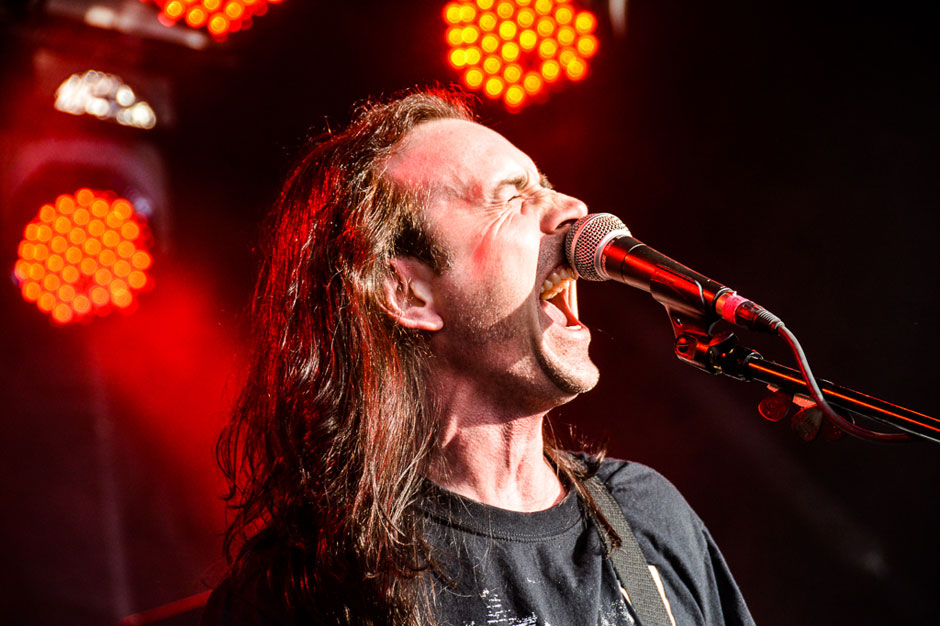 Very few notes for this Canadian '80s-thrash-metal band. This SPIN reporter joined the minimally attended pit: luxuriating in a bath of limbs seemed like the ideal way to embody Sacrifice's visceral cluster of riffs.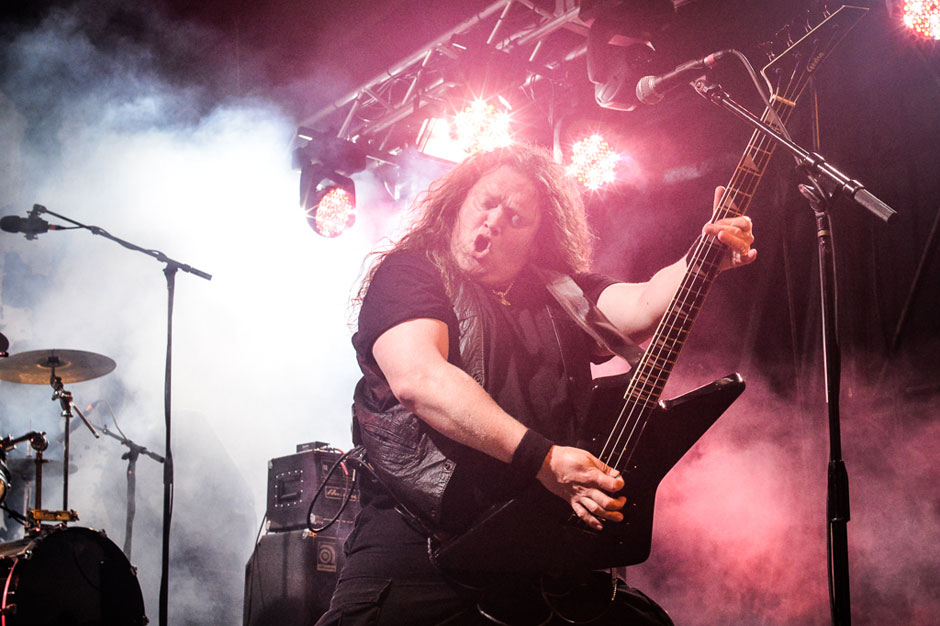 Early '90s Swedish death metal band Unleashed had a severe command of their audience at Edison, a cultish but also oceanic pull. They'd relapse into the codas of their songs just gradually to incorporate the crowd. (At one point I believe I was unconsciously inducted into the Hammer Battalion Unleashed.) "This festival is about the old days, right?" asked bassist/vocalist Johnny Hedlund. "The days of snail mail and cassettes." At the very least, their set was very old school — propulsive death metal, an easy place in which to lose oneself both rhythmically and temporally.
Dark Angel are a California thrash band who in the '80s revised thrash into an ever-shifting vortex. During their set, rain fell lightly upon the grounds and the double bass drum seemed to scatter digitally.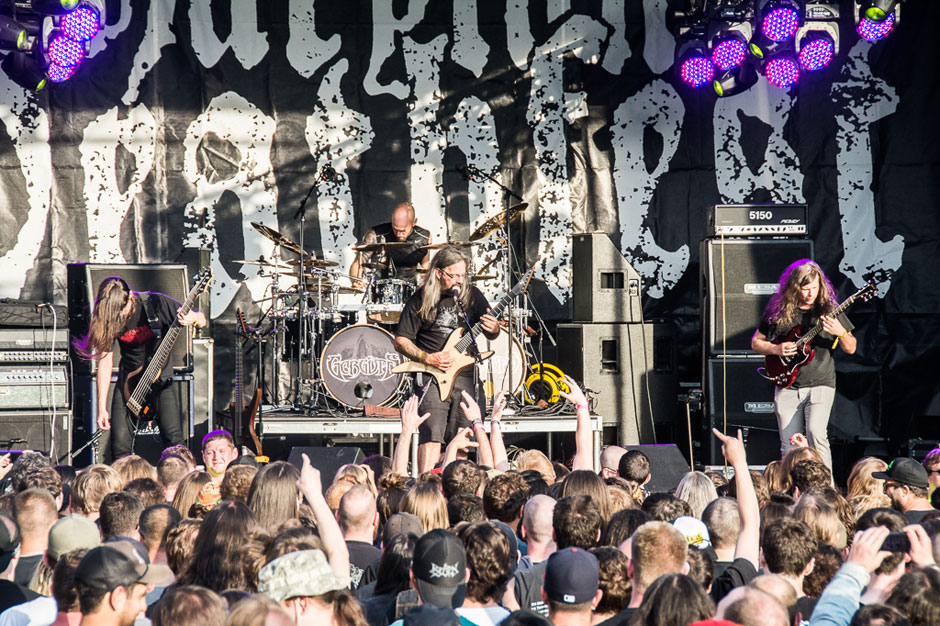 Gorguts: the perfect Québécois abyssal death-metal band. Their guitars have the tone of aluminum, and their music has the complexity of a turning vortex, a metal lacking a center, a kind of widening gyre. Their most extreme record, Obscura, sounds like a metal album that was broken up and reassembled with scotch tape. As they played, they stared into a middle distance, past the crowd's various styles of headbanging, as if transported by the tangles of their songs. After finishing their first song, vocalist/guitarist Luc Lemay disclosed a goofy, delighted smile, and his banter throughout the set was the most earnest encountered at Deathfest — on several occasions he seemed overwhelmed by the need to tell the crowd they were "fucking awesome."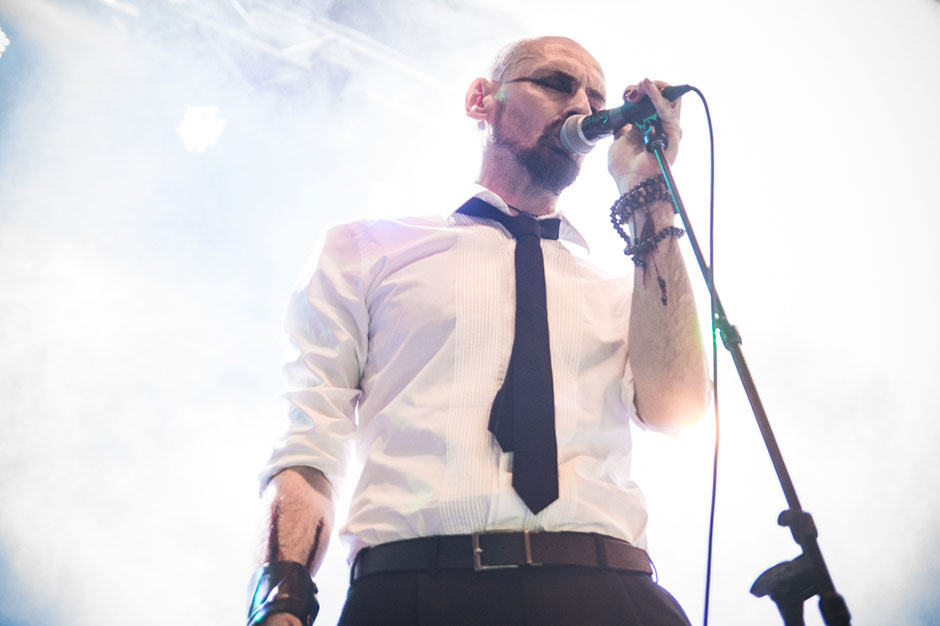 UK band My Dying Bride seem derived from the gothiest probability; as much as they're pioneers of death/doom, they seem more cerebrally aligned with fog and dark than decaying organic stuff. Rather, their music is like an elaborately woven cape. Vocalist Aaron Stainthorpe wore a white collared shirt and a black, severe tie (maybe the only person on the grounds not wearing a metal t-shirt) and sang in low phrases that were almost notes, his body a slow canvas for the revolving spotlights. It's less headbanging music than music you can discretely nod to, and it gently captivated, a mature, melancholy note on which to conclude Maryland Deathfest.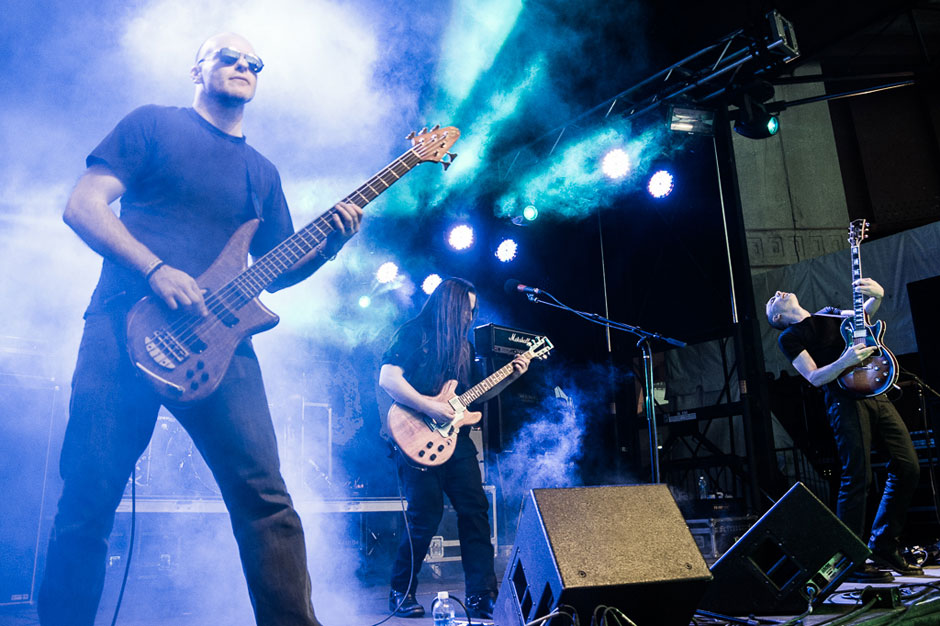 This band could masquerade as the Cure. Onstage the band's atmosphere is wearied, almost rainy in aesthetic; it sounds descended from a grey undifferentiated cloud. On Saturday night, even as their songs amplified and distorted with great effect, the band's live show plodded somnambulantly in place, heading eternally no place, a wheel revolving in mud.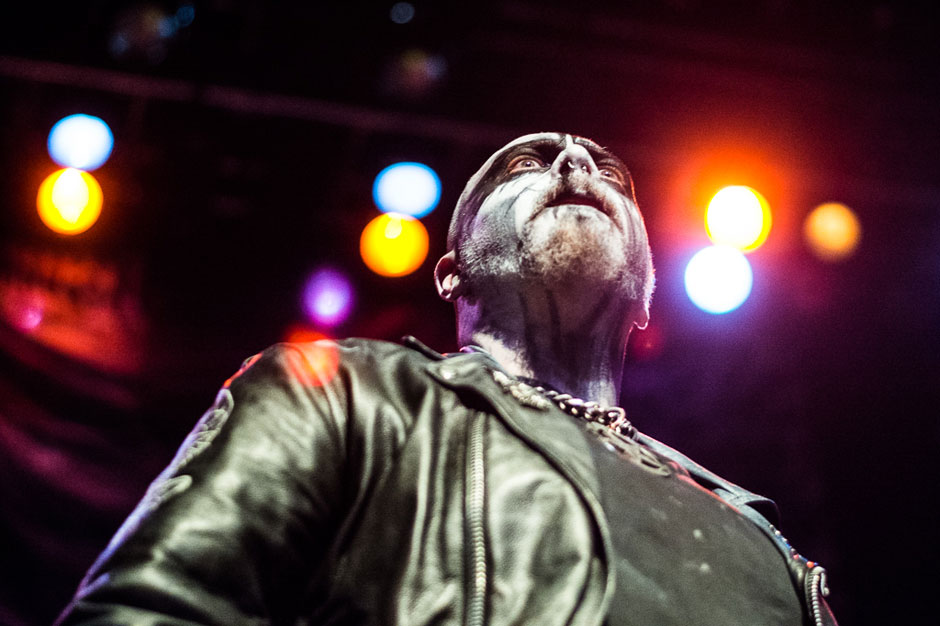 The problem of black metal, or blackened death, or deathened black: Live, it often sounds like swarms of cotton. Where the indistinguishable mosaics of death metal can be thrilling, black metal's phrasing is just dilated, hazy tremolo, hollow and pointlessly resonant as a split bone. At midnight the effect is dulling, even with frontman Nornagest waving his arms about his body wickedly, appearing something like a Satanic priest.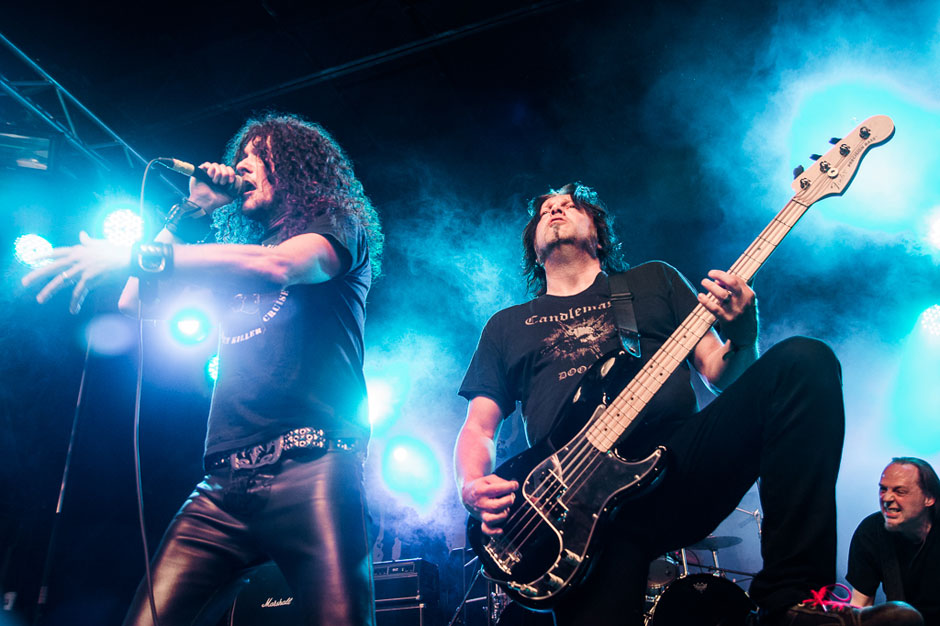 At their beginnings, Candlemass was a primordial Swedish doom band, with their first few records adding material to the basic skeleton of Black Sabbath. When performing live they retain the melodic, semi-operatic sensibilities since shed by doom; the propulsion and pulse of life that animated even the most slow motion Sabbath songs. As they trudged through the smoke and drifting spotlights it became clear this is music for slumbering giants.