Apple is close to closing a $3.2 billion acquisition of Dr. Dre's Beats Electronics, says The Financial Times. Citing "people familiar with the negotiations," the British paper says the deal between the tech behemoth and the company co-founded by legendary music exec Jimmy Iovine could be announced as early as next week, though it may fall through. This would be Apple's largest purchase ever, and would them in charge of Beats' audio equipment and streaming service.
Dre's company's greatest success to date has been in the former department — manufacturing headphones and other listening accessories that manage to maintain an impressive degree of popularity amongst young people, sports stars, and music celebrities alike. FT surmises that Apple's interest in the brand could have a great deal to do with their desire to stay hip, especially in light of encroaching smartphone competition from the likes of Samsung.
But Spotify and other services like it are likely putting the hurt on iTunes. According to IFPI, subscription-based streaming is the biggest area of growth within the music business right now, while downloads saw an incremental decline (the first in a decade) in 2013. Apple rolled out iTunes Radio last September, but Pandora-like creation has been criticized for falling short in its song-sorting algorithms. The Beats Music service overseen by Trent Reznor may fix that, and functions more like Spotify.
As Business Insider points out, Beats received a $500 million investment last year from the Carlyle Group, which meant the company was worth roughly $1 billion at the time. The leap to $3.2 billion would be significant increase indeed. Pusha T's pissed: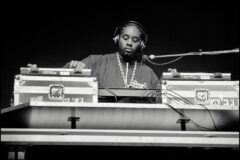 http://t.co/tFj6wi7jpk I want new friends, I hate all of u…followers included.

— PUSHA T (@PUSHA_T) May 8, 2014
Well @Stevenvictor was working at INTERSCOPE when he started managing me…u know what that means? He's fired today!!!! #DreSaidDoIt

— PUSHA T (@PUSHA_T) May 8, 2014