Apple has acquired Dr. Dre and Jimmy Iovine's Beats brand for $3 billion. The long whispered-about deal has at last been confirmed, via an announcement which clarifies that the tech behemoth is purchasing both the Beats Electronics company — specializing in headphones, speakers, and audio software — and Beats Music, the subscription streaming service seemingly meant to rival Spotify. Dre and music mogul Iovine will join Apple, though their roles haven't been announced.
As Billboard points out, 36-year-old John Janick, founder of the independent Fueled by Ramen label, will replace Iovine as the chairman and CEO of Interscope Geffen A&M. Universal Music Group, which owns IGA, will lose their 61-year-old leader but they stand to gain around $500 million for their previous investment in Beats. Likewise, Iovine and Dre stand to pocket hundreds of millions, as they are the majority stakeholders. This is Apple's biggest buy in history.
"Music is such an important part of all of our lives and holds a special place within our hearts at Apple," said Apple CEO Tim Cook via statement. "That's why we have kept investing in music and are bringing together these extraordinary teams so we can continue to create the most innovative music products and services in the world." Iovine claimed he's "always known in my heart that Beats belonged with Apple" and that Beats was inspired by Apple's merging of culture and tech.
The announcement from Apple characterized their acquisition thusly: "Beats Electronics has brought the energy, emotion and excitement of playback in the recording studio back to the listening experience and has introduced an entirely new generation to premium sound entertainment. Beats Music was developed by a team of people who have each spent their entire career in music and provides music fans with an incredible curated listening experience."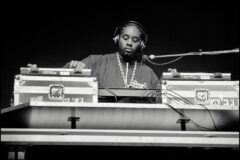 Presumably, the iTunes giants hope to get a foothold in the streaming market as downloads decline. The deal was originally expected to run $3.2 billion, but the price has come down over the past three weeks. The deal is expected to close in Apple's fourth fiscal quarter, which ends September 30.