Just a day after his music video's release, Wu-Tang Clan affliate Andre Johnson was found seriously injured Wednesday morning on the sidewalk outside of his apartment in North Hollywood, California. According to law enforcement sources, via TMZ, the rapper jumped off his second-story balcony in an apparent suicide attempt after cutting off his own penis. He is now being treated at the nearby Cedars-Sinai Medical Center.
Johnson, also known as Christ Bearer, and Meko the Pharaoh make up the Long Beach rap duo, Northstar. The group was discovered by Wu-Tang master RZA outside of a Los Angeles radio station in 1998. Six years later, they released RZA Presents Northstar on the Clan's record label, which described the album as containing "the type of grit and polish normally associated with the Wu-Tang Clan's best work."
And Johnson's roots in the Wu-Tang empire run deeper still: he is also connected to West Coast Killa Beez, another affiliated group, and the new video for his own song "OOOH!" features Rugged Monk of Black Knights, another Wu offshoot.
Friends and fellow rappers who live in the same building as Johnson told TMZ his suicide attempt and self-mutilation was unexpected, and that the rapper "wasn't on any hard drugs" beforehand. And to note: his penis has been located and transported to the hospital, though CNN has not yet confirmed that it is being reattached.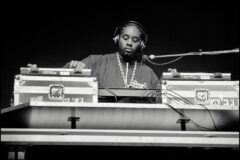 See a very whole Johnson below in the video for "OOOH!"
//www.youtube.com/embed/6RyqtgJDvMc