With Sharon Van Etten, it always comes back to the voice. It was right out in front, with only guitar and the sparest backing, on her 2009 debut album Because I Was in Love, and it has evolved along with her increasingly assured musical settings across 2010's Epic and 2012's Tramp. The earthy ardor of Lucinda Williams, the smoky volatility of Cat Power's Chan Marshall — those have been a couple of go-to comparisons.
The Brooklyn singer-songwriter has already offered up one track from her May 27 Jagjaguwar album Are We There, and yes, "Taking Chances" does give her vocals room to roam over the type of throwback R&B groove a Black Key might concoct for Lana Del Rey. But hearing latest track "Every Time the Sun Comes Up," it's easy to imagine the confidence that must've been filling Camp Van Etten since before the new LP's announcement back in February. She's rougher here, more feral — what happens every time the sun comes up is she's in trouble — and the gliding arrangement evokes Beach House, Mazzy Star, "Be My Baby," "You Can't Always Get What You Want."
She roars here about being called a "one-hit wonder," which is already an unfair description (before the modest Tramp hit "Serpents" was the modest-er Epic hit "Love More"). If that phrase ever gets applied to her again, it'd better be for this song. Or we're all in trouble.
Listen over at Pitchfork, and watch a trailer for the album below.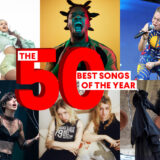 //www.youtube.com/embed/CeMrf2OZQy8