Red Hot Chili Peppers drummer Chad Smith has responded to a report the CIA used the band's music as an "enhanced interrogation technique," and he's not happy about it.
"No, no, of course not," Smith told TMZ when asked if he approved the band's music being used in torture.  "Our music's positive man. It's supposed to make people feel good. And that's very upsetting to me. I don't like that at all. It's bulls—t."
When the parking-lot interviewer suggested RHCP hit "Give It Away" might work, Smith added, "Maybe some people think our music's annoying — I don't care — but that's a poor use of … you shouldn't do that. You shouldn't be doing any of that s—t. It's horrible."
Bassist Flea seconded that on Twitter: "It is absolutely heartbreaking to hear Rhcp music has been used by the CIA to torture human beings.  Anything we can do to stop that we will."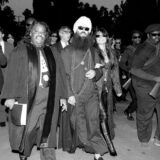 Earlier in April, Al Jazeera America reported that the Chili Peppers' music was played as part of CIA efforts to get information from a prisoner named Zayn al-Abidin Muhammad Husayn Abu Zubaydah. The source was a former interrogator briefed about Abu Zubaydah's 2002 interrogation. Other sources said that a classified 6,600-page Senate Intelligence Committee report shows Abu Zubaydah was forced to hear loud music on a continuous loop.
Smith was in the news earlier this year for a much, much lighter reason, holding a charity drum battle with lookalike Will Ferrell. Of course, Red Hot Chili Peppers performed at the Super Bowl this year. Flea, who classily copped to having mimed at the big game, is working on a memoir and plays with former the Mars Volta members in a new project called Antemasque.
Revisit SPIN's 2006 feature Music as Torture: War Is Loud. Last year, Metallica rejected a report that they had asked the U.S. military to stop using their music on prisoners. Watch Smith's brief interview below.