On Friday, Pussy Riot's Nadezhda Tolokonnikova and Masha Alekhina will appear at Tina Brown's annual Women in the World Summit for a panel discussion moderated by Charlie Rose. In advance of that cameo, the three women stopped by Today to chat with Matt Lauer about their struggles, Vladimir Putin, and their supporters.
When asked about their growing fame, Tolokonnikova said via translator, "I really sincerely wanted Russia that would be free, this idea we heard about free Russia it only became stronger in ourselves during [these] two years that we were in jai. If our government thought that they would just break us down by jailing us, I mean, it didn't work out at all."
"It definitely influenced our situation a great deal," added Alekhina. "It wouldn't be for the people who really were saying everything they could about us to support us, things would be completely different," Alyokhina said. "It might have been that we wouldn't be healthy and sane and alive."
Lauer also wondered if their daily lives had gotten any more difficult or if they were being followed since their release. "In terms of getting followed, we go through much more than we did before," said Tolokonnikova. "If we go to the people getting jailed and we want to get in, the people of the government, they attack us and they spray us so we have head concussions and burning of the eyes. That's what we suffer."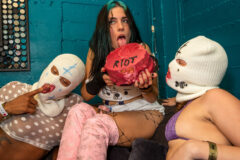 As for Putin's decision to release them before the Sochi Games, Lauer wondered if they felt it was all a show to the rest of the world, especially considering his recent annexation of Crimea.
"When we got released, we didn't have any illusions at all that Putin's regime became more liberal," one of them said (the translator's audio and footage made it difficult to discern which member was speaking). "Basically, regarding your question, 'Is Putin trying to smart over the whole world?' Without the world's participation, those actions would not be possible."
Brown spoke of her decision to include the Pussy Riot members at the conference, saying, "They paid a heavy price for their resistance to Putin and I think that what they've shown is exactly what is happening now: Putin is a thug, Putin is a bully. They were brave enough to stand up, they paid a price and they went in as students and they came out as world famous activists."
Tickets to the Women in the World Summit are still available.