Far be it from Prince to let the 30th anniversary of Purple Rain (one of SPIN's 40 Movie Soundtracks That Changed Alternative Music) pass without a peep, or at least the sound of doves crying. The Purple One and Warner Bros. Records have announced plans for a digitally remastered, deluxe reissue of the hallowed album. Also promised: a new studio LP.
The reissue is part of a broader deal that covers licensing for every Prince album from 1978 into the '90s. According to a press release, Prince and the label have struck an agreement to release "long-awaited, previously unheard material," and other projects are also in the works. Financial terms weren't disclosed, but under the deal Prince has ownership of his songs' master recordings.
Prince, in a statement, said, "A brand-new studio album is on the way and both Warner Bros Records and Eye are quite pleased with the results of the negotiations and look forward to a fruitful working relationship."
Warner head Cameron Strang said in a statement: "Everyone at Warner Bros Records is delighted to be working with Prince once again: He is one of the world's biggest stars and a truly unique talent. We are also very excited about the release of new and re-mastered music from one of his greatest masterpieces."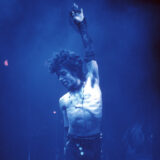 Prince recently shared a new song with Zooey Deschanel, "FALLINLOVE2NITE." He played some intimate London shows, held a Arsenio Hall Show takeover, and stretched out for a four-hour Hollywood concert.