(This piece was originally published in the June 1994 issue of SPIN.)
"'I don't have the passion anymore,'" sobbed the recorded voice of Courtney Love, reading her husband's suicide note, via audiotape, to the wet-eyed crowd at the candlelight vigil underneath Seattle's Space Needle on April 10. "'It's better to burn out than to fade away.'" She sobbed again, and muttered an aside: "Don't believe that," she said. "It's bulls–t."
Kurt Cobain's hometown of Aberdeen, Washington, is a logging town about two hours southwest of Seattle, a dreary drive down a road clogged with trucks, past a disused nuclear plant to a bleak, windy harbor. Felled timber is stacked as far as you can see; the air reeks of scorched wood on the rare occasions it's not raining. The standard pop-culture comparison is to Twin Peaks — Aberdeen's closest real neighbor, Olympia, is a 50-mile haul through the forest — but Aberdeen seems more desolate than even David Lynch could imagine, depopulated and boarded up, clotted with rotting trailer parks, the faint hints of Norman Rockwell, small-town sweetness ("EAT LIKE A LOGGER," reads the sign on a local café) overwhelmed by Ann Beattie-style Wal-Mart/Burger King malaise. When you stop for coffee in an Aberdeen café, your change is likely to have the legend "Timber Dollars" stamped across it in red. It is a good town in which to get your ass kicked in a bar.
As a young man in Aberdeen, you essentially have two choices: work in the lumber industry, or leave. Perhaps claustrophobia is good for rock'n'roll: Aberdeen was home to not only Nirvana but the Melvins, Matt Lukin from Mudhoney, some people from Metal Church, and a preacher who once took Ozzy's place for six weeks on a Sab tour. Some people say what became known as the "Seattle sound" originated in remote places like Aberdeen, where even would-be punk rockers grew up listening to Aerosmith and Led Zeppelin because Black Flag records never made it that far. A show in Olympia or Tacoma meant you at least got out of Aberdeen for a little while.
Kurt Cobain was born in Aberdeen in 1967, the firstborn of a secretary and an auto mechanic, and he had a reasonably happy early childhood, dabbling with paints, listening to an average amount of Beatles and Monkees music, showing off for doting aunties. When Cobain was eight, his parents divorced, and Cobain became a classic victim of what later became known as dysfunctional parenting. Like many of the people his music would speak to most deeply, he was profoundly upset by a broken home.
"I was a seriously depressed kid," Cobain told Los Angeles Times writer Robert Hilburn in a 1993 interview. "Every night at one point I'd go to bed bawling my head off. I used to try to make my head explode by holding my breath, thinking if I blew up my head, they'd be sorry… The intensity, the emotion, the hatred [of punk rock]: You could hear a lead singer just scream at the top of his lungs. I felt that way. I wanted to die. I wanted to kill. I wanted to smash things."
Cobain spent the next several years dumped at one relative's house or another, crashing with friends' parents, occasionally sleeping under bridges. He hid in his bedroom and played guitar; he smoked pot; he hung out with sludgy proto-grunge pioneers the Melvins, who were as close to punk-rock guys as there were in Aberdeen. "When Kurt was in seventh grade," Love told me a couple of years ago, "he climbed up on a hill, looked over at the town of Aberdeen, and said, 'I'm going to be a modern rock god.'"
In late 1985, Cobain laid down a homemade tape of his songs with Melvins drummer Dale Crover. A year later, local bass player Chris Novoselic finally got around to listening to the tape; a drummer — one of many — was recruited, and Nirvana started playing shows around Olympia and Seattle in the middle of 1987. In January '88, Cobain, Novoselic, and Crover recorded a ten-song, $150 demo tape with Jack Endino at Reciprocal Sound in Seattle (some of which eventually ended up on Nirvana's odds-and-ends collection Incesticide). Endino slipped a copy of the tape to Sub Pop's Jonathan Poneman. Poneman asked Nirvana to make the "Love Buzz" single and then the album Bleach (both with drummer Chad Channing), and then marketed them as vaguely dangerous hicks from the backwoods, to the delight of the British music press and to the dismay of the band.
"I feel like we've been tagged as illiterate redneck cousin-f–king kids," Cobain told the Seattle Rocket. "That's not true at all."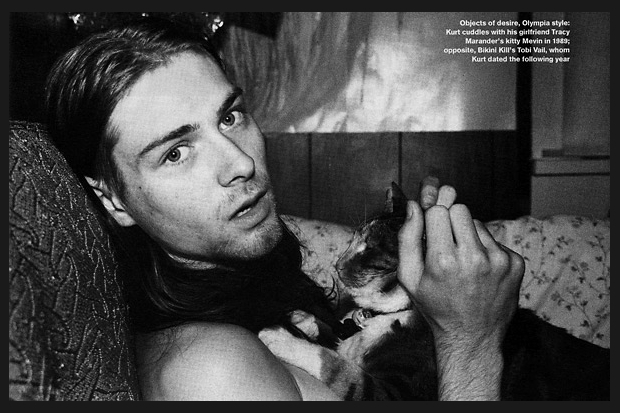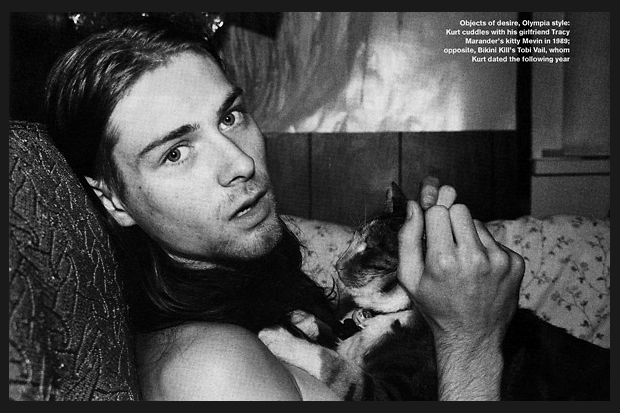 By the beginning of 1990, Nirvana was so good that it hardly mattered. In his book Lipstick Traces, rock'n'roll semiotician Greil Marcus says something to the effect that any great punk song sounds, for the moment, like the best song you've ever heard in your life. Though it may have lacked the sweep of Soundgarden, the fuzzed-out majesty of Mudhoney, live Bleach-era Nirvana sounded like the best small-club punk band in the world, at least for the length of the set. Deep post-Stooges riffs recycled as relentlessly as beats on a hip-hop record, washes of guitar white noise ebbed and flowed, basslines bent away from notes, Cobain, hunched with scoliosis, bellowed punk koans above the din, in a voice that was the equivalent of a Stratocaster pumped through a fuzzbox and a stack of Marshalls: "I'm a negative creep / I'm a negative creep / I'm a negative creep / And I'm stoned."
The rest of Nirvana's story is almost familiar enough to have passed from fact into legend. Drummer Dave Grohl joined the band in the fall of 1990, Sonic Youth all but adopted them, and Nirvana signed to Geffen/DGC after a bidding war that saw bootlegs of their Butch Vig-produced demoes fall into the car tapedecks of every modestly connected indie kid in America. Whereas on Bleach Nirvana's power was confined to its thrash, and its melodies to '60s-style power pop, on the new songs Cobain combined the two, and the hooky, catchy tuneage had the inevitability of folk songs, as if Cobain had dug it up somewhere.
When Nevermind was finally released in the fall of '91, tubbed and scrubbed but still visceral as a hotfoot, MTV played the video for "Smells Like Teen Spirit" as often as it physically could, hard-rock radio stations as well as pop stations and "alternative" stations put the song into heavy rotation, and all of a sudden Nirvana was no longer just the underground's favorite new band — it was the favorite band of teenage misfits all of the world, as adored by Judas Priest's fans as by Depeche Mode's. Nevermind went on to sell nearly ten million copies worldwide, and its acceptance helped make possible the success of everyone from Pearl Jam to Bikini Kill.
As someone who had found his only acceptance within the tight, cliquish world of indie rock, Cobain's wider success proved to be a burden. He'd walk into a record store and the hipper-than-thou clerk would ostentatiously put on something from Bleach, really loud; at the same time, there were reports of a woman being raped by two men singing Nirvana's antirape ballad "Polly" — which appalled him. Cobain and Love seemed obsessed about which bands were or weren't working Nirvana's groove, and their life together was the source of endless gossip, most of it about drugs.
"I've always been comfortable about notoriety," Love said at the time, "but I feel like I married Bobby Sherman."
Love and Cobain, out on the town then — his limp, shoulder-length hair a violent red — seemed like the rock'n'roll equivalent of the captain of the football team and the homecoming queen, Cobain chatting diplomatically with suits from his record company and Love blowing air kisses when a rival from another band passed a few yards away. Scenesters and DJs from the local alternative radio station pretended to be too cool for the scene, but were clearly thrilled to be in proximity with the great man, who still wore the same moth-eaten sweaters as he had when he was a penniless skank like them. Cobain and Love were the coolest couple in the world.
But then, in the summer of 1992, came the infamous and oddly reported Vanity Fair story that made Love the unlikely poster girl for heroin addiction in America — and which the couple believed contributed to them having to surrender their infant to temporary custody. Suddenly reclusive, they began a battle with the media that would not end until Cobain's suicide.
First came the sensationalistic tabloid reports, and then the unauthorized biographers; Cobain confessed his onetime heroin use to the Los Angeles Times as a preemptive measure — the drugs, he claimed, calmed his incessant stomach pain — and the band, excepting Novoselic's benefit concert for Bosnian rape victims, largely refrained from playing live for more than a year. Nirvana recorded a third album, the knotty but beautiful In Utero, and months before it was released Newsweek ran a full-page article claiming the band had allowed its label to compromise the producer's vision. In March came Cobain's brief drug and alcohol-induced coma in Rome, followed by — during the week nobody could find him — rumors of the band breaking up. The reality was much worse.
Even back in the late '80s, long before his searing stomach ailments became the stuff of music-industry legend, Cobain looked as if he was in pain when he sang, teeth clenched, lips barely open, jaw locked in place, air forced from a chest seemingly so constricted with physical agony that when his voice rose much above a whisper the sound would break up into three or four parts, an effect previously heard only from Gyuoto monks and from highly trained performance-art divas. In certain circles, pain is thought to equal integrity; in other circles, pain is mistaken for art.