This collection of stories was originally published in 2014. We're repromoting it today on the 25th anniversary of Kurt Cobain's death. 
Even in death, Kurt Cobain can't escape media scrutiny. As the 20th anniversary of the Nirvana frontman's tragic suicide approaches, the fallen icon has inspired an off-putting memorial statue, a pending induction into the Rock and Roll Hall of Fame, a ridiculous beer commercial, a comic book biography, and, unfortunately, a whole new level of invasion of privacy.
That said, Cobain's passing can't be (and shouldn't be) ignored. So, we here at SPIN have put together our own simple tribute to the man and his music: We've rounded up some of our biggest stories on Nirvana for your reading pleasure. The pieces found below offer an extensive look at the legendary band, beginning in 1992, just months after Nevermind was unleashed onto the world, and ending more recently, long after their rightful canonization.
Heaven Can't Wait
From January 1992: Some things in life are beyond explanation. Lucky for you, the triumphant bliss-rock combo Nirvana isn't one of them.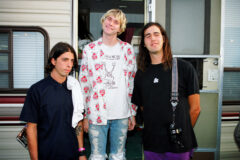 Smashing Their Heads on the Punk Rock
From October '93: Remarkable. Unprecedented. Phenomenal. The stupefying success of Nirvana left a band, a city, and an industry irrevocably changed, and shoved a reluctant Kurt Cobain into the media spotlight.
Into the Black
From June '94: On April 8, the pain that savaged Kurt Cobain throughout his life forged the darkest of all possible endings. In Seattle, we join thousands of fans to celebrate his music and mourn our loss.
Out of the Blue
From June '94: Pulitzer-winner Jonathan Gold traces the path to Nirvana following the band's demise.
Revolutionary Debris
From June '94: Professor Eric Weisbard ponders the ethos that bogged down the rock icon.
Grain of the Voice
From June '94: Novelist Dennis Cooper pays homage to the man and his band mere months after the end.
The Ghost of Saint Kurt
From April 2004: Romanticized, ripped off, and never quite forgotten, Kurt Cobain still haunts us like no other rock star. But ten years after his controversial suicide, as a new generation begins to experience his music in its own way, what do Cobain, Nirvana, and "grunge" really mean to anyone anymore?
What If Kurt Cobain Didn't Die?
From April 2004: Chuck Klosterman theorizes as to what Kurt Cobain's future could have held.
Kurt Cobain in Photos: A SPIN Scrapbook
From April 2010: The SPIN editors cull the magazine's archives to collect their favorite photos of Cobain.
What Nirvana's Nevermind Means to Me
From July 2011: Forty artists, from Eddie Vedder to the Black Keys, share their personal memories of a classic.
Grunge's European Invasion: Intimate Photos From Nirvana's 1989 Tour
From November 2012: In October 1989, Sub Pop upstarts Mudhoney undertook a tour of Europe with labelmates Tad and a then relatively unknown Nirvana in tow — a new eBook captures photos from this landmark journey.