Check out the best moments of the Rock and Roll Hall of Fame 2014 ceremony with Nirvana, Kiss, and more.
The night is almost here when Michael Stipe will induct Nirvana into the Rock and Roll Hall of Fame. Still unconfirmed is whether surviving members Dave Grohl and Krist Novoselic are performing at the April 10 ceremony, held at Brooklyn's Barclays Center and coming to HBO on May 31. Earlier this week, Novoselic teased the possibility he would, in fact, be playing.
The recent Lorde accordion cover man wrote: "Been playing those @HalLeonardBooks bass tabs to get up to speed. Muscle memory is good too. #PracticeMakesPerfect @nirvana." Alas, the tweet — which slipped under our noses — came on April 1, so Novoselic'll always have the Flaming Lips-style just-kidding deniability (although unlike the Lips, at least he'd have been making his April Fool's joke on April Fool's Day).
Around this time last year, it was still unclear whether Grohl would join inductees Rush onstage, and of course, that happened. We'll have to wait and see in what way Novoselic puts his woodshedding to good use.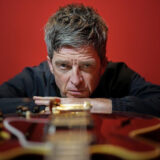 Revisit SPIN's big Nirvana stories from the past two decades.