Last night's Rock and Roll Hall of Fame ceremony comes to HBO on May 31, but for now you can watch Michael Stipe's speech inducting Nirvana.
"This is not just pop music," the former R.E.M. leader can be seen saying in the 17-minute clip above (via Slicing Up Eyeballs). "This is something much greater than that."
Stipe added: "Nirvana were artists in every sense of the word. Nirvana tapped into a voice that was yearning to be heard. Nirvana were kicking against the mainstream. They spoke truth and a lot of people listened."
After the event, Nirvana's members performed a secret show at Brooklyn's intimate Saint Vitus with a host of guests, including everyone who joined them onstage at the ceremony except for Lorde.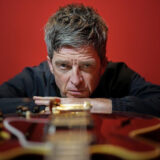 Don't miss SPIN's 2005 essay The R.E.M. Method and Other Rites of Passage, and you can also check out all our original Nirvana reviews and original Nirvana cover stories.